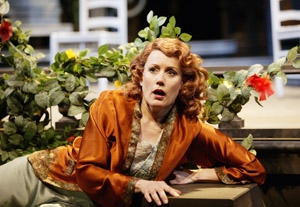 Diet. Rest. Massage. Martial arts. Acupuncture. Dance classes. Yoga. Pilates. Stretches. Cycling. These are among the various ways that actors stay fit for physically demanding roles.
For example, consider how rigorously Colman Domingo maintains his health while appearing in the new Kander and Ebb musical "The Scottsboro Boys" in New York and performing Susan Stroman's athletic choreography. It's much the same way he prepared for his roles in "Passing Strange" and his solo show, "A Boy and His Soul": He cuts down on sugar, eliminates dairy during the performance week, and ups his protein intake. He doesn't go out for drinks after the show but instead heads home for eight to nine hours of sleep. During the day, he emails and text-messages to avoid using his voice. He goes to the gym, cycles, stretches, does a bit of yoga, naps after lunch—basically, as he says, lives like a monk.
The rewards are great. "It totally affects my performance," says Domingo, sounding chipper during a post-show, post-midnight phone chat. When he doesn't have time for the complete workout, "I feel a little loopy, not as focused. Now that I'm 40, I have such a strong regimen. When I was younger, I didn't have to do as much."
Cirque du Soleil clown Ron Campbell, who's been on tour for a year with "Kooza," has an even more vigorous regimen. He practices a martial art called iaido, similar to jujitsu, involving swordplay, with an emphasis on the draw. "The guys laugh at me, but I carry a sword on tour," he says. "It's the antidote for acting. I can't move my face; it would be a dead giveaway to my opponent. It's the opposite of clowning, where I have to be expressive." He adds, "I think every actor should do something outside to develop their coordination. When I was directing, I'd ask actors to fall down during auditions. That way, I could basically tell everything about their coordination."
Campbell has a regular conditioning class at Cirque ("The rubber ball is my friend!") but also brings a collapsible bike on tour and rides about three miles a day. And he stretches before every performance, including obscure places like the undersides of his arms. "I try to infect the room with frivolity," he says. "The tools to do that are physical." His body must be able to express everything he needs, and he says that if you don't work out your muscles regularly, your awareness of your body can atrophy: "I think about it quite a bit, the mind-body association."
So does Joan Mankin, a San Francisco Bay Area clown and actor who works regularly with American Conservatory Theater and other companies. She recently appeared in an intense and physically demanding role in Martha Boesing's new play "Sylvia." For Mankin, every role feels physical; she started out performing with the San Francisco Mime Troupe and is proficient in circus arts.
Mankin studies a type of kung fu based on an Indian form of martial arts, which she uses to warm up before every show. She says, "It makes you get very in touch with your presence in space—the connection between the bottoms of your feet to the space and to other parts of your body and to your mind and heart." She also swims regularly in the bay (water temperature: a chilly 55 to 65 degrees) or, when she's performing at California Shakespeare Theatre, in nearby lakes between the matinee and evening shows. Those swims make her feel very connected to herself, she says. And she does handstands or pushups for a minute before going on stage. Her background with Dell'Arte, the legendary Pickle Family Circus, and other physical companies, she notes, has shaped her approach to acting altogether.
When New York actor Cassie Beck appeared in the Neo-Futurists show "43 Plays for 43 Presidents," she played President Obama, and her scene involved a two-minute double-dutch jump-rope routine. The whole show was an exhausting marathon effort, with actors changing sets and costumes. For Beck, it was all about eating right, resting, and massages.
"I think it was less about preparing for that and more about taking care of my body in off time," she says. "You're going to make it through the show because you've got energy coursing through your body, adrenaline. But that's when you can hurt yourself and not be aware of it. I know a lot of actors do acupuncture." When you're not performing, "you have to take care of yourself. Then you'll get through the performance just fine."
Boxing Day
One of Los Angeles actor Hansford Prince's biggest challenges was playing heavyweight boxer Joe Louis in Oliver Mayer's drama "Joe Louis Blues." In one scene, he had to punch a heavy bag. The script describes that scene as "awe-inspiring." "I don't know how you can act that!" says Prince, who was apprehensive about taking on the intense role, even though he'd had some boxing practice in the Marine Corps.
But director Tony Kelly persuaded him, and Prince began working with a professional boxing trainer two months before rehearsals started, packing on 15 pounds of muscle. During the run, he kept working out on his own, practicing on the heavy bag prior to curtain each night. Despite that, at one point his shoulder popped out of its socket and remained that way for three performances before he could get to a chiropractor.
But his training was so successful, Prince says, that he really felt like Joe Louis on stage. He didn't have to work on Louis' walk or other physical characteristics—they were just present. During the heavy-bag scene, "it was like acting without the safety net," he says. "I was hitting this thing with so much speed, I had to rely on having trained for it and trusted that I knew what I was doing." He was so transported that he says he might have just kept right on punching if the bell hadn't rung.
In San Francisco, Stacy Ross walks, rides her bicycle, and does yoga stretches and basic Pilates mat work to stay limber. "Pilates is good for being onstage and being aware—not just physically but 'be here right now,' " she says. It helps break her out of any set line-delivery pattern that she may be stuck in.
Oregon Shakespeare Festival regular Robin Goodrin Nordli has done Pilates for 10 years. When she has a marathon season of multiple physically demanding roles, she lives like a professional athlete: watching what she eats, no late-night drinking, lots of sleep, conserving her energy. She also takes dance classes. "No one will ever accuse me of being a great dancer," she says. "It's about keeping myself trained. It's about giving your body a muscle vocabulary, so if you're called on to do something, your body remembers."
Los Angeles actor Kelvin Han Yee, who recently appeared in the pilot for the new "Criminal Minds" spinoff, started his career as a dancer, so physicality has always been a huge part of his sensibility as a performer. More specifically, his philosophy of acting is partly inspired by his background in Bruce Lee's mixed martial-art form, jeet kune do, a type of formless fighting. It involves imagining yourself as flowing, shapeless, doing what's necessary and most effective in the moment to get from point A to point B. Yee describes the philosophy by using the image of water—essentially formless, but when it goes into a cup, it's cup-shaped.
"My job as an actor is to be like water, to empty my mind, to be whatever it is that I need to be," he says. "To do that, your instrument has to have the range of water." The work of Frank Ottiwell and Edith Skinner also helped him understand the connection between the external and the internal in acting.
Nordli notes that being fit means having in your bag of tricks the ability to make physical choices, not just a choices; to be able, at least in rehearsals, to say, "I can roll on the floor with this line," and have the director say, "Hmmm, let's see."
"After all," Nordli adds, "your body is your instrument."