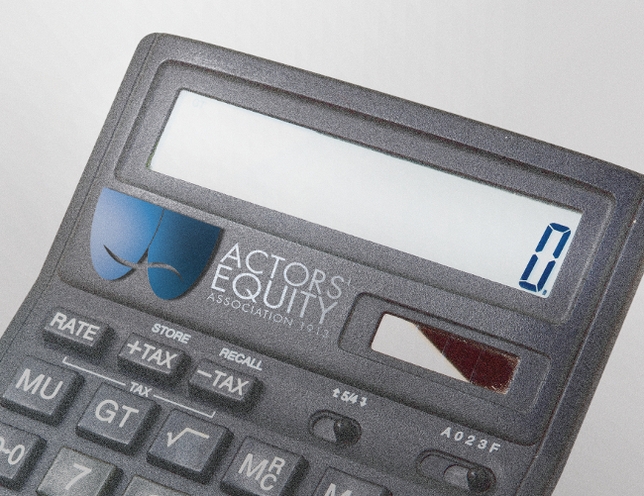 In the words of "Avenue Q," "Except for death and paying taxes, everything in life is only for now." It's tax season yet again, and since you'll be filing annually until that other inevitable thing comes along (a long, long time from now), know that you don't have to wade through financial jargon alone. Since the 1970s, Actors' Equity Association has helped its members file taxes through the Volunteer Income Tax Assistance Program (VITA). Sponsored by the IRS, the VITA Program assists approximately 2,500 members of both Equity and SAG-AFTRA each tax season.
The majority of actors work for multiple employers, often in multiple states, each year. But that's only one reason why performing arts professionals' taxes can be more complicated than the average Joe's. "Most taxpayers don't have to spend their own money to continually train, learn new material—literature, dance, music, dialects—and a host of other skills in order to get their next job or to keep the one they have," said Sandra Karas, secretary-treasurer of Equity, and director of Equity and SAG-AFTRA's VITA Program.
"The cost of photos, résumés, classes, auditions, recording equipment, websites, and more are the standard tools of the trade for a performing career professional." These expenses are all eligible deductions and can help lower tax liabilities for actors. Yet, according to Karas, many actors who qualify to file through VITA walk into "theatrical" accounting offices instead, that can charge anywhere from $500–$2,000 for their services.
Staffed by highly trained volunteers, VITA not only helps actors file their taxes for free, but advises and educates members on how to gain control of their future income. While volunteers consist of members and non-members of Equity—some of whom are lawyers and certified public accountants by trade—all assistants undergo the minimum training required by the IRS, in addition to passing the advanced tax law exam and a course in Cancellation of Debt. Some volunteers are also certified in health savings accounts and other specialty areas. "We pride ourselves in certifying all of our preparers at the advanced level," said Karas.
Though actors can expect to prepare and file income taxes in a single appointment, VITA requires some pre-session prep. "We have detailed worksheets online at both union websites that help the members organize and itemize their income and business deductions," said Karas. It's crucial to complete these worksheets before entering your appointment.
It's a lot of information, so Karas recommends maintaining records throughout the year. Of course, this may not help while filing your 2013 return, but it will certainly alleviate the pressure for years to come. Track expenses, "including paid receipts, a detailed calendar, an automobile mileage log, and other evidence of one's business expenses and professional standing," said Karas. "It's a great deal of work and requires diligence and commitment to saving and recording the kinds of expenditures most people would simply throw away."
For this year, a good first step is to make a list of your work history for 2013. Take inventory of the W-2 forms that arrive; be sure that you have a form for each job you worked and then reconcile it with your pay stubs. It's all about organization, and the preparers at VITA have seen it all before. While it may seem overwhelming or frustrating, remember: that feeling is only for now.
The VITA office in NYC's Equity Building offers services Mondays, Wednesdays, Thursdays, and Fridays from 10:30 a.m.–4 p.m. Actors in Los Angeles should check the Actors Fund website. Orlando, Fla., professionals may call the local Equity office for information.
Inspired by this post? Check out our theater audition listings!