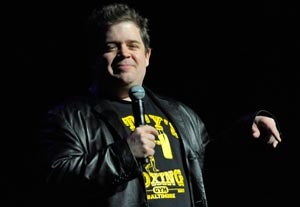 Show business should be the place where actors can show off all their colors, but in reality it's more often about showing the same color over and over again. It sells. It works. Stick with what you're good at, they say. The very symbol of theater—the iconic masks portraying comedy and tragedy—is all but forgotten in the hopes of satisfying the public's demand to "do that thing we love again." Not surprisingly, those who gain fame for standup or comedic roles have a much tougher time proving they have the chops to play serious parts in dramatic fare.
Series creator and star of "Rescue Me" Denis Leary remembers the time his agent called Woody Allen's casting director, asking to bring the chain-smoking standup in for a role. "She said, 'Uh, we're looking for actors, not comedians.' Which is ironic, considering who she's serving," Leary told Back Stage in 2007. "A couple years later, Woody called up and asked me to meet for a role on 'Deconstructing Harry.' I went in and she was sitting there and I said, 'This is pretty ironic, isn't it?' She said, 'What do you mean?' I just said, 'Never mind.' "
Actors have always had to battle the dreaded pigeonhole, but the good news is that there are a slew of exciting dramatic films this year that star very funny people. Perhaps that's due to the public's boredom with straight comedies and dramas in favor of genre-blending films. There's "SNL" alum Maya Rudolph and John Kraskinski of "The Office" in Sam Mendes' "Away We Go" former "Daily Show" trends correspondent Demetri Martin in Ang Lee's upcoming "Taking Woodstock" and standup comic Patton Oswalt in "Big Fan," due in September. Believe it or not, there was a time when actors such as Tom Hanks, Bill Murray, Jamie Foxx, Jim Carrey, and Whoopi Goldberg—each of whom started out in comedy—had to fight to be taken seriously. So where did they start, and how did they do it?
"It's all about pushing the boundaries, isn't it?" says talent manager David Steinberg of Morra, Brezner, Steinberg & Tenenbaum Entertainment. "I know with the people that we work with, the joy of new things just helps the whole creative process. I think in most of the stuff really good comics do, there is some drama involved. A lot of it comes out of adversity."
Steinberg is the longtime manager of Robin Williams and Billy Crystal, to name just a couple of his well-known clients. He remembers when Crystal originally took the role of Jodie Dallas on "Soap," which was one of the first regular gay characters to hit the small screen.
"It was pretty courageous for him to take a step out there and play Jodie, but he threw himself completely into it and took that chance, and people bought into it," Steinberg recalls. "Then people bought into Billy as an actor." Steinberg was also there when Williams was cast in "Dead Poet's Society" and, more recently, as an aspiring writer who suffers the worst tragedy and greatest opportunity of his life in Bobcat Goldthwait's "World's Greatest Dad," coming to theaters later this month.
"I guess the quality of the writing of the material that [Crystal and Williams] were doing made people think and believe that they had an underside to them, that there was something underneath the words: emotion," says Steinberg.
Crying-Clown Cliché
Jamie Masada, owner of the Laugh Factory for nearly 30 years, has witnessed a lot of crossover in that time. He recalls an old joke in which a suicidal man visits a psychiatrist and the doctor tells him to go to a comedy club across the street to cheer up. "The guy says, 'I'm the comic from across the street,' " says Masada. "Comedians are very smart, sensitive people."
So is it true that most comics are miserable people wearing funny armor, and does this make it more interesting for them to appear in serious roles? "Maybe," admits Oswalt, who voiced Remy the rat in Pixar's 2007 animated feature "Ratatouille." "Except the whole 'crying on the inside' clown cliché is just that: a cliché. Comedians are angry, happy, delighted, and bitter, just as much as other people. It comes down to the individual."
John Goodman, who became a household name playing Dan Conner on the long-running sitcom "Roseanne," adds, "By the same token, a lot of actors aren't the happiest people in the world. It's a professional leap to self-absorption—not being able to communicate with other people [and] just being different. The gift that we're given sometimes makes us a little different and a little bit on the outside. Comedy, a lot of times, it's all cliché, but it comes from pain."
Goodman continues, "It all really just boils down to the style of the piece, the people you're with, and usually a little bit of comedy will help drive home a dramatic point. The same is true of comedy. Depending on the level of desperation and seriousness, it gets funnier. I just got done doing 'Waiting for Godot' on Broadway, which is from a flopping-around-slapstick farce to serious as death in the next heartbeat. It's just that quick."
"I think [comedians] are more well-rounded than maybe some of the community gives them credit for," says longtime agent Jeff Witjas, senior vice president of the talent department at Agency for the Performing Arts (before which he spent 25 years at William Morris Agency). His current clients include Betty White, John O'Hurley, and Lewis Black, who recently appeared on "Law & Order."
Continues Witjas, "Who is setting these limits? It's the town that's setting the limits on what a client can do. Personally, I set no limits as far as a performer. If they're a comedian, what I probably need to do is fight a little bit harder and just be extremely aggressive and determined and persistent to get these individuals into the rooms."
Pigeonhell
French Stewart, another Witjas client, made a name for himself as the quirky Harry Solomon on "3rd Rock From the Sun" but subsequently got typecast as the silly, slapstick sidekick. Stewart has said he was thrilled at the chance to play a corrupt cop in this year's violent thriller "Surveillance."
Its director, Jennifer Chambers Lynch, cast Stewart and "SNL" alum Cheri Oteri because "there's so much you wouldn't expect from somebody funny," says the director. She knew both actors had it in them to do more. "I consider humor and terror very close together," says Chambers Lynch, whose father is David Lynch. "The fear that someone is outside your window is sort of the same terror as waiting for a punch line on a good joke. I wanted to slam the humor right up against the dark."
"Garden State" writer-director-actor Zach Braff became conscious early on of the fact that sitcoms define some performers to the degree that they have trouble disappearing into other characters. "I had heard all these stories of people getting typecast in very successful series. I had and have big plans for all the things I want to do. So I guess in my mind I was also thinking ["Garden State"] would be a great way for me to show the other aspects of who I am and not just get known for being a broad comic," explains the longtime "Scrubs" star. "Anytime you have success in anything, you get offers to do the exact same thing. And—this would be relevant for a reader of Back Stage—the hustle never stops. It doesn't matter if you're waiting tables like I was and auditioning, or you're an A-list actor. Everyone is trying to best the last thing they did."
"Big Fan" director Robert Siegel, who wrote "The Wrestler," says he had no concerns about Oswalt's acting abilities when Siegel cast the comedian in the lead role. The director knew that Oswalt's comedy could be very dark and that it wouldn't take much for Oswalt to "unleash his inner, angry nerd" while playing Paul Aufiero, a hard-core New York Giants football fan.
It was tough, initially, for the comedian to let go of his comic instincts. "There were scenes that I would end, and in my mind, I'm like, 'Oh, I fuckin' sucked,' " Oswalt told Back Stage at Sundance this year. " 'Cause in my head, I'm thinking, 'That wasn't funny.' It really flipped me out." "In early takes, Patton was usually a little too big, but by the fifth take or so, he was really nailing it," Siegel has said. "Most of the film is made up of fifth and sixth takes." Oswalt has since landed a regular spot on Showtime's "United States of Tara."
At the suggestion of his producing partner, James Schamus, director Lee took a big chance on Martin when casting the comedian as the lead in "Taking Woodstock," which Lee describes as a comedy that has many dramatic moments  in it and required Martin to go head-to-head with much more experienced actors—including Liev Schreiber, Imelda Staunton, Eugene Levy, and Emile Hirsch. Martin, who's been a standup comic for 12 years and earlier this year debuted his well-received Comedy Central series "Important Things With Demetri Martin," had very little acting experience prior to being cast in "Woodstock," which chronicles the true story of Elliot Tiber bringing the legendary Woodstock Festival to his small Catskills town. As Lee told Back Stage, he went with his gut when casting Martin, same as he does when casting any project.
"When I saw Demetri for the first time, I immediately felt a taste of the movie," says Lee. "So that was a good sign. And how he talked didn't matter—how he did in the interview with me and James didn't really matter that much. I don't trust that as much. But the second thing I'll notice is how directable they are. You have to check further in. So I did a screen test with him, a pretty lengthy one, like, the whole afternoon. I had him do three or four scenes that he had to prepare and memorize the lines, and I had somebody read with him and just, take after take, try to direct him and give him different possibilities of direction, just to see how he'd respond." For Lee, the decision to cast Martin was simple. "Even though he was very fresh to acting, I was willing to take the risk," says the director. "And then the rest was a lot of hard work."
Once cast, Lee signed Martin up for three months of training with an acting coach. Lee then spent almost a month rehearsing with Martin in upstate New York, where the film was shot. Lee says the biggest challenge of directing Martin was getting the comedian to shed his onstage persona and his real-life personality to act as this character. "What he's confident with, I had to take away from him and start from zero to build something else," explains the Oscar-winning filmmaker, who predicts that Martin "should have a great acting career outside of the comedian career."
One-Man Band
For better or worse, Braff is confident that there will always be a plan B. "I always say to my agents, 'Well, at least I'll always cast me.'" He recommends comedic actors get together with filmmaker friends and shoot a 10-minute dramatic short: "a) It's practice, and b) when people want to see what you can do, your agent can say, 'Well, check out this short he was in,' and it'll show it off. It's never been easier to make short films, and there's no excuse to not. People used to be able to say, 'Oh, I can't afford it.' It's so accessible."
Steinberg calls it "Comedy Management 101." He encourages his clients to get into their own heads and write, even if some areas are too painful to explore. "What comic doesn't want to hear, 'You should be doing your own one-man show?' " says Steinberg. "I think it's about having the courage to write it down and say it. Just smart remarks about something get boring pretty quickly. So I think if you believe in the dramatic piece and have the balls to not rely on your tricks as a standup, then you can have an opportunity to really accomplish something."
Even if a client has zero writing ability, Witjas says, they can "try to find a writer on the outside that's very reputable to collaborate on coming up with a gem." Goodman encourages fellow actors not to lose faith, most of all, in themselves. "If you do think you're being pigeonholed, don't take yourself too seriously and try to bust a mold. Go with the flow," he advises. "You know you can act. If you need to blow off steam, go to an acting class, but don't lose faith in what you got, because it'll roll around sooner or later. The tide will turn, but you've got to be patient and you've got to be ready. You've got to be sharp as a tack."