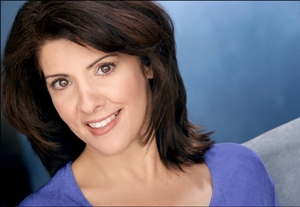 It's a variation on the classic actor's nightmare: You step into a room for an audition. The casting director is perusing your headshot. You exchange polite hellos, and a quizzical expression passes over her face. Her eyes move up and down between you and the frozen image in her hand. Her mouth tightens. You know it's coming. You try to predict which line she will speak:
"So, are you here to read for the niece or the aunt?"
"When did you last have your headshots done?"
"Excuse me, do I even have the right person here?"
All because the person in the photo is younger, thinner, sexier, better looking, and/or more glamorous than you. You can rationalize: "Geez, everybody exaggerates. Casting directors expect that. Anyway, she should be more interested in my acting chops than my headshot."
Just be glad the authority figure in your fantasy isn't Jeff Mitchell of Mitchell/Rudolph Casting in New York. Mitchell has a thing or two to say about actors' headshots.
Get Real
"There's a big bold line," Mitchell says, "between your best castable self as represented in a photo by a talented photographer and the total lie that makes casting directors angry that they gave you a shot and an appointment. And that lie, perpetrated by 50 percent of the actors out there, is what's closed the door to the other 50 percent. It's why casting directors cannot [use] picture submissions as a method of determining who's going to come in and who's not. It's why casting directors have to use gatekeepers."
Mitchell acknowledges that established actors who have reputable agents or managers can get by with less-than-accurate headshots. When a casting director has a relationship with a representative, it's understood that the actor who comes through the door will be suitable for the role. But things are different, he says, for actors who have no representation, who submit themselves "cold."
Part of the problem, says Mitchell, is that young actors forget that the professional photograph is meant to be a tool in the casting process—as well as an aid to the actor in finding representation. These actors confuse headshots with publicity shots; they think People magazine, pile on the glamour, or go overboard with Photoshop.
Other casting directors share Mitchell's impatience with misleading photos. Stephanie Klapper, who casts in New York for both stage and screen, cautions about shaving years off headshots through lighting tricks or retouching: "That's great. You look younger. But then you're going to come in the room, and I feel like you've lied to me. And that's going to make us both look bad…. I'm calling you in based on what I need."
Stuart Stone, a commercial casting director in Los Angeles, reiterates Mitchell's point that actors forget what the headshot is meant to accomplish. "This isn't your wedding shot," he says. "It's not your bar mitzvah picture." He compares the headshot to a calling card and to the storefront of a business: "If you have to make any excuse about your picture, then it's not the right picture."
The Whole Package
Mitchell would be happy to do away with the term "headshot" altogether and replace it with "professional photo." When casting directors consider a role, he says, they create a mental picture of the character: "If we use logic…for that to be even remotely stimulated by the tool called a headshot, you would have to see the person's face and neck and shoulders and body type." Especially bothersome to Mitchell are cropped shots that focus tight on the eyes, nose, and mouth—in effect scalping the subject. Stone, likewise, is suspicious of such close-ups. "I always find that the tighter the shot, the heavier the person is," he says.
Should actors rush out and have more three-quarter and full-body shots taken in order to fill Mitchell's photographic prescription? Possibly. But such photos might seem out of fashion to other professionals. Stone is fine with photos shot from the chest up. Told of Mitchell's preference for shots showing the full body, L.A. photographer Peter Konerko replies, "That's an interesting idea. If I shot anything below the waist, I think an agent would call me and say, 'What are you doing?' "
There's no shortage of opinions when it comes to headshot accuracy. Who best determines what an actor really looks like, anyway? Holograms notwithstanding, we depend on flat surfaces—mirrors and photographs—for our sense of how we appear to others. Only others' eyes can view us three-dimensionally. We'd like to trust our own instincts, but can we really be the most accurate judge of our true appearance? No wonder actors become exasperated.
Lani Martin is a 50-year-old New York–area actor who has been in the business since she was 10 years old. Throughout her career, she has struggled to find headshots that depict her honestly. Her agents would give her conflicting thoughts on the same shot, from "Oh my God, this is the best picture you've ever taken!" to "I won't use this picture; if you don't get rid of this picture, I'm not going to work with you."
Bethany Love Orr, an actor from Los Angeles, has had similar frustrations. "The best I can do is choose a photo that will compel the average viewer to have ideas and questions about me," she says. "A great headshot is like a killer logline. It leaves you hungry for more."
At Home With the Range
One way to get a better sense of your "true" image is to evaluate the range of roles you would logically be called on to play. A current trend in headshot photography is to have an array of shots suggesting types you might be asked to read for.
Martin considers her current set of pictures—shot by Christine Cain-Weidner—among the most accurate she's ever had. They include a generic shot, a soccer-mom look, a businesswoman type, and a pose with an apron and a wooden spoon. That final photo has been highly useful in getting her auditions whenever a breakdown calls for an "Italian mother type." Martin, who doesn't consider herself in any way "ethnic," is happy to benefit from fitting a particular niche look: "I'm good with that. I'll sell Ragú. Whatever."
Eric Dean Davis, a New York actor who recently celebrated 10 years with Off-Broadway's "Naked Boys Singing," uses a headshot that he feels projects the image of a "young dad looking at his children playing soccer." He doesn't consider what he's wearing in the photo to be a "costume," though the T-shirt and cardigan clearly give a casual image. Davis knows he's in need of a new headshot. He is leaving "Naked Boys" this fall and has already let his hair grow out to its natural salt-and-pepper coloring. He's happy to be moving on to a new, as-yet-undefined image. "I'm personally at that stage where I'm not really sure where I fit," he says, "which is really kind of exciting for me."
In Los Angeles, Jeff Daniel Phillips, best known for his Geico "Caveman" commercials, accepts that he's a character type—though he has diverse images for different parts of the business. (He does comedic work for stage and commercials but more-serious roles in film.) One of Phillips' two current photos, shot by Konerko, was taken partly in anticipation of a "Pirates of the Caribbean" call. But it was also meant to portray "convict" or "cowboy" and in fact earned him an audition for a cowboy role. The other photo suggests to Phillips "someone a little more intellectual—a college type."
Fifteen or 20 years ago, he says, "it seemed more of a novelty to have a bunch of looks, and sometimes kind of cheesy." These days, though, casting directors don't seem to have the time to imagine how someone bearded might look when clean-shaven or vice versa. (Phillips recently shaved his own beard and is due for another session with Konerko.) In any event, because of his caveman role, headshots are particularly important to him. "People don't even know what I look like under all the latex," he says.
What's problematic and even painful about the character-range strategy is that it can veer toward stereotyping. L.A. actor Deon Lucas says that every time he signs with a new agent, he is "presented a list, literally, of the looks that I need to capture in my upcoming photo shoot." These include "boy next door" and "young professional." "But as an African-American actor," he explains, "I always have to have that 'thug headshot' somewhere in the utility belt." Lucas doesn't think his appearance especially suggests the thug type, but he remains philosophical about the situation: "My objective is to make myself as malleable as possible, with headshots that portray an array of looks, even if it's not the real me. Actors just want to work."
The Photog's POV
Konerko, who himself studied acting in college, strongly advocates the character-range approach to headshots. "You get a lot of actors thinking they can play 16 different things, and they really can't," he says. "The industry won't let them. So it makes sense for an actor to know what they play really well and know that they can own the energy of that character. So when a headshot goes out, not only does it look like them—which for me is a given—but it also matches their energy."
Actors are at their best, Konerko believes, when they're acting, when they have actions and intentions to play during a session. He prefers to shoot a character in action. Similarly, New York photographer Blu Toth—a former fashion model and acting student—likes actors to do physical warm-ups and breathing exercises at the top of a shoot in order to move out of the mundane world and into an actor's frame of mind.
Toth, who also does the makeup and retouching for her clients, believes that putting the actor at ease is essential to a successful session. She serves tea and chats with the actors to get a sense of them as people. "I try to make it a very soothing, calming experience, so the actor feels pampered and comfortable," she says. "And it also gives us time to bond a little bit. So by the time I pick up the camera, there is already a connection."
When in a relaxed frame of mind, an actor can convey to the photographer what he or she wants from the session.  When communication fails, a shoot can falter. New York photographer Nick Coleman commiserates with actors when they feel that their headshots don't deliver the right message. "I feel that it's because the photographer is often shooting their impression of the actor," he says, "with little regard to what that actor wants and needs to book work."
Sometimes it's the actor who needs to do the listening. New York photographer Dorothy Shi does all the retouching following her clients' shoots. In most cases, people ask for very minor adjustments. But occasionally things get out of hand. "We have changed eye color, hair color," she says. "We've done taking the braces off the teeth—which is okay with kids. Taking off 10 pounds, taking another 5 pounds off the face, and another 5 pounds: 'Oh, I'm not sure now. I look too skinny!' That's when you have to call it: 'No, now you're crazy!' "
Deirdre Cash, one of Shi's clients, had been using a headshot taken by her husband, in a pose she now considers "contrived." "I was trying too hard," she says, "as opposed to just settling in to who I am." She felt most comfortable in a business suit, and so that's how Shi shot her. Cash believes the suit allows her to be imagined in a variety of guises: executive, pharmacist, hostess at a hotel.
The Aspirational Headshot
Every two years has been the traditional time to get new photos. That varies depending on circumstances. But a headshot session should not only serve the present but also look toward the short-term future. Some actors take an even longer look.
Photographer Thaddeus Watkins of New York will begin a shoot with an eye to the actor's current needs. Eventually more makeup will be added. He'll say, "Where do you want to be as an actor in four or five years?" And something will change in the actor's demeanor. He explains, "I'll say, 'You carried yourself differently just then—you brought your shoulders up. Put this other outfit on. Let's talk about this and shoot some more.' "
Whether thinking about your future self will result in shots that accurately reflect who you are tomorrow is doubtful, but this phase of the shoot can still prove valuable. Actors such as Orr can relate to Watkins' strategy. She chose her headshot from a photo session with David Noles. "There was no other shot like it," she says. "I have to admit, I chose it because it best represented the way I wanted to be, maybe not how I was at the time. But I've found that I have grown into that person. Now I think I've outgrown her and decided to re-shoot recently."
A headshot, it seems, is something like a logo, and there's nothing wrong with redesigning a logo. Just be sure that the product can live up to the brand.