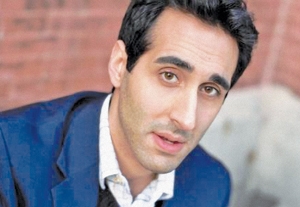 Allison Strong, Union City, N.J.
If you crack open any etiquette book, I'm sure there will be an entire chapter dedicated to proper introductions. Step 1: Standard greeting. Step 2: Firm handshake. Step 3: Name exchange. Step 4: Small talk. Of course, we're not standing face to face, but I'll still try to follow these steps and make a good impression.
Hello, readers! My name is Allison Strong, and I'm a 19-year-old college student from the Garden State. I come from a nonartistic family, so how did I end up studying something as impractical as musical theater?
When I was 7, my mother put me in theater classes to open me up to other people. I never got any solos in our class showcases because my teacher never knew whether I could produce full sentences or not, let alone sing. One day I begged my mom to ask for a solo for me, and my teacher reluctantly gave me "Much More" from "The Fantasticks." I triumphantly performed it at our little showcase, and all of a sudden parents were throwing around the word "Broadway" and asking my mom where I took vocal lessons. Since the truth was that I had never taken any, and that I had never been to a Broadway show prior to that time, my mother decided to get me started in my artistic education: shows, classes, community theater, and talent competitions galore. Honestly, I think she was just thrilled that her only child wasn't socially awkward, as she had originally feared. Regardless of her reasons, I am thankful for her encouragement of my early love for performing.
Fast-forward about 10 years and the time for me to go to college. After weighing a few attractive options, I decided to study locally at Montclair State University and audition as much as I could in New York at the same time. Then last spring, I went to an open call for "Bye Bye Birdie" at the Roundabout, and by some miraculous twist of fate I was cast in the teen ensemble. So rather than spending the fall semester in the dorm, I spent it at home with my school-psychologist mother and now-ancient dog, Magic, in the commuter heaven that is northern New Jersey. No history or computer courses for me; passing Broadway 101 is enough for now—well, until Jan. 24 to be exact, but more on that next time.
I'm looking forward to sallying forth into 2010 with you all, taming the beast that is sophomore year of college, and fighting the endless battle between auditions in the city and making it to honors philosophy on time. The transition from Broadway to college will be a strange one, but I'm sure it'll be something worth writing about and, hopefully, for your sake, something worth reading about. There's no doubt it'll be an interesting journey, and I'm excited to have new friends join me for the ride.
How was that for an introduction? I think I followed all the steps—except for the handshake bit. Then again, it is flu season, everyone…so let's not and say we did!
Derek Lui, Los Angeles
We wish everyone "happy" new year at this time of the year. But how many people actually make happiness one of their goals? Last month, I went home to Hong Kong for Christmas for the very first time after two years in Los Angeles. One of my friends asked me, "Have you been happy these two years?" I said, "Yes, indeed."
I was born and raised in Hong Kong. After graduating from college with a degree in journalism and communication, I started working as a TV host and writer for a variety of programs, including lifestyle, music, and movie programs. Meanwhile, I produced and appeared in plays, including the well-received "I Love Dian Deng Dan," for which tickets were sold out a week before it opened. My leading performance in the short film "Answer" was seen at the 30th Hong Kong International Film Festival.
Despite all these accomplishments, I felt unsatisfied. I wanted to be inspired creatively in another environment. That's how I decided to fly 7,248 miles from Hong Kong to Los Angeles and study at the Lee Strasberg Theatre and Film Institute for one full year. Life, as unpredictable as it is, has brought me to interview this whole new acting world ever since. I started working as an actor in Los Angeles after my study, and the missing pieces in my life have gradually come into place.
Happiness, as abstract as it may sound, is not that difficult to achieve if you are doing what you like. Michael Kostroff, one of Back Stage's Working Actor columnists, advised us in his workshop to treat every audition as the only chance to perform that particular piece, instead of treating it as a job. If you truly enjoy acting, auditioning shouldn't scare you, because it means you have another chance to perform for at least a few minutes.
This has served me well so far. In 2009, I booked the feature films "Soap on a Rope" and "Vamps in the City," the short film "22lbs," the monologue show "Sex, Relationships and Sometimes Love" at the Actor's Playpen, a production of the play "The Crossover" at the Marilyn Monroe Theatre at the Lee Strasberg Theatre and Film Institute, and the Web series "Into the Game." I have also landed agents—Bonnie and Frank Black, whom I really want to thank for their efforts and love.
So, my 2010 resolution is to be happy with what I am doing and truly enjoy every moment of my life as an actor, including the struggles. I will be developing a film project, tentatively titled "Huang," with my friend Alex Chu. I will also appear in a play directed by Eugene Butler in the first half of the year.
Wait, I do have a dream in 2010. It is to get into the very well-written "Desperate Housewives," to be one of the neighbors who shakes things up on Wisteria Lane. I know it's too big a dream, but hasn't Susan Boyle taught us the power of dreaming a dream?
Nick Martorelli, Philadelphia
Hi there, readers, and welcome to my first column as a member of the Back Stage Take 5 team. I'm Nick Martorelli, and I make my living as a professional actor. Oh, don't get me wrong: I do lots of other things to pay the bills—some of which are directing, writing, producing, and working behind a variety of desks at a variety of offices. But right now, acting is the biggest job in my life, and I feel very lucky for that.
Currently, I live and work primarily in Philadelphia, although a large part of my career so far has been spent doing work at regional theaters or in national tours. The community in Philly is expansive, with a lot of different theater companies all over town. Since graduating from Villanova University, I have worked at a lot of these theaters, but I took a big step forward in October when I appeared with InterAct Theatre in the regional premiere of "The Elaborate Entrance of Chad Deity" by Kristoffer Diaz. The show deals with sociopolitical themes by way of professional wrestling, and I was in a very physically challenging full-on wrestling match that opened the second act. In addition to being a fun show, it was really thrilling to be working for the first time at one of the major theaters in Philadelphia.
In addition to my theater work, I have appeared in film projects filmed in my town. I was a background performer in "The Last Airbender," the recent M. Night Shyamalan movie that filmed in Philadelphia. I also starred in "Paper Cuts," an online TV series, and "The Chrononauts," an award-winning short film. I have all of the waivers required to join the Screen Actors Guild (thanks to "Airbender"), and I am hoping to do a lot more on-camera work in 2010.
Now that the new calendar is up on my office wall, I am going to be very busy for the next few months. I will spend January in New York performing in "A Brief History of Cross Dressing in the Civil War," a new play produced at the Metropolitan Playhouse as part of its Living Literature Festival. Back home in Philadelphia, I will be in two shows by Quinn D. Eli. The first script, "The Golden Ladder," we have been workshopping for the last month, working with Quinn as he rewrites every week. After that, I work on another of Quinn's plays, playing Frank in "The Sex Tape Play" with Philadelphia Theatre Workshop.
As if all this were not enough, I am the founder and artistic director of Radio Hound Productions, a company that produced my adaptation of "Strange Case of Dr. Jekyll and Mr. Hyde" as part of the 2009 Fringe Wilmington Festival in Wilmington, Del. My partners and I recently sketched out the 2010 season plans for Radio Hound, and I will be producing my own projects for film, stage, and radio. And of course, all this is in addition to auditions and freelance writing work. I'm riding momentum at the moment, and I plan to keep it going and make things happen this year.
Octavia Spencer, Los Angeles
Happy new year, fellow Back Stage readers. I have a face that is constantly recognized and yet people aren't sure why it's familiar to them. I lovingly refer to this as actor purgatory—the realm between fame and anonymity. Having worked consistently for the past 10 years, I've somehow found myself languishing there. Am I bitter? No. I find it quite enjoyable because, for me, fame isn't actor heaven. Actor heaven is working with Hollywood's indomitable A-list. Hell would be, well…not working at all.
On a daily basis, whether at the drug store or in line at the bank, I get the joy of watching people mentally scan their Rolodex of past relationships, classmates, or relatives to see just where our paths might have crossed. In the 10 seconds it usually takes them to realize we probably aren't familiar, I silently thank the universe for my being a working actor in this predicament. But then I get the question, "How do I know you?"
I inwardly sigh, but outwardly divulge that I'm an actor. The expression of incredulity on some of the faces is priceless. I'm short, round, and—dare I say it?—adorable. Hollywood actresses are usually lithe, tall, and gorgeous. Right, their eyes seem to say. Then comes the next question: "What kind of acting do you do?" Hmm. I ponder this as I look around the immaculately decorated table dressed for 15 on the set of Jay Roach's new film "Dinner for Shmucks" (due in theaters in July).
I'm seated at the head of the table. To my immediate right is the incredibly witty Andrea Savage. Next to her is the venerable ventriloquist Jeff Dunham, who wins in me a fan for life in an indescribable comedic moment that will surely become legendary. To my far right are veteran funnymen Paul Rudd and Steve Carell. I watch in awe as they complete a scene that on paper is one of the funniest things ever written—but when performed is unparalleled, with nuanced genius on both their parts. I ask myself, "What are you doing here?"
Rounding out this enviable roster are the unequivocal Ron Livingston, David Walliams, Chris O'Dowd, Larry Wilmore, P.J. Byrne, Zach Galifianakis, Randall Park, Rick Overton, and eternally sexy Bruce Greenwood. However, presently stealing the scene is Patrick Fischler, a quirky yet handsome face you will recognize. His line delivery is adroit and effortless. I'm immediately addicted to his talent and try not to break during his coverage. Jay, our soft-spoken and always courteous leader, yells "Cut," and the entire crew breaks into laughter.
That's when it hits me. I'm not languishing in actor purgatory. I'm flourishing in actor heaven. Roach, the critically acclaimed creator of franchise juggernauts, is directing me with the likes of Rudd, Carell, Dunham, and Fischler. I sigh, relishing the thought that I've crossed over, and realize just how promising 2010 will be.
Richard Rella Jr., New York City
September through December is a very busy time in our profession. This is my second full season on NBC's "30 Rock." I am a stand-in, as well as part of the core background unit. This also marks my third year as a swing in the Off-Broadway production of "Tony N' Tina's Wedding." The holiday season is my favorite time of year, but, since I made the transition from college professor at Monmouth University to professional actor three years ago, I seem to have less and less time to enjoy it.
Amidst the hustle and bustle that pervades New York City at this time of year, I received a call from my sister, who provides the necessary daycare for my 19-month-old daughter, Sophia. My sister asked me if I had noticed a large lump on the side of Sophia's neck. My wife and I promptly rushed Sophia to the hospital and were told that she had to undergo intravenous antibiotics and testing. After a week of countless tests, Sophia was diagnosed with a staph infection in her lymph nodes. She would need general anesthesia, an operation to drain the lymph nodes, and in-home nursing for weeks to come.
Professionally speaking, those few weeks were a blur for me. I remember receiving text-message updates from my wife while I was on set and dashing to the hospital after curtain. Of course, my auditions did not stop coming in either. One such opportunity was in an email from Austin Pendleton, a former teacher of mine at the Manhattan School of Music. He wanted to see me for the lead in a new Terrence McNally play that he was directing at the Kennedy Center. It certainly wasn't easy to memorize 15 pages of text in the pediatrics unit, but with bills to pay and my little girl relying on me, the diversion of a busy schedule was a welcome one.
As heart-wrenching as it was to watch helplessly as my daughter went through this ordeal, I was consoled by a constant stream of loving visitors. Family, friends, former classmates, and co-workers, many of whom had never met Sophia before, brought us gifts, meals, blankets, and toys. One extremely memorable gift was a book, from a childhood friend of mine, called "The Secret: What Great Leaders Know and Do." In it, Ken Blanchard and Mark Miller say leaders should value relationships as well as results. Like all of us, I am always looking for ways to further my career faster. As I look forward to 2010, I plan on deepening the current relationships that I have with casting directors, agents, cast mates, directors, crew, and production assistants who care for me and my family so very much. Most of all, I am reminded this holiday season to say thank you to and for all of the wonderful blessings and people in my life.