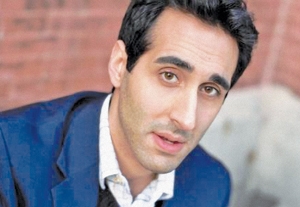 Allison Strong, Union City, N.J.
I love September and all that it brings: the crunch of fall leaves under my sneakers, the smell of pumpkin spice singing in the air, and the taste of my birthday cake as I savor each forkful. Maybe I'm just a college-loving weirdo, but back-to-school time instantly cheers me up. In my mind it translates to back-to-questionable-dining-hall food, back-to-procrastinating-on-my-piano-homework time, and back-to-auditioning-for-school-productions excitement. Perhaps the only thing I don't love about September is the weather change. After a summer of sparkling health, I stepped off the plane from Colombia, only to be met by a throat infection that nearly sabotaged my audition for "Sweeney Todd" at Montclair State. I'd been half-anticipating, half-dreading this audition since May and had been preparing for the role of Johanna, Sweeney's yellow-haired daughter. The fact that I sounded like a drunken rooster every time I opened my mouth to sing certainly didn't help my nerves; neither did the fact that I hadn't tried out for any of the school musicals since freshman year. As I have been a self-professed hypochondriac since grade 10, my first instinct was to sprint to the pediatrician and get a trusty antibiotic to annihilate the army of bacterial gunk that had invaded my throat. Unfortunately my mother, the Homeopathic Medicine Woman of Northern New Jersey, would hear nothing about seeking professional help and rushed me to the Vitamin Shoppe instead. One week, one fantastic callback (thankfully), and countless vitamin C tablets later, the cast list was tacked up to the callboard. I reluctantly weaved into the buzzing swarm of eager theater students standing in front of it and saw my name attached to the role I'd been dying to play.
A few days after the casting news for "Sweeney" was announced, I blew out the 20 birthday candles on my cake back home. Amid the off-key verses of "Happy Birthday" friends and family serenaded me with, I was filled with the overwhelming feeling that this would be my year. The fall semester has already started with a bang: By day I'm in class, by night I'm rehearsing Sondheim, and in the gaps between class and rehearsal, I manage to zip to New York for the occasional last-minute audition. This month I had a callback for "The Shaggs: Philosophy of the World," a musical that will be playing Playwrights Horizons in May; two auditions for the "The Good Wife" on CBS; and one audition for a hilarious independent film called "The Discoverers."
While many people must be mourning the end of summer beach days and the return of the dreadful 9-to-5 schedule, I'm welcoming autumn with open arms. In my world, back-to-school means back-to-rehearsal, back-to-all-night-cramming-sessions, back-to-living-with-an-awesome-roommate-named-Claudia, and back-to-business. That's not to say I've forsaken summer entirely; I will cherish the memories of precious days spent sunbathing at the shore and slurping Italian ice. But truth be told, I'd rather be sitting at Starbucks running lines over a cup of hot tea anyway.
Richard Rella Jr., New York City
Part of the reason I loved playing football in high school was the surge of adrenaline I felt when I would run down on kickoffs. The thrill of chasing down an unsuspecting running back and stripping the ball from his sweaty hands always exhilarated me. The hours of preparation and study culminating in game-day success ultimately led me to a Catholic High School Football League all-star game and scholarship offers at two prestigious universities.
Besides teaching me invaluable lessons about teamwork and focus, football brought me my first brush with success. It is always difficult to define and evaluate success objectively, especially in the creative arts. Is this concept of success only tangible with the attainment of material goods? The expression "The one who dies with the most toys wins" seems to dominate American society in the 21st century. I know that I am guilty of it. I want more than I have: more acting roles, more singing opportunities, more classes to teach (I started teaching courses at Monmouth University again this semester). Sir David Frost—journalist, writer, and comedian—says, "Don't aim for success if you want it; just do what you love and believe in it, and it will come naturally."
In September, I was hired to sing at the 18th Avenue Feast in Brooklyn, N.Y. Dedicated to Saint Rosalia of Palermo, this 33-year-old celebration spans eight blocks in Bensonhurst. I sang 20 songs, from Frank Sinatra to Frankie Valli, on the 72nd Street Bandstand as thousands of patrons paraded up and down the overcrowded avenue. Our corporate sponsor for the event was CBSFM, and I had the opportunity to meet and perform for these executives. I have been listening to this radio station since I was a kid; to be able to sing for so many people as they gorge themselves on meatball heroes and zeppole was invigorating. Photographs and video of my performance can be seen on YouTube and Facebook.
Finally, I would like to thank the cast and crew of USA's "Royal Pains" for so generously donating their time, money, and food for the charity I am involved with, Rock and Wrap It Up! Since its inception in 1991, volunteers for this wonderful organization have brought all the untouched, prepared food that was not served at sporting events, concerts, and schools to shelters and food banks across the country. I began volunteering with this organization three years ago when I watched, horrified, as countless trays of untouched food wound up in the garbage after a catered lunch on set. Now I use my film and television connections to bring what is left of catered lunches to hundreds of less-fortunate individuals in NYC.
So maybe that is what success is: giving. Perhaps the more we give to crowds of spectators or to those with needs, the more fulfillment we will find right under our feet. And perhaps we will then stop looking for happiness in the distance. For more information or to volunteer locally, visit www.rockandwrapitup.org.
Nick Martorelli, Philadelphia
September is a busy time here, due to the annual Philadelphia Fringe Festival. It is a time for multitasking, performing by night and rehearsing by day, and coming together as a city of artists. My Fringe experience has run the gamut this year. I started as a leading man, moved to a supporting role, and ended as the producer of my own show.
First up was "Superheroes Who Are Super," a live word-for-word reading of classic comic books from the late 1930s. I played Superman, performing some of his early appearances in Action Comics when he fought corrupt businessmen and evil slumlords. I am a big comic book fan, so I could not pass up the chance to play Superman on stage. Standing with an "S" on my chest, I had my hands on my hips while an actor behind me made my cape billow in the breeze. I felt like I was a kid again, playing superheroes in the backyard. It was a dream come true.
When my time in the red cape ended, I moved across town to don a waiter's outfit in "Droit du Seigneur." This one-act play focuses on two businessmen in an Italian restaurant, and I played the younger of two Italian waiters. Even though I had the smallest role in terms of lines and stage time, I had the final moment onstage when I had to drink greedily from a bottle of wine and let the wine run down the front of my body. I went home every night smelling like grape juice, but it was a very powerful final image in a satisfying show. I enjoyed supporting the theme of the play without being the leading character in the story.
When that show closed, I launched straight into rehearsals for the Wilmington Fringe Festival, writing and producing "The Peer-Reviewed Journals of Boson Higgs, Science Detective," an original audio drama. I had meant to have readings of the script throughout the summer, but overbooked schedules forced me to reconsider that plan. Thus, at the first read-through, I took pages of notes and was constantly scribbling in my script. Using those notes, as well as comments from the actors, I was up until 1 a.m. writing a new draft of the script. Hearing voices read the dialogue out loud helped me find ways to make the script stronger and funnier, and we now have a good show to present. The entire process for this show lasts only two furious weeks, and Fringe Wilmington will be over by the time you read these words. But Fringe season will come around next year, and sleepless nights will again be the norm. I'm looking forward to some relaxing before then.
Octavia Spencer, Los Angeles
I'm not easily impressed. In reading that, one might assume I'm a pessimist. I'm not, though I wouldn't refer to myself as an optimist either. I'm a realist: one who sees things as they are. But every once in a while, the universe sends me a situation that is indefinable—meaning, in my skewed view of the world, impressive. Inspirational. In the annals of my life, that's where I will file September 2010.
When I began filming "The Help" in July, I was thrilled to embark upon the emotional journey in preparing the role of Minny Jackson, a complex force of nature. However, I got more than I bargained for—much more. I couldn't move forward with this character until I knew exactly who she was, until I walked in her shoes. "She's you, right?" I'd constantly been asked as people misinterpreted my history with Kathryn Stockett, who wrote the novel the film is based on.
To understand that question, you have to know a little bit about the character. She was born in Mississippi in approximately 1930. At the height of the civil rights movement, she was in her early 30s, an abused mother of five, and a domestic. These were dark years for African Americans, a time in our nation's history when to be of color limited your options in life. Civil liberties were privileges that didn't extend to us. It took the courage of a few people like the fictitious Minny Jackson, Aibileen Clark, and Skeeter Phelan to change the social consciousness—real-life people like Myrlie and Medgar Evers, Septima Clark, Bob Moses, Ella Baker, Fannie Lou Hamer, John Lewis, and Stokely Carmichael. Let us not forget the sacrifices made by countless Andrew Goodmans, James Chaneys, and Michael Schwerners.
In wearing Minny's shoes, I realized just how small my own feet were. You see, I've taken much for granted. Minny taught me that knowing my history didn't necessarily mean that I appreciated it. I do now. I appreciate my humble beginnings and a mother who taught my siblings and me that nothing was out of our reach, that all things were possible. I appreciate the martyrs for freedom.
Working alongside my friends Tate Taylor and Brunson Green, and seeing them at their best, warmed my heart. Getting the opportunity to work with Jessica Chastain, Viola Davis, Aunjanue Ellis, Bryce Dallas Howard, Allison Janney, Ahna O'Reilly, Emma Stone, Mary Steenburgen, and my idol Sissy Spacek changed my life. Suffice it to say that I now understand what it means to truly trust and connect with your partner, then soar through a scene. It's liberating.
As I enter the next phase of my life and, hopefully, my career, I'm impressed that by working with these amazing actors and taking this journey through time, I'm left with one of life's great lessons: Whether the glass is half-full or half-empty is irrelevant; it's that I own the glass. Minny would be proud.

Derek Lui, Los Angeles
I consider myself a lucky man. Ever since I started pursuing acting, there have always been nice and supportive people around me to whom I am very grateful. And who would have known that writing this column for Back Stage might end up landing me an acting job?
In the February issue, I quoted a sentence from last year's Take Fiver Leon Acord. As a courtesy, I emailed him the article, and we started corresponding. Leon was very kind to give me much valuable advice from his acting experiences. We finally met each other at the Back Stage Garland Awards party in April. Last month, Leon told me he is writing and creating a Web series called "Old Dogs and New Tricks" and there is a part that might be right for me. I read the script; it is hilarious, and I for sure want to be part of it.
Another acting opportunity was from someone I have known through my volunteering work. Michael Shepperd, the artistic director of the Celebration Theatre in West Hollywood, referred me to Jerrika Hinton for a Web series she was creating, a very fun project that plays with stereotypes. I was hired as a last-minute replacement. The writing is sharp and witty. I would have never have even heard of the work if it weren't for Michael's referral.
Actors are no strangers to intimate situations. They're part of our job. September was a bit unusual for me because almost every acting job I booked involved a kissing scene or two. I am sure everyone has a story or two about this. For the sake of my scene partner, I always stay away from craft services until the kissing scene is over. And I am thankful all my scene partners this year were very professional, so it made working on those scenes easier. I had an experience last year where the girl giggled every time before the camera started rolling, and ate garlic and onion the moment before we did the scene. This made working a bit more challenging.
Last but not least, I worked on a PSA directed by Bryan Jackson. The production design was so beautiful. I played a drunken businessman, and I almost forgot to remove my drunk makeup after the shoot. Probably not the best idea when you finish the shoot on a weekend night, right?