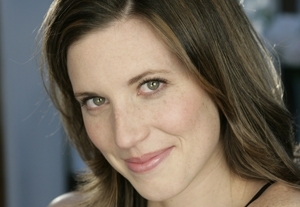 Last month I immersed myself in Weimar Germany (and layers of clown makeup) to play Bess in "Untitled Play About Brecht's Girlfriends & Boyfriend & Wife." This month I hunker down in an American suburban backyard, complete with fences, tetherballs, and playground equipment (thanks to brilliant designer Cecilia R. Durbin), to play 9-year-old Sage in Sara Farrington's fantastic new play, "Mickey & Sage."

A lot can happen in a year. Last October we performed this play as a one-act in a tiny East Village bar. Since then it's expanded to a fast-and-furious four-act spanning 10 years in a little over an hour. We've workshopped it at Foxy Films in Brooklyn, the National Theater Institute at the Eugene O'Neill Theater Center, and the Great Plains Theatre Conference in Omaha, Neb. It has even been translated into Portuguese for a production in São Paulo, Brazil. (My Portuguese is a little rusty, so unfortunately I can't participate in that one.)
After a whirlwind year, we are bringing it back home to NYC for our official premiere Sept. 21–30 at Incubator Arts Project. I am particularly excited about our Sept. 27 performance, as it will be followed by a talkback with playwrights Erin Courtney, Sibyl Kempson, and Sara Farrington in which they will dive into the nitty-gritty of self-producing and the world of downtown theater.

"Mickey & Sage" has been likened to "an early 'Simpsons' episode if it were written by Molière." I don't know that I've ever heard a more apt description of a play. This thing is pure joy.