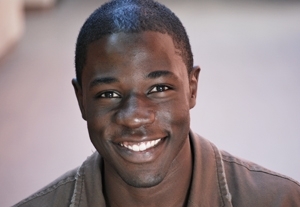 Sometimes I'm not sure whether to be excited by the uncertainty of the actor's journey—or terrified out of my mind. Ambition is part of my nature, but sometimes the hows and whens of the matter are so obscure. It would be comforting to have a formulaic answer like "this action + this action at this time = this result." But that's not realistic. I have to accept a sort of discomfort as home. I do know, however, that I'm ready for a big change. I'm not sure what that is yet, or how it will manifest itself. But I know I'm ready.

Over the last few weeks, I've been flying back and forth between L.A. and NYC auditioning. I have a couple more weeks off before I head to Boston for "Invisible Man" at the Huntington Theatre Company. I was hoping to maybe squeeze in some TV or commercial work and book a project to follow the closing of "Invisible Man" in February. I have no idea if that will happen, but I'm doing what I can to make it happen. I have an audition coming up in NYC that I'm very excited about. So I'm doing an intense amount of preparation on that now.

I find myself at the start of December in my Hollywood apartment on a rainy Sunday evening in a reflective mood. Part of the uncertainty I'm learning to embrace is that this could all change tomorrow. If nothing else, this year has taught me that each day is an adventure, full of brand-new possibilities. As my last column, I thought I might catalog my journey as an actor over the course of the year. But that somehow feels vain. I guess what I'd like to say instead is that I'm proud of my 2012, and it's not even over yet. I only hope to build on the progress I've made, keep sharing myself through the art of storytelling, and stay open to change.

Thank you for being a part of my journey this year.
McKinley Belcher III is from Atlanta, Ga., and is based in Los Angeles. He received an MFA in acting from the USC School of Theatre. Belcher has experience in TV, film, theater, commercials, and voiceover. He is represented by Bauman, Redanty & Shaul and Brady, Brannon & Rich.