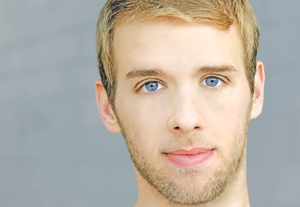 Ed Stelz, New York City
Once upon a time, someone mistook me for Brad Pitt. Okay, I know you just looked at my headshot. And I know what you're thinking. So, since you're in agreement with them (ahem), let me reveal my true identity.
Less than 3.5 years ago, I was filling out medical school applications. Less than 3.49 years ago, I finished making origami out of them. A two-and-a-half-year New York City conservatory training and many auditions later, I find myself full steam ahead with my acting career. I've failed. I've failed many, many times. I've tested boundaries, flopped many auditions, and—like many actors—chosen the wrong flavor of custard at the Shake Shack. I've also booked national commercials, Equity shows, and Off-Off-Broadway plays my mother wouldn't even see. But whether I succeeded or flubbed, I knew I needed to stay optimistically proactive by shimmy-shammying past all challenges still ahead of me.
I must admit I thank my past for that mentality. While in college, I was the French-speaking, backpack-toting, soccer-playing, frat brother–partying, pre-med thespian desperately searching for his sanity. But when I sat down to write this article, I realized it was that lack of sanity that prepared me for one of the most desired yet most enigmatic occupations. Coming out of conservatory, I started at the absolute bottom. No showcase. No agents or CDs came to see my work. Nada. Just tossed into the deep end, desperately gripping 40 pounds of newly printed headshots from Reproductions. After a lot of hard work, I've finally anchored my first carabiner and hoisted myself up the wall-o-goals I need to climb. By the time this article reaches newsstands, or that wonderful desk that most likely you've seen my mailed packet come sweeping across (whether opened or flipped right into the trash), I'll be in previews for the show "Carnival Round the Central Figure" at the IRT Theater. I had goals laid out for 2011, and one of them was acting in an Equity show. Check!
A year from today, I certainly hope to have accomplished many more goals: get cast in a feature or larger Off-Broadway production; finish writing my TV pilot prior to my next show in March; get on more CDs' radars by doing honest, quality work; and continue to strengthen my friendships in and out of my acting circle. Now to you wonderful readers, whom I hope to become great friends with this year: I invite you to join me on my 2011 journey of mayhem—whether it's to guide you or entertain you, or for you to commiserate with me or laugh at me. No matter who you are (Brad Pitt or not), I hope my 2011 shenanigans will benefit you in some way.
www.edstelz.com
Judy Chen, New York City.
They say a lot can happen in a year. And despite how quickly 2010 came and went, it was indeed full of major changes for me. I took a tremendous leap from the security of a well-paying and interesting desk job. Whether it was due to culture or practicality, I had continued on the path that stifled who I really was, because I thought the daily grind was part of what being an adult entailed. While I was grateful for what I had achieved, I finally came to terms with this: After years of doing what I thought I should with my life, I would never feel the sense of fulfillment that can only arise from doing what I love.
My background could not be further from performing. But with an undergraduate degree in architecture, a master's degree in real estate development, and a stable paycheck from a great company (especially in this economy), nothing could quell the fear of waking up one day with a family and other responsibilities without having at least attempted what I have always wanted to do. The thought of not knowing whether or not I could have succeeded was infinitely scarier than undergoing the trials and tribulations of a complete lifestyle change spurred by my quarter-life crisis.
To start, compiling an acting résumé with almost no credits—especially when compared with fellow actors my age who have extensive training and experience—was nothing short of humbling. I worried that I would be unable to catch up or that I would so evidently pale in comparison when vying for the same roles. Fortunately, living in New York City provided access to plenty of acting classes and numerous types of productions, from Off-Off-Broadway shows to student films, that constantly had roles to fill. Within one month of auditioning, I was pleasantly surprised to land two theater roles, which provided the credibility for me to subsequently obtain commercial, film, and television opportunities. I have since experienced the ups and downs of an actor: the diligence of preparing, the nerves of auditioning, the elation of being cast, and the adrenaline rush of performing. Routine all of this is not, but it is an exciting roller coaster ride I want to stay on forever.
In the year ahead, I will contemplate moving out west, and I hope to land an agent and continue honing my craft. I know the transition from a completely different background will remain a challenge, but I already realize that it has been the best decision of my life, and the happiness I have felt in these few short months is beyond the realm of what words can convey. As we continue on this journey together in the coming months, I hope that when December 2011 arrives, we can look back and say what a difference this year has made for each and every one of us.
Mark Knight, Philadelphia
Philadelphia has a great performing-arts scene. I'm an outsider, though I've been here nigh on a decade. The cool thing about being an outsider is the simultaneous being there and making note of what's happening all the while. It's a theme much visited by storytellers. Actors (and playwrights) are storytellers, of course, and Philadelphia has got some gobsmackingly good storytellers.So. I'm the Back Stage Take Fiver for Philadelphia. Let's be clear, folks: Phila didn't ask for it, and the Back Stage editor who read my spec column for this musta had a very merry Kiffus party (I'll explain Kiffus later) or you wouldn't be reading this. It's me, warts and all. Idiosyncrasies'R'Us, I'm afraid.
I'm a British actor-playwright—a legal alien, so no reporting me to the INS, okay? Been here 13 years. That outsider mystique still elicits, "Ooh! Say something British!" Sorry, folks, but really, the accent is fake. I had to talk nice so that a) audiences wouldn't wonder, "Why is that mumbling cockney idiot playing Macbeth?" and b) girls would think I was smart. I am happily married with five daughters. Eldest is in the U.K. but hops on a plane when we can beg, borrow, and steal enough.
I have appeared in over 377 theater productions. No, wait, 392 including the clown stuff. I've done radio. On TV, I was the star of "Knightmare." I've toured the U.K. and Europe with several theater companies. I'm also a playwright, producer, and director. I was a resident actor-teacher at Shakespeare's Globe Ed for years. Then I produced, directed, and appeared in the opening of the Globe's first season, performing before Prince Philip. I can't go back to Britain for the moment. It'll all blow over. Really.
In December I appeared in a benefit for the Idiopathic Ridiculopathy Consortium. Tina Brock built this company that does absurdist classics fast, funny, and fresh. I was lucky to be in this year's Fringe hit "The Madwoman of Chaillot." I killed—only in the sense of making our audiences laugh a lot. Last year I was in two plays in the Philadelphia Theatre Workshop's third festival; on Jan. 9, I'm auditioning for the fourth festival. Over a five-week period, the workshop develops scripts into plays ready for world-premiere productions. Playwrights get a cast, director, and design budget. Plays are rehearsed and rewritten every day, and each weekend staged readings are put on. Audiences give feedback, and the playwright does what we mostly do: We rewrite. And the next weekend we do it again. I submitted three plays for the 2011 festival. Didn't get accepted. Still love it.
I'm out of space and time. Have to go do a podcast, a voiceover audition, the diapers, walk the dog, stroke the cat. By the way, the cat and dog are girls too. I'm the only guy in a house with seven girls. Oh, yeah, Kiffus. My 3-year-old daughter. So cute.
www.listen.to/Mark
Deborah Strang, Los Angeles
I'm afraid I'm not really adept at setting goals. I tend to get lost in the day-to-day, moment-to-moment doing and fail sometimes to focus on what comes next, much less on what I want to come next. Perhaps that steads me well in the craft of acting but often leads to shortcomings as a businesswoman. If I do set a goal, I fail to write it down, or I mislay the piece of paper on which it is writ. Consequently my bank account is meager, my IRA is scattered and not well invested, my closet is a disaster, and my reel is badly in need of updating. Just the fact that I still call it a reel instead of a demo may give you an idea of how far behind I might be. Until last fall, I was still using my old black-and-white résumé photos. These are not things of which I am proud.
For the past several years, I have kept an ongoing to-do list. At the end of each year, I have looked back over it to see what has not been crossed off and added that to the beginning of my new year's list. "Update reel" will slide over once again, as will "Lose 10 pounds," "New curtains for the bedroom," "Clean out closet," and "Go to Italy." To that I have already added "Take a class" and "Rememorize 'Noises Off,' " for a remount this month at A Noise Within, my theater company. Does that count as goal-setting?
If someone had asked me 40 years ago what my goals as an actor were, in my innocence I probably would have said to be in a Broadway show, to win an Academy Award, to have a TV series, and to be rich. I'm quite sure I would not have said to be a resident actor in a classical repertory company, to teach Shakespeare, to run a box office, and to help build a theater. And yet, here I am, and that is what I do, and I find it is actually what I always wanted.
How does that happen? How do we start our lives walking down one path and end up somewhere else? Of the people I knew in grad school in the early '70s, I think only one, other than myself, is still an actor. Many very talented friends left the business because they wanted something different out of life: money, security, children, a home, insurance, respect. I certainly found myself moving in other directions through the years, but eventually a door would open and I always found myself walking toward my bliss, so to speak.
I might be inclined sometimes to say it is just luck or fate, but in my clearer moments I know it is some combination of training, experience, therapy, classes, failures, risks, humiliations, applause, fear, daydreams, laziness, challenging directors, friends, lovers, family, and stubbornness that have impelled me to this place. Even nonchoices are choices.
www.anoisewithin.org
KC Wright, Los Angeles
It's really easy to adjust to L.A. weather. After two decades of East Coast humidity, gray skies, and rain, living in Los Angeles feels like a never-ending summer vacation. It hasn't taken me long to get spoiled by the California lifestyle; how could I not like it here? But as it turns out, the perfect weather is a red herring. L.A. is a big, scary, awesome, complicated place, and (warm winters aside) it has definitely taken me by surprise.
I moved from Pittsburgh to L.A. in June 2009, Carnegie Mellon BFA in hand. I'd dreamt of being an actor my whole life, but I never imagined starting my career in Los Angeles. In fact, as a Northern Virginia teenager, I shunned Hollywood stars in favor of the stage actors I saw in D.C. and New York. It wasn't until my senior showcase at CMU that I gave L.A. any real thought. I had always loved film and television but had limited knowledge of that side of the industry; I was a theater actor to the core. But as my training drew to a close, the line in the sand disappeared.
I visited New York. I visited L.A. I met with agents and casting directors, and I realized I didn't want to be defined as a "theater actor" or a "film actor" but as both; one side of the craft so thoroughly feeds the other. The question changed from "What do I want to do?" to "Where do I want to do it?" New York had all the allure of home: my kind of actors, doing my kind of work. L.A. was different; it felt like an important new adventure, a chance to change the course of my career forever, a chance to use what I'd learned in a totally new way. And so here I am, a year and a half later, living the dream in the City of Angels.
It's been an illuminating 18 months. Fresh out of drama school, I am so full of creative energy and passion for the work that I fear I might burst. Like many actors, I struggle to balance patience with persistence. I am constantly discovering how much I have to learn, even after four years at a top-notch conservatory. And I miss the rich theater culture of the East Coast. L.A. has its theater, but you have to know where to look. Still, I have a lot to be excited about. 2010 included my first trip to the Sundance Film Festival (shooting Jeremy Ungar's "A Short Film About Kissing"), a three-month run in Charles Mee's "Paradise Park" at City Garage Theatre in Santa Monica, Calif., and a slew of smaller projects and awesome auditions. I have incredible and supportive representation, a wonderful group of friends, and, perhaps most important, an ever-growing love for what I'm doing.
I don't know what to expect from 2011 (though I imagine sunny skies are in the mix), but that's part of the fun. I can't wait to see what happens next, and I am so thrilled to be sharing the adventure with Back Stage.