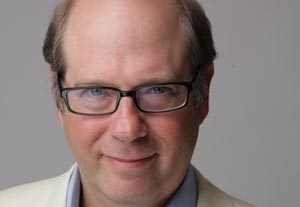 When you are an actor you get used to long periods of "the same." If you work in the theater, your life becomes all about getting ready for the opening curtain. During pilot season you get used to the routine of working furiously on auditions—and then praying. The worst are the horrible stretches of "the same" when nothing is happening at all.
This month was not that. Nothing was the same. It was a month unlike any I have had in my life. I was invited to England to sign autographs at a "Glee" convention in Birmingham. I was given the opportunity to go over early to perform one of my original stories with Cedering Fox's WordTheatre. I was on a bill with David Soul, Dame Harriet Walter, Alastair Mackenzie, Guy Paul, Damien Molony, John Schwab, and Rebecca Hobbs presenting readings for the Duke and Duchess of Devonshire and an audience of about two hundred at their private estate. Wow. This place was unlike anything I had seen. It was used as a set in the movie "Pride and Prejudice." Queen Victoria danced in the ballroom. The stables were bigger than the Glendale Galleria. You had to take an elevator to go to the men's room.
While my wife and I were up on the windswept moors of Wuthering Heights, we encountered a miracle. We got Internet. While on the Internet I received a Google Alert that I had been added to the cast of "The Mindy Project" on Fox. Yes, I got a job! Not only a job, but a job with Mindy Kaling, whom I have been a fan of since I first saw her on "The Office."
How does an actor celebrate when you are in an isolated, rain-soaked corner of the world? You tell a sheep you got the job. Which I did. This was something else I had never done.
I got back to America on a Monday night with jet lag and a cold. Tuesday, I pretended I was well and started full throttle on "The Mindy Project." I went through a sea of publicity, culminating with the Fox upfronts at the Beverly Hilton hotel. Upfronts are like any other loud party except all of the drunk people write for newspapers. I was ushered through a gauntlet of photographers. The first one aimed her camera at me and said, "Just be you." She focused, refocused, and then lowered the camera with a touch of dissatisfaction and said, "Can you just be you—but more?"
I am working on the show now. What a wonderful group of people. I keep thinking I must have died in the sheep meadows and ended up in actor heaven. The work is hard, but we all look forward to coming back the next day. It doesn't get better than that.
It's lucky I got the job, but it's a blessing to get the opportunity to bring the words of that poor photographer to life. In a way, I guess, it's the actor's creed. I get the chance to be myself—but more.