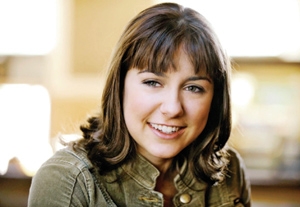 Ed Stelz, New York City
Rejection. Criticism. Struggle. Poverty. Insecurity. We, as actors, have most likely experienced one, if not all, of these hindrances during our careers. They become individual ball-and-chain encumbrances tightly shackled to our ankles as we sprint toward the finish-line-o-success in an extremely crowded marathon race. In January, my insecurity ball grew to what felt like 1,000 pounds—and only because I lost focus on what was important in my career—or better, why I chose this career to begin with.
My current show, "Carnival Round the Central Figure," received unbelievably amazing reviews, including a Critic's Pick from Back Stage and a brilliant New York Times review. Now this might confuse you. Why would I, as one of the main supporting characters, be insecure after these reviews? Well, I'm also one of the only actors who never received a personal review—nothing good, nothing bad, just nothing. I speak of this only because reviews do not, and will not, ever affect my performance. Seriously! So what do reviews do for me? A good review would give me the opportunity for self-promotion to industry personnel; a good review would affirm my acting ability; a good review could lead to more work, more money, and more stability. A good review has the power to transform those heavy balls into feathers.
Now let's take a step back. During previews, the playwright—who was with us every rehearsal and every performance—pulled me aside, saying I had made more of my character than she could have ever imagined. At each performance, I had audience members approach me and praise me for my work, mentioning how much they related to my character and his struggle. Good praise, but no reviews. What was going on? My offstage energy declined. I became upset, frustrated, and insecure, while suppressing it all. I thought, "Just one good review could launch me past so many obstacles, getting me so much closer to the top of that wall-o-goals."
But I was so concerned about my long-term goals that I neglected the simple, immediate, obtainable goals right in front of me. I also neglected the fact that people were so moved by this evocative show, they felt compelled to approach actors and express their emotions or personal stories relating to the piece. And that, there, is one of the main reasons why I chose an acting career. I had lost that focus, and my closest friends smacked me back down to reality and helped put me on the right track by showing me the many accomplishments that I had achieved with this show.
Now what has happened to that 1,000-pound insecurity ball? Well, I lent it to "Jersey Shore's" The Situation.
This month, I'll start rehearsals for a new play, "On Campus," as we in "Carnival" hope for a pickup to a larger theater. As for my pilot: I've had several amazing meetings with the co-writers, and writing it is the next step.
www.edstelz.com
.
Judy Chen, New York City
What defines a successful actor? Having roles offered without needing to audition? Being labeled "A-list" in the tabloids? Winning an industry award? If those are indeed reliable benchmarks, does superseding each milestone make one more successful or a better performer?
I've been pondering that question since I started accumulating credits on my résumé. What was once predominantly schooling and personal talents in big font and wide margins has been gradually replaced with work under each category, from theater to industrials, in a few short months. As I track my progress, not only do I feel a sense of accomplishment, but it also enables me to honestly assess my strengths and weaknesses to set realistic goals for myself going forward to become a true working actor.
Now that the holidays are over, auditioning opportunities have begun gaining momentum once again, which means dashing out during lunchtime and hoping that, upon arrival, the wait won't surpass my allotted one-hour break. I will be getting new headshots in a week and have started designing my acting website. Furthermore, I have listed all the classes and workshops at different studios that I would like to attend this year so I can spend my time and money wisely, as those are two things I always seem to be perpetually in short supply of.
I recently read an interview with a well-known movie actor who came to Manhattan to star in a Broadway show. In one of the performances, there were only two people in the audience, and she said she left the theater feeling just as elated as on any sold-out night. The same situation occurred with a show I was in last year, and I remember very distinctly a fellow cast member saying, "It doesn't matter if no one is out there, we do this every night because we love it." After that evening, I no longer felt discouraged if the crowd wasn't as big as we liked or if the audience didn't react the way we had hoped. The process was rewarding in itself.
Truly successful people, in my opinion, do what they love and only for the right reasons. Persistence and diligence to do well in this business can never last when fueled only by the desire for fame and fortune. Everyone's definition of "making it" varies. Some people are easily content, while others find themselves never good enough.
Though the notion of success is relative, it is nonetheless something we all aspire to achieve, since I believe "failure" is the most scathing f-word of all. Having been performing for less than a year, simply receiving a callback is success enough for me. That and reformatting my résumé with a smaller font and the surprising need to delete the less important special skills I possess give me faith that, despite being the most impatient person I know, I too am slowly on my way.

KC Wright, Los Angeles
Being an actor requires some serious fortitude. January was a slow month for me, so these past few weeks have really emphasized how much of my life is about waiting—waiting for auditions to come in, waiting for feedback, waiting for projects I've done to be finished, waiting for things I'm cast in to start, waiting for the casting director to call my name, waiting in traffic on the freeway, and of course waiting tables to make ends meet. And that's just day to day. Long term, I'm waiting for the right part to be written, waiting for my career to stabilize, waiting to break through, waiting to be heard.
I've been told over and over that an acting career is a matter of persistence: If you want it enough to wait for it, it will eventually come. It's about stick-to-itiveness, dedication, and, for sanity's sake, patience. Unfortunately, I am a very impatient girl. So much so, in fact, that during a fit of restless self-improvement, I Googled "how to be more patient."
The irony of using the world's fastest source of information on my quest for more patience is not lost on me. I read a few articles about journaling, breathing, taking in the moment, and suddenly, it struck me: These are skills I learned in acting school. Carnegie Mellon's training is mostly focused on classical theater, with minimal emphasis on filmmaking, "the business," or "the real world." Like most trained actors, I've often felt a disconnect between the work we did in class and the actual job of being an actor. But what if I approach my acting career the way I would a school project, and apply that seemingly specialized acting-school skill set to my postgrad life? My program emphasized process above all else; rehearsals were a chance to take risks and experiment, with full confidence that if the process was exciting, our performance would be too. I know that the minute I approach rehearsals looking for the "right answer," my creative energy is lost.
I spent my four years at school learning process, not results, and I think it's time to apply that approach to my life. It's time to be present at each step, enjoy myself, and know that each small failure or success is building up to something greater. That doesn't mean that I will always enjoy the excruciating traffic or hourlong waits in a casting office, but oftentimes the toughest rehearsals yield the best discoveries. "Being present" is a bit of a corny sentiment, but hey, this is a really tough job. Sometimes a little corniness helps.
So it's with a newfound patience that I am enjoying this calm-before-the–pilot season storm. I'm soaking up my time off before reopening Charles Mee's "Paradise Park" with City Garage, one of L.A.'s best and most unique small theaters. This time we will be performing at Track 16, a pop-art gallery and installation space at Bergamot Station in Santa Monica. Performances start in early February and—dare I say it—I can't wait. Be sure to check out
www.citygarage.org
for what is sure to be a bizarre and exciting theatrical experience.
Deborah Strang, Los Angeles
If my first impulse is to say no, and it frequently is, I try to say yes. That's how I ended up writing this column, how I got into teaching, how I first auditioned for my theater company A Noise Within, how I ended up being in a relationship with the love of my life for 27-plus years. I don't want to say no just because something feels too unknown and frightening.
I may have said yes a bit too often lately. Here is this week: Friday, Saturday, and Sunday I'm in the midst of a two-week revival of Michael Frayn's farcical valentine for actors, "Noises Off." By the time you read this it will already be over. It's an intricate physical dance of slamming doors and misplaced sardines, and we laugh as loudly backstage as the audience does out front. I have bruises all over my body and no idea how they got there, but laughing that long and that hard is good for me, for my soul, and for my digestion.
Monday morning I film a scene for "The Comedy of Errors," directed by Michael Michetti and opening at A Noise Within in late February. I'm not in the play itself, but Michael has put together a silent film for one of the scenes, and he asked, so I will spend the morning sitting on the ground in front of the theater, begging for money for my twin babies.
Monday night I teach a class called Acting Shakespeare. I love this class; I've been doing it for several years now, and I'm so grateful for all the things my students have taught me. Currently I have a number of people prepping for grad-school auditions, several of whom are very experienced, a couple of whom are fairly new to the Bard, and one of whom is an accountant but loves Shakespeare and has seen every one of his plays produced at least once. Tuesday I start taking a class using the Alexander technique for building a character, taught by Kristof Konrad. I first heard about this class while auditing a Larry Moss workshop, and finally it falls in a period of time when I am available. In March I begin work on "The Chairs," my first experience with Ionesco, and I am hoping that this class will give my process a fresh kick in the butt.
Wednesday and Thursday I have private coaching sessions scheduled. One is with a wonderful woman who played my daughter in "Dear Brutus" a few years ago, and now she's looking at grad schools. The other is with a young girl who is auditioning for a local high school for the performing arts. Her mother actually designed my wig for "A Touch of the Poet." Small world. Next week I'll begin prepping for a Shakespeare intensive I'll be giving in February on "The Comedy of Errors."
Just got a call from my agents for a pilot audition tomorrow, reading with Don Cheadle. Will have to rearrange a few things.
Mark Knight, Philadelphia
Chilly Philly in January. Two snowstorms and all the rescheduling and ball juggling that that entails: a play reading, a voiceover for a hugely famous carmaker, work in my home recording studio, and a theater event for charity.
The play reading was scheduled, but the second storm messed with the City of Brotherly Love. Actors, director, producer, and playwright emailing and replying to all. I finally had to gently hint that it was time for someone to call it. And someone did. So, it's Feb. 16 now for "Sheltered" at the Painted Bride (
www.go.to/sheltered
). Mrs. Knight and I will be strutting our stuff. We're like the Lunts, only… not.
Next, voiceover for the hugely famous car company: a gig in L.A. for a seriously fun and creative team at Wieden + Kennedy. It's an interactive animation with maybe a TV crossover. Can't say much... really… look, if you keep asking what car company, I'll have to Dodge the issue, so leave it, okay? I had a blast. They flew me there and back, cosseted me, called me The Talent. I know they call you The Talent if all you do is pig grunts, but still. I was way too pleased with myself, though: a four-hour session, and at the end the crew were still laughing like I was Robin Williams. And no, there were no drinks or other stuff around; they were just enjoying The Talent. I think I'm going to call myself The Talent from now on. Bit too OTT? (That's "over the top," if British is your second language.)
Studio Base is my recording studio in my cold basement. I have four or five honking-big PCs, hooked up in ways wondrous, and a snazzy little mike that looks and feels like a toy but is amazing. I recorded, edited, and emailed the Los Angeles voiceover down there one night, and I got the gig. As an old friend used to say, "How bad, my son?" and I would say, "Not bad at all, mate," and off we would go to the next gig.
Ooh, did I mention that I got cast in "Loved Ones" for the Philadelphia Theatre Workshop's PlayShop Festival (www.go.to/ptw)? "Loved Ones" is written by Robin Rodriguez and directed by James Haskins, and it's one of the festival's six plays in progress. Vibrant theater scene or what?
And, lastly for this round of adventures: March for Babies (www.walk.to/okt) is a charity I support. My baby brother was born prematurely and survived nine days. The march is a sponsored walk. But, for those who can't walk so well, OverKnight Theatre is also producing a show. On Friday night, writers, actors, and directors get together in multiple theater companies. Playwrights write on Friday, we rehearse on Saturday, and we open Saturday night. All proceeds go to March for Babies.
How bad, my son?