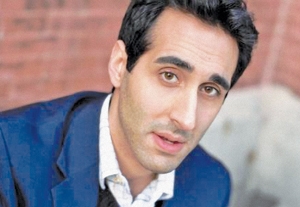 Nick Martorelli, Philadelphia
If I had to estimate, I would say approximately 90 percent of my acting career is spent performing shows that someone, somewhere, has already done—starting in high school with the obligatory "Oklahoma!" and "Our Town," continuing all the way through to a recent run in "A Midsummer Night's Dream." In fact, 18 of the 22 shows on my résumé are not original productions. Thankfully, most of my on-camera work has been original, and I will not argue that point. But when it comes to live productions, I would guess a lot of actors are in the same boat. Which makes my January project even more interesting to me.
Every Tuesday in January, I met with a talented group of artists to develop "The Golden Ladder," a new play by local playwright Quinn D. Eli. In the show, I play a character named Kit. He and his wife, Ginny, are preparing for a dinner party. The guests are different versions of ourselves when we were younger and when we were black. Isn't that a great hook? This is the first time that I have ever worked so closely with a playwright on the development of a play. Each week, Quinn came in with a revised draft of the script, which we read in its entirety. Then the director led discussions of the material, encouraging us to open up and dig deeply into the script. I knew these discussions were going to be a part of the process, so I came prepared to talk intelligently about the play. I've done play readings before, so I thought I knew what to expect.
Most of the time, actors are given pages of script and expected to perform out of it. Everything is written in stone, nothing can be changed, on your marks, get set, act! Actors normally have to interpret a script and create the character within a framework that has already been set up for them. What came as a wonderful surprise to me was the amount of influence I had as an actor in the play. As Quinn made changes to the show week after week, I noticed that the script was starting to mirror some of the choices I was making as an actor. When I played a tender moment sincerely, it became more specific and more touching. One scene had an awkward transition that I discussed in rehearsal, and the next draft had a few well-composed sentences to help smooth out the rough patch. Quinn made all of these changes to the script based on my performance, tailoring elements of the character to fit with my interpretation of him. For example, a jokingly soft moment had been cut from one draft of the script. I pointed out that I missed it, since it gave the character a needed opportunity to flow through different thoughts before settling on one. Quinn listened to me, and then he returned the joke to the script to support my performance. As an actor who has never had that happen to him before, it was indescribably cool.
At this point, we've performed two staged readings and closed the book on this version of "Ladder," but we might get the chance to mount a full production down the line. Just add another original show to the résumé.
Derek Lui, Los Angeles
Just about this time last year, Leon Acord wrote in Take Five, "Almost every film actor has at least one horror movie on his or her résumé. I am no exception." A few months after I read his article with an understanding smile, I landed a part in a horror film for the very first time and would have gladly joined the Facebook group of "actors with horror experience" if there was such a group.
My entry to the genre was "Vamps in the City," a feature parody of "Twilight" and "Sex and the City." The story revolves around four sex-craving, blood-sucking, nonhuman killing lady vampires and their human killing counterparts. As you can tell, this is also a comedy—a very bloody one, I will say.
My character is a goofy guy who loves to hit on every woman he sees and almost got his blood drained by an insatiable vampire. It was definitely a brand-new experience for me because I don't usually get typed as goofy, nor do I have much experience in this particular genre. I worked really hard after I got the script to find the right tone for the role. I decided to keep my performance as real as possible because I found this usually worked better than playing it for the laugh or scare. I must thank director Dennis Devine for his guidance. I remember when I said goodbye to him during my last day on set, he said, "You are funny in this film." I went home feeling very happy. I am thrilled to hear that this film will be released on DVD domestically very soon.
Speaking of vampires, do you know that my hometown, Hong Kong, made many vampire movies back in the early '80s? However, our vampire movies usually have martial arts elements in them, and our vampires usually jump up and down instead of flying. In order to share this unique cultural experience with my friend Alex Chu, I bought him a Hong Kong vampire DVD for him to bond with his own cultural roots.
Yes, Alex and I are still developing our own short film project, tentatively titled "Huang," which is not a vampire movie. We are on our way to the third draft of the script. After several constructive meetings, we decided to change the tone of the film to a lighter one and add humorous moments in this otherwise sad story. The late-night meetings bouncing ideas off each other were really something as exciting as my encounters with vampires.
I always think it is wonderful for actors to create their own work. My neighbor Samatha Kern, who has been very supportive of my project, is also working on her own project titled "Zombies and Assholes." Apparently, zombies and vampires are having their comebacks, thanks to "Twilight" and "Zombieland." They are indestructible, as is the spirit of every hard-working actor.

Allison Strong, Montclair, N.J.
Life always manages to make itself memorable at the most difficult times. Some call it coincidence, others bad timing; I'll just call it my closing weekend of "Bye Bye Birdie." Saturday, Jan. 23: I'm singing and dancing during the curtain call when I start to panic. My bodice starts to constrict my breathing, my crinoline skirt feels heavier than usual, and the lights are blinding. I want to cry and pull out my pigtails and…bang my head over a toilet? No. I want to hang my head over a toilet. Uh-oh. I knew I should have had the PB&J mom packed.
What did I eat again? The day flashes before me. 1–5:30 p.m., early hair appointment, afternoon matinee, stage door madness and…a salad wrap from the place around the corner for dinner. 5:40–6:50 p.m., the "Birdie" cast and crew's inspired weekly variety show, "Worklight Follies," is performed for the last time. I sing "You've Got a Friend in Me" from "Toy Story" in honor of my new extended family. If there could be a love and laughter meter in the Henry Miller's, it would be broken by now, even during this bittersweet time. 7 p.m., my hair is in hot rollers, yet again. 8–10:20 p.m., my second show from strong start to dizzying finish. By the time I got home from the city that evening, I would learn the hard way the value of brown-bagging it. Go figure: While attempting to watch the SAG Awards the night before my first Broadway closing, I was gagging into an oversized biscotti jar because of food poisoning. Needless to say, I was sick, sleepless, and miserable all night.
Nonetheless, I stubbornly got up for work the next morning. Who cares that I couldn't hold down anything but a few sips of water and a saltine? For the sake of my sanity and self-respect, I would complete my final performance with a raw throat, an empty stomach, and my two pigtails held high. In retrospect, I'm so glad I did—though I still can't tell you how I got through it. I guess that even after the six months I spent living in Sweet Apple, Ohio, I needed one more day to brand it all into my brain for posterity: from the feeling of the pointy white shoes on my feet to the familiar faces of the wonderful people sharing the stage with me. That did me more good than any day of bed rest could have. At the final curtain call for "Birdie," while there was a lot of sadness on stage, there was also an overwhelming feeling of gratitude and hope all around: gratitude for all the memories and friendships this opportunity granted us, and hope for the opportunities to come. After all, when one stage door closes, sooner or later another will open; and when that time comes for me, you can be sure I'll be bringing my lunch box along. Now that's a wrap!
Octavia Spencer, Los Angeles
If there was one word I could use to best describe the events of January, it would be "break," as in breakdown and breakup.
The breakdown: I had just wrapped an amazing project at the end of December helmed by one of my favorite directors, Jay Roach, and was riding high. My creative juices were flowing at such a fevered pitch that I decided to visit my writing partner, Kelly Shipe, in Tennessee to hammer out some ideas for the next pass on our children's book. While there, I was fortunate to meet a few of her friends in the film industry: John Stewart, Allison Varnes, and Leigh Ann Jernigan. Within a few days of my visit, we had put together a short film based on a classic poem that John would D.P., the ladies would act in, and I, of course, would write, produce, and direct. I'd done a similar project the past year based on the poem "Invictus," which was beautifully narrated by Allison Janney and had fared well at the Chicago International Children's Film Festival. So how hard could this one be?
Within two weeks I was back in Knoxville, and we were in the throes of prep. Lack of sleep and immense stress quickly transformed our sweet little project into a huge undertaking that caused each of us, John excluded, to break down into fits of sheer panic. Between the countless emails, conference calls, shopping for vintage clothes for a cast of 30, auditions, and securing crew, locations, and catering, we all wondered why we thought we could do it and why it had to be done so quickly.
It wasn't until our first shoot day that the terror subsided and I realized just how prepared we were; how solid our script, cast, and crew were; and how much I really needed to be away from L.A. to deal with the aftermath of the breakup I'd just experienced.
The breakup: I learned that changing representation is like breaking up with a lover. If you still respect them, how do you circumnavigate the tide of hurtful emotions that arise in the separation? How do you make them understand the "it's not you, it's me" of the situation without sounding cliché or insincere? How can you make them understand that our parting ways doesn't mean we weren't great together; it just means that right now I need something else? For me, that something else was an agency with a strong literary department.
It was tough, but the lessons learned proved invaluable. Now the word I'm using to describe January is "congruency." Every now and again a grown-up decision has to be made that might not be popular, one that might cause a feeling of uneasiness. I refer to that feeling as "incongruence." However, to be happy, the onus is mine to bring the things that I need and seek into perfect harmony, perfect congruence.
Richard Rella Jr., New York City
While evaluating my December numbers, I noticed that I put together a solid month of activity during the hiatus of "30 Rock." I had wonderful auditions for four Bank of America spots and an audition for a supporting role on HBO's "Boardwalk Empire." I performed in "Tony n' Tina's Wedding," and I sang at two holiday parties. I also booked a weeklong gig in Schenectady, N.Y. I sang there two years ago, and I am very much looking forward to going back in late February.
When I received the call on Martin Luther King Jr. Day that I would be photo-doubling for Maulik Pancholy, who brilliantly plays Jonathan on "30 Rock," I was ecstatic. The scene was nightmarishly complicated, involving a song, a touch-screen computer, and an iPhone. Not only would I have to reproduce Maulik's choreography but I would also have to fit into his costume.
In the November issue of Parade Magazine, Alec Baldwin writes that his mother's baking is "diet Kryptonite." My Italian-American mother detests that I eat whole-wheat pasta, I refuse to put grated cheese on my gravy (that's marinara sauce for the non-Italians), and under normal circumstances I don't eat dessert. Over the holidays I spend more time with my family, so mom tends to pile on the food. Any dietary objections fall on deaf ears in an Italian home. Besides, my mother's cooking is so good. Needless to say, this winter I put on a couple of pounds.
When I get to wardrobe and button the size 30 pants, I fully recognize the error of my ways. I feel like Chris Farley in "Tommy Boy": "fat guy in a little coat." I literally stand for six hours—afraid that if I sit down, I will take someone's eye out with a trouser button. I am immediately transported back to my Catholic school days. More than once, the only clue my parents would have that I was growing out of my uniform was when I'd come home from school with a stapled inseam that I tore playing football at lunch.
Thankfully, after hours of worrying about whether or not I am going to turn into the Incredible Hulk and destroy this expensive suit, we film the scene. Like all performing, it seems to be over too quickly. In the blink of an eye, I am heading back to wardrobe to get changed. Afterward, the director, who has directed several episodes in the past two seasons, asks me to call him by his first name and thanks me for my work.
All in all it was a great day, but I learned two valuable lessons. I need to be more responsible in the winter off-season. More important, I was reminded to laugh at myself. After all, if you don't laugh at yourself, no one else will either.