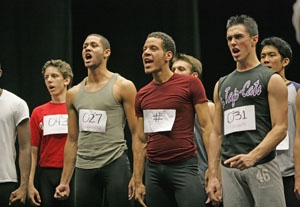 Auditions for college acting programs, whether undergraduate or graduate, typically last three or four minutes—about as long as it takes to soft-boil an egg. But actors who think they need to spend only as much time on their monologues as they do on said tasty breakfast item will soon find themselves with egg on their faces.
No Small Step
Lura Dolas, an advanced-acting teacher at the University of California, Berkeley, teaches an audition technique class every fall  to about a dozen seniors applying for grad school admissions. She makes sure they don't underestimate the demands of the process. "It's an athletic event," Dolas says. "They have to start thinking that way about it in October. I tell them to get to the gym. As a repertory actor myself forever, I know it's a physically demanding profession. To even get the job, to go through the audition, is a physical ordeal."
Dolas also demands that her students know why they're going through such an ordeal. "It's a serious step," she says. "They have to know what they want to do with their work in the theater, what they want to say, who their favorite playwrights are and why." For students applying to college, "they've all got to decide where they want to go and research the schools, so they know why they are there." Then they can begin the lengthy process of finding audition material.
That process is different for each student, Dolas notes, but the goal is "to find just the pieces that in combination will show a student properly." This includes "a classical and a modern piece, something light and something heavier."
Sam Haley-Hill, a third-year MFA acting student at Brown University, credits Dolas with picking the proper monologues for his first grad school audition, at a combined event held by several programs in San Francisco in 2006. "I knew there were pieces that I had that I liked and that I could do well, but I didn't know if they would be the best pieces to audition with," he recalls. "It turned out that some of them weren't and some of them were."
The monologues that she selected for him "weren't necessarily the most epic pieces of theater, but were rather pieces that would show off my uniqueness," he says. "She wanted to bring out parts of my personality for the auditors, because ultimately there are hundreds upon hundreds of good actors auditioning for each of these programs. The point wasn't to show that I was a good actor. The point was to show what kind of person I was and what kind of actor I could potentially become with more training."
Haley-Hill ended up auditioning with a monologue by the Bastard in Shakespeare's "King John," a piece from Emlyn Williams' "The Corn Is Green," and, as a backup, a monologue from Tom Stoppard's "Rosencrantz and Guildenstern Are Dead." They highlighted his facility with complex language and his cerebral nature. They also received Dolas' seal of approval because, she says, they're "monologues that are active, in the moment, with a clear objective, and that have an arc, so that the character starts in one place and ends in another and learns something in the process of the speaking."
Don't Forget Your Audience
Dynamic monologues like that are the kind Robert Beseda enjoys watching. As assistant dean of the School of Drama at the University of North Carolina School of the Arts, he sees hundreds of auditions, for both the school's high school and bachelor's degree programs, and likes "scenes that are very active, where you really want something and you're talking to someone in a very active manner."
But what he sees too often are "a lot of contemporary monologues that are really just storytelling. They're not necessarily scenes in which you're talking to another person. You may just be talking to the audience." One such piece that Beseda has grown weary of is the "tuna can" monologue from Christopher Durang's "Laughing Wild."
"I have a problem when 17- and 18-year-old kids are doing material by people like Durang who are so satirical, bitter, sexually confused," he says. "I'd really much rather see them do Biff [from 'Death of a Salesman'] or Prince Hal [from 'Henry IV'] or something like that." Monologues from plays by Odets, Williams, Miller, and Inge have more for actors to play, Beseda says, and are done far less than Durang. "When you see a particular monologue done badly, over and over, it gets tiresome. Having said that, any monologue, if it's done well, no matter how many times you've seen it, it's great."
Dan Kern, who heads the acting program at Temple University, agrees: "Nothing is more exciting than seeing a monologue you see done all the time and seeing it done really well." When it's not done well, he doesn't sweat it. "I don't mean to be brutal about it," he says, "but the truth is, most of the time, within the first 30 to 40 seconds, you've already decided whether this is a person of interest. I'm pretty good at that point at just chilling and sitting back and not getting too worked up about it anymore."
Because Temple's graduate acting program is geared toward midcareer professionals, who generally have an Actors' Equity Association card and a body of work, most who audition present thoroughly prepared monologues. But Kern says he wants to see something more.
"The one thing we feel that we need to see is the actor's ability to actually live in the moment. In other words, we're looking for imagination that manifests itself in spontaneity," he says. "If the audition piece has a well-worked, well-shaped, studied quality to it, we view that with some degree of interest, but what we're really looking for is work that has the appearance of being dangerous, unpredictable, kind of organically connected to the moment."
Making Hard Work Look Easy
It takes a lot of careful preparation to make an audition piece appear as spontaneous and dangerous as Kern and other auditors like. Haley-Hill recalls that for several months prior to his audition, he and Dolas met twice a week for an hour each time. He would perform his monologues for her, she would give him notes, and then he would perform them again. He also worked on them on his own.
Emily Edgerton Krause, a senior at Temple University, made a similar time commitment to developing her monologues for the University/Resident Theatre Association auditions in New York this January. Unfortunately, she often goes through what she calls "a sort of love it/hate it cycle with monologues." Working on the same three minutes of material for several months posed a bit of a challenge, especially when it came to her piece from Garth Wingfield's short play "The Lunch Date," which she calls "the lesbian monologue."
"It's about a girl who goes on a date with a woman, and it's just the funniest thing when you read it, right away," Krause says. "The challenge was breaking down what was actually comical about the monologue and being able to keep it up once you got sick of the monologue, once the initial charm of the monologue wore off."
Last fall, Krause took a class at Temple devoted to preparing for the U/RTA auditions. The students applied different acting techniques to their audition pieces to keep the material fresh. "One was the Laban technique," Krause says, "where you use different action verbs as your motivation for saying words, even though they're not necessarily logical. The whole class would call out, like, 'sticking' or 'floating,' and that would have to become the action you were playing while you were saying those words. It helped you discover new things about the monologue."
Having just gotten involved with theater as a high school senior, Alec Grooms didn't have the training that Haley-Hill and Krause did the first time he prepared to audition for undergraduate acting programs. To find his monologues, he simply read lots of plays in the library and then "looked in chat rooms to see if a lot of people were doing them," he says. Once he found a monologue, his preparation was just "drilling it over and over and over again—you know, here's the routine, this is what I'm going to present—instead of exploring the pieces."
None of the schools he applied to accepted him, but Grooms was waitlisted at the University of North Carolina School of the Arts, where Beseda expressed interest. Grooms stayed in contact with the school and worked with an audition coach. Armed with new material—in which none of his old habits were ingrained—he auditioned the next year and was accepted by the school, where he is now a freshman.
Judgment Day
Grooms, Krause, and Haley-Hill agree that ideally you should get plenty of rest the night before an audition. Then you can wake up with time to eat breakfast, primp, and do vocal and physical warm-ups before your appointment. At the audition site, however, their preferences differ.
Krause attended the U/RTA auditions with some of her Temple classmates and chatted calmly. "We sort of stuck together. People would compete to hang out with us," she says. "I think we had the most sort of sane energy going on there."
Grooms likes to listen quietly to classic jazz, such as Chet Baker or John Coltrane. With music, he says, "you can see scenarios, so you keep your imagination open and floating around."
At Haley-Hill's first audition for graduate programs, his schedule was relaxed. When he auditioned again the next year, it was anything but. He had been working in Hong Kong after college and had flown from there to San Francisco the night before, because his boss allowed him only two days off. Jet-lagged, sleep-deprived, and unaware of his current time zone, he got to the audition "maybe 20 minutes early, did a vocal warm-up, and fired away." That audition led to his acceptance to Brown. "I guess the moral of that story is that it's more about what happens in the room than what happens before," he says.
It's likely that many actors will go into the audition room, perform monologues they have arduously crafted over several months, and then be told to completely change how they perform them, often in bizarre ways. "One school had me kneel down and pretend I was a statue and say the whole thing to the sky in a whisper," Krause recalls of her U/RTA audition.
As frequent auditors, UNCSA's Beseda and Temple's Kern say actors should welcome direction. "We wouldn't be asking them to make a change if we weren't interested in what they would do," Beseda says. Kern agrees: "It's an opportunity. We want to see something else that just shows us another aspect of what they can do."
Grooms takes a practical approach to these adjustments. "I repeat what they just said to me to make sure I heard it right," he says. "Then I just attack the piece again with that direction and see where it takes me."
Keep It Simple, Stupid
Kern wishes that more actors would approach the audition in such a straightforward manner. "It's nice for someone to come in, do their business, be polite, and leave again," he says. "That tends to make a positive impression."
And that approach will likely help in the future. "That was the scariest audition I will have to go on for a long time," Krause says of her U/RTA experience. "It makes other auditions seem like not as big a deal."