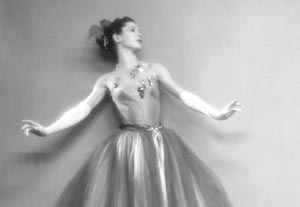 You're going to want to set aside a lot of time for reading this summer. The most acclaimed ballet history book to be published in ages, "Apollo's Angels" is a thick must-read. "Hiking the Horizontal" isn't as long, but it's so thought-provoking that reading will probably be an equally time-consuming endeavor. If you're a choreographer—or a creative artist of any sort—you will find yourself reading a little bit, then stopping to mentally digest the author's insightful ideas and contemplate how they might apply to your own work. "Leaps in the Dark," an anthology of excerpts from de Mille's writings, will prompt anyone not familiar with the choreographer's literary oeuvre to collect all the excerpted books and read them in their entireties.
"Apollo's Angels"
When a book gets the kind of rave reviews that greeted the publication of Jennifer Homans' "Apollo's Angels: A History of Ballet" (Random House, 2010, 643 pp., $35), a certain amount of skepticism is excusable. I approached the book wondering, can it really be as great as everyone says it is? The answer is yes. There have been numerous fine and thorough books on ballet history, but what makes Homans' so special is that she addresses the "why." While many previous ballet tomes contain the facts of ballet history, Homans sets the historical development of the art form within the context of modern European history—the subject for which she earned her Ph.D.—thereby illuminating the larger cultural forces behind the step-by-step evolution of ballet. In addition to knowledge about ballet, the reader comes away with a deep understanding of how its aesthetics reflect political trends. Yes, the development of ballet has been affected tremendously by political goings-on—much more so than you might think. For example, as the French Revolution raged, the changing styles of ballet in that country reflected the shifting sympathies of republican versus aristocratic sensibilities. In other countries, dance showed to what degree that nation embraced or rejected what was going on in Paris.
Homans' work presents a grand narrative of ballet history, driven more by large ideas than a comprehensive listing of facts and details. There are many dancers, choreographers, companies, and ballets that Homans leaves out of her story. While she offers rich biographies of all of the leading figures in ballet history, she gives barely a mention to the lesser ones. But no matter, those facts can be found in other sources; what Homans provides is far more important and intellectually gratifying.
Yet despite the effusive praise heaped upon her book, Homans has been taken to task by some critics for her epilogue, an 11-page essay in which she condemns the current state of ballet. But wait to form your own opinion on her conclusion until you've read her whole volume.
"Hiking the Horizontal"
Like Homans, choreographer Liz Lerman, the author of "Hiking the Horizontal: Field Notes From a Choreographer" (Wesleyan University Press, 2011, 328 pp., $29.95), draws connections between dance and other aspects of society. The book traces the highlights of Lerman's life and influential career as a contemporary choreographer who, with her multigenerational, Washington, D.C.-based company, Dance Exchange, broke ground in the making of community-oriented dance works that mined relationships between dance and science, history, politics, sociology, and identity. But the author tells her story in such a generous and transparent fashion that one easily grasps her profound observations and provocative inquiries. You will feel like a partner in her journey. Lerman's concise text inspires and equips the reader with a host of new perspectives from which to tackle the making of artworks. Probably best appreciated by those who have engaged in artistic explorations, Lerman's ideas are novel, deep, and challenging and, as such, require time to take in, analyze, and potentially adopt.
"Leaps in the Dark"
Many dance lovers know de Mille only as a trailblazing musical theater choreographer of such legendary Broadway productions as "Oklahoma!," "Brigadoon," and "Carousel" and as a major force in the "Americanization" of ballet with her popular works "Rodeo" and "Fall River Legend." Yet she was also a brilliant wordsmith, one of the most entertaining, honest, and compelling authors to write about dance in the 20th century. Edited by Mindy Aloff, "Leaps in the Dark: Art and the World" (University Press of Florida, 2011, 368 pp., $34.95) serves as a delightful introduction to de Mille's literary talent, as it incorporates diverse samples of her writings into a single volume. In addition to chapters from her memoirs that chronicle her experiences as a working choreographer, the volume also includes de Mille's observations of other artists, such as Anna Pavlova, Katherine Dunham, and Richard Rodgers and Oscar Hammerstein II, as well as her famous uncle, film director Cecil B. DeMille. These delicious excerpts will certainly whet your appetite for more of de Mille's writing, but be warned: You will have to expend some effort to find them. Unfortunately, the only one of de Mille's books that is still in print is her biography of Martha Graham.