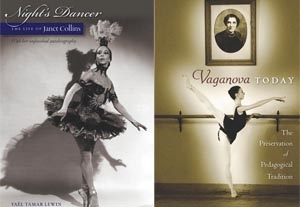 Two outstanding women from ballet's past have been contrastingly honored in two new books that serious balletomanes will want to investigate. "Vaganova Today" offers an easy-to-read summation of the work of the highly analytical dance thinker and pedagogue Agrippina Vaganova, while "Night's Dancer" gives weighty scholarly treatment to the life of the popular dancer Janet Collins.  
'Vaganova Today'
Agrippina Vaganova (1879–1951) invented what is commonly known as Vaganova technique, the Russian style of ballet training that produced many of the greatest ballet dancers of the 20th century, including Mikhail Baryshnikov, Rudolf Nureyev, and Natalia Makarova. In "Vaganova Today: The Preservation of Pedagogical Tradition" (University Press of Florida, 2011, 208 pp., $29.95), author Catherine E. Pawlick offers a brief biography of the venerated pedagogue and a host of informed opinions concerning her legacy at the renowned Vaganova Academy of Russian Ballet in Saint Petersburg.
The book's strength is its solid grounding in primary sources, such as interviews with alumni and teachers from the Vaganova Academy, most of whom never had their ideas and observations documented, translated, or published in English. Though the extensive quotations—many up to a page and a half in length—are illuminating and absorbingly detailed, one wishes more of the text was in the author's voice. Compellingly written history requires significant amounts of interpretation and more than just the tidbits of context that Pawlick proffers. When she inserts her own ideas, albeit sparingly, her perspective and clarifications provide valuable framework for her interviewees' opinions. 
A tightly focused, slim slice of ballet history, the book presents a streamlined synopsis of the early development of ballet in Russia, an enlightening look at Soviet ballet training during the 20th century, and an interesting summary of the events of Vaganova's life as a student, performer, and teacher at the Imperial Ballet School, which was renamed in her honor in 1957. Though the introductory historical sections are accessible and important, the second half of "Vaganova Today" accounts for its title and, seemingly, its raison d'être. Drawing from personal interviews, mainly with eight Vaganova Academy pedagogues, Pawlick presents a variety of outlooks on the teaching of Vaganova's technique. Though the forthrightness of the interview subjects makes for delightful reading, the presentation of their ideas sometimes deteriorates into a scattershot collection of gripes. Many of the instructors' complaints about the disintegration of Vaganova's principles echo protests made by ballet teachers in general against the aesthetic changes that have altered ballet training worldwide—i.e., sky-high extensions; decreased emphasis on acting, footwork, and stylistic head and arm movements; and the impact of audiences less educated in classical traditions. 
As I discovered when preparing a manuscript for a book on the visionary floor-barre pedagogue Zena Rommett, brilliant teachers work in the moment and constantly evolve their work; it is thus impossible to carry forth their genius through the repetition of particular exercises or replication of a methodology. Similarly, Pawlick's book concludes that attempts to preserve Vaganova's work are most successful when done with adherence to its foundational principles combined with openness to contemporary sensibilities.
'Night's Dancer'
In 1951, Janet Collins became the first full-time African-American ballerina in the Metropolitan Opera Ballet. Probably too academic in style to appeal to general readers, Yaël Tamar Lewin's fascinating book, "Night's Dancer: The Life of Janet Collins" (Wesleyan University Press, 2011, 404 pp., $37) is part autobiography and part biography. The work starts with Collins' unfinished 42-page memoir, which traces her life from birth in New Orleans through formative years in Los Angeles. The book then proceeds into Lewin's biographical chapters, which finish Collins' story, picking up with her entry into modern dance as a performer with Lester Horton's company and continuing through her work with Katherine Dunham, in nightclubs, films, and solo concert choreography, on Broadway, and at the Met.
The opening portions, in which Collins relates scattered childhood memories, are wordy, simplistic, and bogged down by irrelevant details. Despite its rocky start, "Dancer" becomes engrossing when Lewin takes over the storytelling. Then the reader really starts to understand how remarkable the subject's achievements were within the segregated dance world of the time and the racially discriminatory atmosphere of the country at large. 
Lewin's scholarship is commendable, and the stories of how she discovered and assembled her information are almost as engaging as the main narrative. Many of the mysteries and coincidences that haunted the author's research and writing, as well as the way Lewin chose to craft and richly contextualize her points about Collins, remind me of my experiences in writing a biography of the dancer Joan McCracken. Lewin's book is clearly fueled by that special "relationship" that develops between a fated author and a bewitching subject. Her tome is good enough that we can forgive its minor flaws, such as the repeated misspelling of Lew Christensen's name, and Lewin's failure to tell us that Dale Wasserman, the Dunham "stage manager and lighting man" Collins describes at length, is the same Dale Wasserman who wrote the book for "Man of La Mancha."