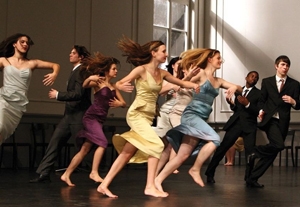 Pina Bausch fans have been understandably caught up in the excitement over "Pina," the ravishing Oscar-nominated 3-D documentary. But amid all the brouhaha generated by Wim Wenders' glorious cinematic tribute to Bausch, neither dancers nor actors should overlook "Dancing Dreams," another recent film that spotlights the work of the late German dance-theater choreographer. (Bausch died in 2009.)
Wenders' film, with its dazzling performance footage, gorgeous outdoor location photography, and amazing effects, has wide-ranging visual appeal and is great for general audiences. "Dancing Dreams," on the other hand, is more appropriate for those whose interests lie in the nuts and bolts of the performance preparation process.
Released on DVD in 2010, the film takes a close-up look at a 2008 remounting of Bausch's watershed 1978 piece "Kontakthof" (an excerpt of which is included in "Pina"). Though originally created for her professional company, Tanztheater Wuppertal, and later reset on a cast of performers 65 and older, here the work is being reinvented for a group of 40 high school students. The engrossing documentary follows the teenagers through their auditions, a 10-month rehearsal period, and an opening-night performance.
Though the chain-smoking Bausch is shown playing a central role in the process, much of the teaching and practicing of the choreographic material is supervised by two of her assistants: Jo Ann Endicott and Bénédicte Billiet. Both danced with Bausch's company and bring extraordinary passion and knowledge to their work with the youngsters.
The insider's view that the film provides shows why Bausch's work is called dance-theater and not just dance. Though the onstage appearance of her pieces is one of choreographed fluidity in the service of dramatic concepts, the creation and performance is motivated by deep personal emotionality. Observing how Endicott and Billiet present, talk about, and lead the youths into the work, it becomes clear that performers must develop an intense connection with their onstage movements for Bausch's choreography to make sense or have its signature tremendous impact.
Bausch's work has something to do with dance and everything to do with life. Dancers will certainly find this film compelling. Yet it will probably be of greater interest and relevance to actors, as it illuminates her ingenious approach to expressing feelings and psychological ideas through the body.
The DVD's bonus features include brief interviews with Bausch dating from 2005 and 2006, biographical information, and informative notes from the film's co-director, Anne Linsel (Rainer Hoffman also co-directs).