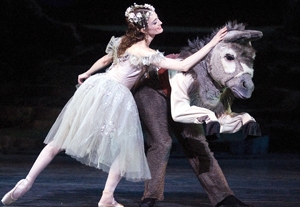 Shakespeare isn't just for
New York City's Central Park
this summer: The characters of "A Midsummer Night's Dream" will shortly take up residence on the stages of the city's two major ballet companies. Two of the greatest 20th-century ballet choreographers -- George Balanchine and Sir Frederick Ashton -- both chose to create dance versions of the classic comedy of star-crossed love. They did this two years apart, with highly contrasting but equally felicitous results. New York City Ballet will present seven performances of Balanchine's "
A Midsummer Night's Dream
" June 5-10, and
American Ballet Theatre
will perform Ashton's "The Dream" June 21-23.
Balanchine's work turns 50 this year, but it is eternally youthful in its wit, characterizations, and sheer dance fluency. It was his first full-evening narrative ballet after 1954's "The Nutcracker" and the only one he made that was not based on a 19th-century ballet he knew from his Russian training. He knew Shakespeare's play intimately, having performed as a child in a St. Petersburg production, and spent two decades carefully selecting appropriate Mendelssohn scores to add to the well-known 1842 incidental music the composer wrote for a production of the play.
His compilation shows no seams and is ideally suited to the dramatic momentum. It includes highly familiar music but also lesser-known pieces. A particularly suitable choice was the shimmering, poignant String Symphony No. 9, composed when Mendelssohn was 14, to which Balanchine set the Act 2 divertissement that celebrates the reaffirmation of love and harmony after the hectic, madcap adventures of Act 1.
The entire play is telescoped into that first act, with a proud, regal Titania and a compact, virtuoso Oberon holding court separately in the woods following their initial hostile standoff. The two sets of lovers are delineated with comic flair as well as tender sympathy for their foibles; a particular highlight is a turbulent, fearful solo for Hermia once Lysander, under enchantment, has abandoned her to follow Helena. Perhaps most memorable is the role of Puck, who becomes a fleet, airborne scamp who meddles with winning charm.
Ashton's single-act 1964 "The Dream" (part of ABT's repertory for a decade) provides fascinating contrasts to the Balanchine version. Ashton's Titania and Oberon are conceived in an entirely different vein, and when they resolve their differences, they close the evening with one of the most luxuriantly rapturous duets in all of ballet. His Puck is an especially dynamic, delightful creation; this is a signature role for Herman Cornejo, who is happily back in excellent form after being sidelined last season. Ashton's Bottom, the rare role in which a male dancer performs in toe shoes, is a truly inspired creation whose dramatic arc is particularly touching.
So prepare to go into the woods at the ballet during June: With multiple performances and multiple casts in these two timeless works, abundant delights are in store.