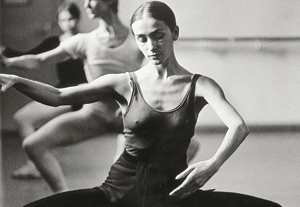 Before you bid your final farewell to 2010, you may want to check out three highly educational dance items that came out during the latter half of the year: "Understanding Pina," an insightful DVD about the work of the pioneering dance-theater choreographer Pina Bausch; "Ballroom!," an entertaining book about what goes on behind the scenes in competitive ballroom dance; and "Mirrors & Scrims," a noteworthy volume of serious ballet criticism.
'Understanding Pina'
With its hefty price tag, the edifying new DVD "Understanding Pina: The Legacy of Pina Bausch" (Insight Media, 2010, 38 minutes, $199) may be affordable only to library and institutional purchasers. Yet it would be unfortunate if it did not become widely available to dance enthusiasts.
An analytical, thought-provoking look at Bausch's work, "Understanding Pina" is a superb teaching tool. It can serve as a suitable introduction to Bausch for those unfamiliar with the key elements of her work and the significance of her legacy as the inventor of the performance genre known as dance-theater. However, with its emphasis on penetrating interviews with former members of her company, who share insider information about how Bausch created her phenomenal works, the DVD is probably best appreciated by dance-theater aficionados.
Directed and produced by Kathryn Sullivan, the disc combines evocative archival photos—including some stunning shots of Bausch when she was a student at Juilliard—with personal explanations and studio demonstrations by members of Bausch's Germany-based troupe, the Tanztheater Wuppertal, as well as contextualizing commentary from a dance historian. Viewers will learn much about the influence of ballet on Bausch's early work, the important role of improvisation in her later works, the challenges of performing her sometimes shocking pieces, her remarkable attention to visual detail, the criteria she used to cast her dancers, and her extreme loyalty to and affection for them.
'Ballroom!'
Though the author's breathless writing style feels a bit overwrought at times, and information presented in early chapters often reappears—in the exact same language—later in the book, "Ballroom!: Obsession and Passion Inside the World of Competitive Dance" (University Press of Florida, 2010, 184 pages, $24.95) is nonetheless a worthwhile and enjoyable read.
Written by the American ballroom dance star Sharon Savoy—four-time Blackpool exhibition champion, three-time world champion, and three-time "Star Search" winner—the book offers an enlightening inside view of the politics, biases, stresses, and strategies that characterize the competitive ballroom dance scene. One of the competitors most responsible for introducing a more acrobatic style into the exhibition category of ballroom dance competitions, Savoy provides a brief history of exhibition-style dancing and its place within the larger context of ballroom dance.
A showier, more theatrical form of dance, featuring lots of spectacular lifts and risky aerial tricks, exhibition dancing requires greater athletic ability than the more socially oriented ballroom dances. However, it is, in Savoy's words, "the stepchild or illegitimate offspring of ballroom dancing" and the only category that has historically allowed non-English competitors to win its titles at the famous Blackpool championships, the Wimbledon of ballroom dance. Savoy gives evocative stylistic descriptions of the different competitive ballroom dances and explains how fiercely the English, and their traditions and attitudes, have dominated ballroom dancing over the years. Between 1931 and 2000, the only time the winner of the Blackpool ballroom title (in the standard division, the most prestigious category) went to someone other than a couple representing England was in 1954, when there was a tie between England and Australia.
Initially an aspiring ballet dancer, who studied at the School of American Ballet, where her talent for lifts was recognized by George Balanchine, Savoy weaves her presentation of factual information into her personal story, which involves issues relevant to any professional dancer. Terps of all stripes will relate to Savoy's struggles with partners, costumes, the development of choreographic ideas, musical choices, performance mishaps, and the extreme discipline required of professionals in all forms of dance.
'Mirrors & Scrims'

A noble collection of probing dance criticism, "Mirrors & Scrims: The Life and Afterlife of Ballet" (Wesleyan University Press, 2010, 416 pages, $27.95) comprises more than 100 essays and reviews written over the past 25 years by dance critic Marcia B. Siegel, mostly for The Boston Phoenix, The Christian Science Monitor, and The Hudson Review. While Siegel's focus is primarily on the ballet canon and how it has been adapted and revised over time, she also situates ballet within today's larger performance climate and explores the influences ballet has absorbed from other dance and movement forms.
One of the book's most interesting sections is "On With the Show," a chapter that opens with a review of Broadway choreographer Susan Stroman's silent film–inspired ballet "Double Feature" and includes an assessment of tap-dance genius Savion Glover, a critical essay examining three different books about the Broadway musical "A Chorus Line," and reviews of "Riverdance," Cirque du Soleil, the ballet-themed Hollywood film "Center Stage," and performances by postmodern juggler Michael Moschen, puppeteer Paul Zaloom, and physical comedian Bill Irwin.