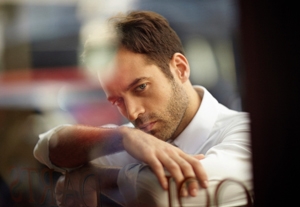 Benjamin Millepied has choreographed for the world's major ballet troupes for much of the past decade is responsible for the musical staging of "Hands on a Hardbody," a new musical now playing at
La Jolla Playhouse
and was the choreographer (and a featured performer) of a 2010 film that shone a huge spotlight on the ballet world -- the Oscar-winning "
Black Swan
."
Busy as he has been with varied and far-flung projects, Millepied will be narrowing his focus to concentrate on
L.A. Dance Project
, a bold new venture that reflects his own interests and ideas. Having retired last year from
New York City Ballet
, he is approaching choreography with reinvigorated focus and envisions LADP as something quite different from the typical dance troupe.
The word "ballet" is purposely not a part of its name, and Millepied has assembled a core of collaborators to ensure that LADP presents work that incorporates and interacts with various art forms. "It is a dance company, but one that will be doing many different things," he says. "I didn't want to do this in the way that it's been done before, because it doesn't work. I also wanted to concentrate on things that were interesting to me -- finding and developing talent, nurturing choreographers. It's really about presenting works that I believe in. We're going to be commissioning projects from films to art installations to dance pieces. It's really about all the things that dance can be."
Benjamin Millepied at The Music Center's Walt Disney Concert Hall. (Kevin Scanlon)

LADP's first performances are set for Sept. 22-23 at the Walt Disney Concert Hall. The ambitious opening program, commissioned by
Glorya Kaufman Presents Dance at the Music Center
, includes Merce Cunningham's notoriously dark and difficult 1964 "Winterbranch," William Forsythe's 1993 "Quintett," and a new Millepied work set to a commissioned score by Nico Muhly, with set design by painter Christopher Wool.
Muhly, to whose music Millepied has choreographed several times, is part of the LADP "think tank" -- friends and colleagues with whom Millepied discusses ideas and develops projects. Also on board are producer Charles Fabius, art consultant Matthieu Humery, and film producer Dimitri Chamblas. Millepied intends to generate projects "beyond just putting ballets on the stage, projects outside of theaters -- collaborations with museums."
Though Millepied now calls Los Angeles home, last week found him in New York, intently rehearsing his former NYCB colleagues in his latest work for the company, "Two Hearts," which has an original Muhly score and will premiere May 10. He hopes to continue to make time if major companies like NYCB or the Paris Opera Ballet invite him to choreograph, but his new ensemble of six carefully selected dancers -- he will also dance in the Forsythe work -- is where his attention is now focused.
"I thought it would be nice to have a group of dancers to work with over a longer time, in the same place. It all happened very quickly. We will be adding more repertory during that first year; I'm going to be developing young choreographers from within the company," Millepied says. "For the first time, I'll be able to develop new work on my own terms. It's small; it's going to have its specific way of dancing -- and I'm excited about that."