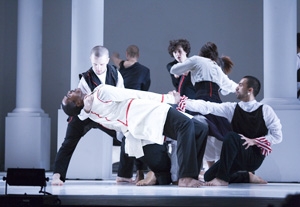 A lusciously intellectual dance-theatre probe into the nature of history, "Serenade/The Proposition" is one of a suite of works created by Bill T. Jones to celebrate this year's bicentennial of Abraham Lincoln's birth. In its New York premiere, the pithy 60-minute work is splendidly rendered by the remarkably diverse and talented Bill T. Jones/Arnie Zane Dance Company.
The troupe's 10 members represent virtually every body type, ethnicity, and mode of hairdo imaginable, and each is a dynamite dancer. For this performance, the company was joined by an inspiring guest actor, Jamyl Dobson, and three electrifying musicians: cellist–band leader Christopher Antonio William Lancaster, pianist Jerome Begin, and vocalist Lisa Komara, whose smartly nuanced singing constitutes the show's most expressive dramatic element.
Nonetheless, it's through the choreography (devised by Jones, Janet Wong, and the dancers) that the work's essential thesis is most ingeniously conveyed. Conceived and directed by Jones, the piece is an amalgam of distinct bits of dance movement, original music (composed by the musicians), familiar strains from "The Battle Hymn of the Republic" and "Dixie," video projections of devastated cities, photos of Civil War soldiers, and text from memoirs and Lincoln's speeches plus some original writing by Jones.
Though Jones proffers a rich array of provocative fragments, the show's leisurely pace and repetitive structure invite us, the viewers, to draw the connections between the pieces. And we're given many choices, as everything on stage contains multiple references. Do the imposing white columns of the set suggest the Lincoln Memorial, the White House, or the veranda of a Southern plantation? And what about the endless list of cities Dobson gravely intones: Are they train stops on Lincoln's journeys or just prompts for personal memories
At the outset, the dancers' movements appear to be generic modern-dance phrases that bear no relationship to the accompanying music or words. As the piece progresses, the choreography remains relatively the same, while the work's other components ask us to ponder the definition of history. Without realizing it, we layer our own historical ideas upon the choreography we are watching. By evening's end, those generic movements vividly portray battlefield horrors, slavery's injustices, and whatever else the era of Lincoln may mean to us. That's the point: The meaning of history lies completely in how we choose to interpret it.


Presented by the Joyce Theatre Foundation in association with Foundation for Dance Promotion at the Joyce Theater, 175 Eighth Ave., NYC. Nov. 10–14. Tue. and Wed., 7:30 p.m.; Thu.–Sat., 8 p.m.; Sun., 2 p.m. (212) 242-0800, www.telecharge.com, or www.joyce.org.