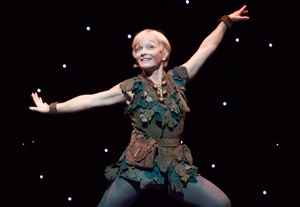 On Dec. 12, former Olympic gymnast Cathy Rigby turned 59. Two days later, she began a two-week run at the Theater at Madison Square Garden in New York, where she is performing the title role—eight times a week—in a new touring production of the musical "Peter Pan." I recently had the chance to talk with Rigby about her portrayal of Peter Pan, a role she has performed more than 3,000 times—on Broadway in 1990 (garnering a Tony Award nomination) and again in 1998, in an Emmy Award–winning television production in 2000, and on numerous national tours. How, I asked, does a middle-aged woman repeatedly conjure a convincing portrayal of that famously naughty little boy?
"There's a kind of mischievous feeling that you get in your core, and you just go with it," Rigby says. "It's really about getting rid of all those mannerisms that you, as an adult, think a child would do. Some people try to put their hands on their hips and stand in a certain way, but if you watch little boys, they're really much more relaxed than that, or they're highly active. They can be either frenetic and jumping all over the place or quite economical in their movements. Sometimes they barely look at you and are short and clipped in their speech tones, then suddenly become very vulnerable or challenging. It's when you get rid of any kind of editing that you have your child."
To create the character vocally, Rigby lowers the pitch of her normal speaking voice and assumes an English accent. "This is something I have to be very careful about," she explains, "because the tendency is to get real gravelly, and if you don't do it correctly, you can hurt your voice. Over the years, my voice has been one of the hardest things for me to maintain. The role has a lot of loud talking and yelling, there's crowing, and I sing about nine songs."
Flying by Hand
For other performers, the most challenging aspect of playing Peter Pan might be the elaborate flying sequences. But for Rigby—a two-time Olympian and the first American woman to win a medal in world gymnastics (a silver medal on balance beam in 1970)—the flying is the fun part of the job.
"I have two gentlemen [Paul Rubin and Jimmy Little] who fly me, and ours is not automated," says Rigby, referring to the difference between the flying in her show and in the Broadway production of "Spider-Man: Turn Off the Dark." She describes her flying as similar to partner dancing: "Jimmy basically lifts me up and down, and Paul makes me go side to side. It is very intricately done, and the timing is crucial. Going 20 miles an hour and then having to land very delicately is tough, but it isn't a computer that's doing it. I think I would be more concerned if my flying was run electronically rather than manually, because I have never trusted anyone as much as I trust these two guys. Sure, I've flown into windows and things like that before, but that hasn't happened in years."
Because of Rigby's gymnastics background, some aspects of flying come easily to her. "As a gymnast, you are so spatially aware, you know how to stop yourself and how to take off," she says. "But you always have to be very careful of your timing and work hard to hold your body position. It's like doing a grand jeté and feeling the plié into the lift and then that moment when you're suspended. If Jimmy is pulling me up and Paul is swinging me to the side, I better be in the exact right position to be able to hold it. If I'm doing a flip in the double wire, if somebody pulls at a different time than I lift, then my momentum is off and I can't do what I'm supposed to. It'd be like jumping before you plié; you can't do it. Or at the end of Act 1, when I'm doing a really fast outside pirouette, if he picks me up too soon, there's no way I can get the spin in—the torque will be wrong and the dynamic will not work."
But despite her exquisite training and years of experience, how does Rigby get her 59-year-old body to accomplish everything that playing Peter Pan demands? "Aside from a sore lower back now and then, I don't have any chronic injuries," she says, noting how lucky she is in this regard compared with many dancers. "But the older you get, the more aware you have to be of your body's signals. If something starts to hurt or not feel right, you can't just push through it; you have to stop and pay attention to it." She also stresses the importance of warming up properly, getting enough sleep, and eating right.
What really keeps Rigby going in the role, however, is the response she gets from the audience: "When I meet the kids in the lobby after the show and see the hope and joy and suspension of disbelief that Peter Pan brings them, it's so inspiring—and that's the reason I can continue to do it."