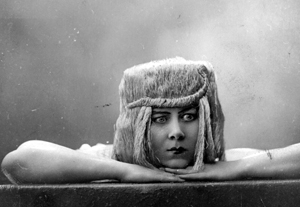 While the rest of America spends 2012 commemorating the 150th anniversaries of Civil War events, for the dance world this year represents the 150th anniversary of the birth of lesbian modern-dance inventor Loie Fuller. An American-born performer who started out acting in burlesque, Fuller took fin-de-siecle Paris by storm with the mesmerizing interplay of movement and lighting that she created by dancing alone in a vortex of enormous, spectacularly lit swirls of spiraling skirts. A Folies Bergere star, Fuller spawned numerous imitators (called "serpentine dancers") and was immortalized in the colorful posters of the art nouveau period that bear her iconic image.
Today's foremost interpreter of Fuller's trailblazing dance genre is choreographer Jody Sperling, who pays tribute by giving a free lecture on Fuller April 12 at the New York Public Library for the Performing Arts, and by presenting a program of Fuller-inspired choreography May 10-13 at Joyce SoHo.
Though many cite Isadora Duncan as the world's first modern dancer, Sperling claims Fuller's innovations and fame predated Duncan's, citing a copyright case Fuller lost against an imitator in 1892 when her unique art form was ruled un-copyrightable by a judge who described it in terms we would recognize as modern dance. But according to Sperling, it is not only dancers who should be celebrating Fuller's legacy.
"Fuller was multimedia before there was such a thing," says Sperling, who has researched Fuller's influences on stagecraft and cinema. "She used electrical lighting in the theater in ways it had never been used before. It was new in the 1890s, and she really pushed the boundaries of what could be accomplished with it at that time. She dimmed the house lights during her shows, shrouded the stage in black curtains, and put a black curtain on the floor as well, all of which was innovative then."
Fuller also pioneered the use of under-lighting by creating a cutout in the stage floor and putting a pane of glass in it through which light from below could shine. Her other innovations include experiments with the synchronization of lighting and music and the invention of a wheel containing different-colored gels that attached to the front of a lighting instrument. "One of the criticisms she got during her career was that she wasn't really a dancer, she was an engineer," Sperling says.
Sperling considers Fuller's influence on cinema especially interesting and ironic. "Her art was 'cinematic' in many ways," says Sperling. "For example, by projecting magic-lantern slides onto her swirling costumes she made 'moving pictures' using the technology of the era. But because of the limitations of the medium, she never allowed herself to be filmed. Some of the very earliest motion pictures ever made, however, were of Loie Fuller imitators, those serpentine dancers. And what is perhaps the first color movie-a Thomas Edison film that was painstakingly hand-colored-is also of a Fuller imitator. Isn't that fitting?"