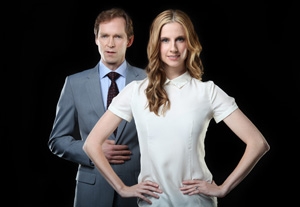 As of this month, New York is home to a brand-new chamber ballet company, Ballet Next. The troupe was founded and is directed by Charles Askegard and Michele Wiles, both of whom retired this year from positions as principal dancers with major companies—he from New York City Ballet and she from American Ballet Theatre.
On Oct. 9, Askegard gave a farewell performance at Lincoln Center, ending his 14-year tenure with NYCB. "Dancing with New York City Ballet was one of my greatest joys," he says, "but the day-in and day-out grind really takes its toll, and I felt it was time to say goodbye. I wanted to leave while I still had enough energy and youth to put toward the next project." Earlier this year, Wiles ended her 14-year stint with ABT because, she says, "I felt it was time to start a new chapter in my life."
According to Askegard, plans for the formation of Ballet Next began about nine months ago and evolved through what Wiles describes as "a very organic process" that grew out of the pair dancing together in guest appearances and realizing they had similar ideas about what they wanted to do in the future. "We're really excited," Askegard says. "We're commissioning new choreography, we're bringing together fabulous dancers, and we've assembled a tiny orchestra, so our performances will have live music."
On Nov. 11, viewers got their first glimpse of what Ballet Next might look like, when Askegard hosted a free noontime program at the 92nd Street Y. The program featured performances by some of the dancers who will appear with the company and showcased works from Ballet Next's planned repertoire, including Balanchine's "Tchaikovsky Pas de Deux," the White Swan pas de deux from "Swan Lake," and a new duet, "Entwined," choreographed by Margo Sappington for Askegard and NYCB principal Jennie Somogyi.
The company made its official debut on Nov. 21 at the Joyce Theater, dancing three classical ballet pieces as well as "Entwined" "La Follia," a duet choreographed by Mauro Bigonzetti for Wiles and Drew Jacoby; and two solos, one choreographed by Robert Sher-Machherndl and performed by ABT's Misty Copeland and one for San Francisco Ballet's Maria Kochetkova, choreographed by Jorma Elo. The company is now planning a multicity national tour for 2012.
But in this economic climate, with all the cutbacks in arts funding, what makes Askegard and Wiles think they will be able to succeed with their venture? With so many companies curtailing performances, scaling down projects, and even disbanding, what is different about Ballet Next that might enable it to flourish during these difficult times?
A Dual Mission and a Company of Stars
One of the unique aspects of the company, which is evident in both programs it has presented so far and may make for continued success, is its dual aesthetic mission. "Both Michele and I believe classical ballet has a real purpose and is at the root of the work of all ballet dancers—and as far as I've surveyed, everybody likes to see it," Askegard explains. "But they may not want to see an entire program of it. So we will always have some classical ballet represented in our performances, but an equally strong emphasis of our company will be on commissioning and presenting new choreography."
According to Wiles, Ballet Next is unique in that it has two artistic directors, both of whom will also perform with the company. "It's a real plus to have a partner to bounce ideas off, and when you do that you generate more ideas," she says. "For example, we've come up with the idea of collaborating with charity organizations. We would co-host an event. The performance would help their charity, and the exposure would help us bring in younger audiences and educate them about dance."
In addition, the couple's "big name" reputations as performers in the ballet world will surely draw audiences. Prior to joining NYCB, Askegard danced for 10 years with ABT and has been a guest artist with the National Ballet of Canada, the Dutch National Ballet, the Bavarian State Opera, and Pacific Northwest Ballet. Before joining ABT, Wiles won a gold medal at the Varna International Ballet Competition.
"But basically everybody in our company is a star. This is not a vanity project," says Askegard, noting the vast network of high-profile dancers whom he and Wiles have personal connections to and will invite to perform with Ballet Next. "We really want to give other dancers opportunities to explore their artistic sides outside the confines of a larger company. Working with a smaller company gives you more chances to perform, and that can be a great seasoning for dancers."
Another aspect of the enterprise that contributes to Askegard's confidence in its future success is its board of directors: "We started out with this wonderful organization, Volunteer Lawyers for the Arts—they connected us to a law firm that supplies us pro bono legal advice—and their executive director liked us so much that she agreed to serve on our board. We then put together five additional members. And even though we have no major corporate backing right now, our board is terrific and I feel very positive about their abilities to grow our company. We're small, we're nimble, we're not as expensive as larger companies, and we have high standards. And I believe there's room for us: a good, well-run, small ballet company with great dancers that can deliver classical choreography as well as some new stuff."