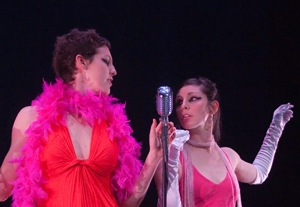 A distinguishing trait of much of the choreography made in today's post-postmodern era is the shying away from a sole intended interpretation of the piece. Instead of dance deriving its meaning(s) from a linear progression of movements over time, works are now commonly organized in layers. Each image or moment in a dance may contain multiple bits of information from which individualized interpretations and relevance can be drawn. Contemporary choreography presents various entry points, fitting for audiences who grew up online, amid a web of tangentially linked facts and ideas.
Doug Elkins (Christopher Duggan)

So how does a choreographer go about constructing a dense, weblike work that viewers will navigate in diversified, personal ways? It helps to have a mind like Doug Elkins'. Not only is Elkins a brilliantly inventive choreographic craftsman, but he gets bored focusing too long on a single topic. His attention constantly shifts from one subject to another. 
But Elkins' thoughts are not simply scattered—quite the opposite. He naturally sees relationships between seemingly unrelated things and creates theatrical contexts to entertainingly illuminate those connections. Elkins is best known for his "Fräulein Maria," an absolutely hysterical modern-dance deconstruction of the beloved musical film "The Sound of Music." The work has achieved cult status among dance fans, not least because of its climactic solo, in which Elkins performs a decidedly "street" hip-hop solo to the operatic strains of the Mother Abbess singing "Climb Ev'ry Mountain."  
"Mo(or)town
Redux
" (Christopher R
oesing)
Elkins' latest endeavor, "Mo(or)town/Redux," is a reworking of his 1990 piece "Mo(or)town," which was a riff on a modern-dance classic, José Limón's "The Moor's Pavane," choreographed in 1949. A quartet, Limón's piece is based on Shakespeare's "Othello" and is described by Elkins as "an eloquent, economized retelling of the ideas of the story using the four main characters, with reference to one of the pre-classic court dances, the pavane, which is essentially a slow, stately march." While Shakespeare's play was, in turn, based on an old Italian story, "The Venetian Moor," in his work Elkins adds yet another layer of lineage by incorporating the music of Motown and its signature style of gestural choreography.
"In all those stylized little movements and gestures done by the Temptations and the Supremes—everything from adjusting the cuff links to those little box steps—you can see the roots of everything that is Beyoncé and Usher and others right now," Elkins says. "That Motown choreography was made [largely by Cholly Atkins] by formalizing everything from old tap hoofing steps to social dances. What I'm doing is layering all those kinds of social dancing. I mean if you look at the choreography for [the Motown hit] 'My Girl,' it's actually a dance of bowing, and greeting, and strolling, which is what the pre-classic forms, like the minuet and the pavane, were."
Elkins, who began his career as a b-boy, feels there are important commonalities among all forms of social dancing. "They always begin as conversational; in the formalizing they become more oratorical," he says. "But what I find really interesting is how social dances get disseminated largely by stealing. For example, the way white performers stole acts from minstrel shows. In the latest steps you always see ideas from earlier eras reiterated. Like with a lot of things, if you keep laying out fragments, when you look at them too close they just look like garbage. But when you pull back you realize they're relational."  
As it may be difficult, though enormously fun, to try to decipher a path through all the layered references in Elkins' piece, the 92nd Street Y is providing some help. On March 2 to 4, "Mo(or)town/Redux" will be performed as part of "Stripped/Dressed," this year's edition of the five-week 92nd Street Y Harkness Dance Festival. In an attempt to demystify the process of creating dance, each week the work of a different choreographer will be presented in two ways. During the first half of the evening, the work will be "stripped," performed without any costumes or lighting, and analytically discussed so as to expose its insides and reveal its inspirational roots. In the second half, the work will be performed fully "dressed."
Elkins says he will "put the DNA of the piece out on the tablecloth," helping viewers to understand his work's thickly layered structure, which he compares to a Celtic knot. Also on hand for the discussion will be Elkins' music collaborator on the work, Justin Levine, who was musical director for Broadway's "Bloody Bloody Andrew Jackson." "We're both kind of pop culture savants and love layering our ideas together," says Elkins. "For example, the piece opens with Othello ceremoniously folding the handkerchief and stepping up to an old-style microphone, referencing Crosby and Sinatra, or Astaire dancing with the hat rack in 'Royal Wedding,' yet to the tune of James Brown singing 'It's a Man's World.' There are parts of the choreography that pay homage to José Limón, but it's like he's choreographing on the Jackson Five. And the work's first group section is done to a recording that Justin and I found of the Four Tops singing 'Sugar Pie, Honey Bunch' in Italian. I love it because there's something so familiar about it, and yet it's not."