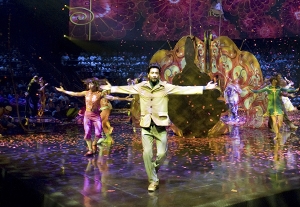 It's such a clichéd fantasy—escaping the misery of one's life by running away and joining the circus. But if you're a highly expressive dancer with a creative bent and an interest in long-term employment, you may want to seriously consider turning that circus fantasy into reality with Cirque du Soleil. Because while the groundbreaking shows it produces all over the world feature performers with traditional circus skills, the esteemed organization also employs numerous dancers. So even if you have no acrobatic, clowning, or aerial abilities, you should not rule out auditioning for Cirque. For the right kind of dancer, it can offer extremely gratifying work.
"That acrobatic stereotype has been my biggest challenge over the last five years," says Rick Tjia, senior talent scout in the organization's dance casting sector. It seems that the dance community doesn't realize how many opportunities Cirque du Soleil now offers dancers who are not circus performers. About six years ago, he says, "when I first came to work in casting here, there were only about 20-some dance roles in the entire company, but within two years that number had jumped to over 100. The exact number varies as we create new shows, but I'd say that now we fluctuate between 130 and 180 dance roles at any given time."
A Cirque du Soleil dancer needs to have a strong interest in the creative process and a willingness to play an integral role in the development of a show's dance material. "The way this company works is that the roles are created around the dancers who are cast, rather than the choreographer first setting a role in stone and then finding a dancer to fill it," Tjia explains. "We look for dancers who will inspire the creation of the material. Being a technically strong dancer or just being able to do tricks is not enough. Imagination, an open mind, and the willingness to jump into something unknown and find a way to make that interesting together with the creators are what's essential."
Even a dancer hired to fill a role in an already-running production is expected to participate in the creative process, as it doesn't end when the show opens. "The big difference between dancing in a Broadway show, for example, and what we do," Tjia says, "is that we like dancers to evolve in their roles, to bring something new and fresh and different to every performance. It's a lot like what actors normally do but that dancers usually don't."
According to Tjia, when audiences come to see a Cirque du Soleil production, they expect to be wowed and touched: "But 'wowed' doesn't necessarily mean you're going to do 10 pirouettes. That won't sustain an audience's attention for two hours. You have to wow them through the heart. That's what makes this company's shows so special—the artistic, expressive side. We want the kind of dancers who can really touch people through the execution of their movements." Once hired to work on a new production, dancers will often receive classes in physical acting, in addition to a daily morning technique class.
Among the various Cirque productions currently playing, there are roles for dancers who specialize in a multitude of styles. "The type of dancer for which we have the most roles is contemporary," says Tjia, "but right now we also have 12 or 13 tap-dance roles, around six hip-hop or B-boy roles, three Georgian folk dancers, a Romanian folk dancer, and a role that mixes contemporary or jazz and classical Indian dancing, which is one of the most difficult roles to fill, because of that mix."
Dancer Laura Cota is performing in "Love," Cirque du Soleil's Beatles-inspired show, at the Mirage in Las Vegas. After many years of dancing in music videos, with concert dance companies, and on cruise ships, Cota decided to audition for Cirque du Soleil because she wanted a job "that had a little more longevity to it," she says. Though she has been dancing in "Love" for a year and a half, she is the show's newest cast member. "Every other dancer has been here for at least two and a half years," she says. "It's a very positive work environment, and we've become like a family." She also notes that dancing with Cirque never gets boring, because of all the creative work involved and the educational opportunities: "I have never done another job that offers as much training as this one does."
In addition to performing two shows a night, the dancers in "Love" take a mandatory biweekly dance class and get daily workshops focusing on different forms of dance or physical performance, such as clowning or aerial work. Though Cota describes a Cirque du Soleil show as a "demanding" job—her audition alone took 18 hours over the course of two days—she also claims it's by far her favorite.