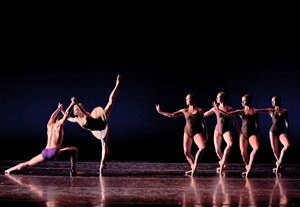 "We're finally out of our diapers. We have a full staff, properly paid dancers, and all the funding and resources that it takes to be a real company," says Charles Anderson, founding director of Company C Contemporary Ballet, the Walnut Creek, Calif.–based ballet troupe. "But it took 10 years to pull all those elements together, so this is a big celebration." Anderson's troupe is marking its 10th anniversary with April performances in San Francisco and May seasons in New York City and Walnut Creek.      
Though the company performs several works choreographed by Anderson, when he founded it in 2002, his mission was to create a repertory company. "When I came out here to the Bay Area, I noticed there were already companies whose focus was only the founder's work, such as Smuin Ballet and Alonzo King's Lines," he says. "Of course there was San Francisco Ballet—they're the big dog in town— but there's a lot that just doesn't fall under their purview. I discovered there was a niche for a company that could present mixed repertory curated by someone like myself, who has been exposed to lots of different kinds of ballet choreography." 
A former member of New York City Ballet, Anderson comes from a ballet family. His parents, Zola Dishong and the late David Anderson, both danced with American Ballet Theatre and SFB, and his stepfather, Richard Cammack, danced with ABT and later directed the SFB school. "My father also danced on Broadway and with just about every choreographer you can think of. My background is a big jumble of dance history," Anderson says. 
For the spring anniversary performances, Company C will present works by David Grenke (formerly of the Paul Taylor Dance Company), Benjamin Bowman (a member of the original cast of Broadway's "Movin' Out"), Gregory Dawson (who performed with Dance Theater of Harlem and Lines), and Peter Anastos (founder of Les Ballets Trockadero de Monte Carlo) and two ballets by Anderson, one set to bluegrass renditions of Led Zeppelin tunes. 
Anderson considers this landmark anniversary just the first milestone in his 30-year vision for the company: "Now that we've established ourselves and we know that we're going to continue to exist, I plan to start adding live music to our performances and to add choreographers to our roster who are outside of the circle of people I know or have worked with. For example, I'd like to bring in choreographers from Europe and also some guest-star performers. So that's another 10 years. And then, as we approach our 30-year mark, what I'd really like is for our company to be thought of as a hub of art, not just a regional company out on the periphery. At that point maybe we'll have our own building and people will come to us rather than Company C having to reach out to them." 
And yes, despite the troupe's inclusive mission, the "C" stands for Charles. Says Anderson, "It's my way of putting my name on the company without being too obvious."