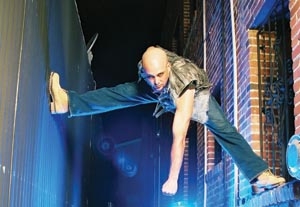 "When I was dancing with Michael Jackson, during rehearsals I would always watch how the choreographers worked, how they created, how they listened to the music. I began to see how to phrase movement properly, how to use moments of subtlety and stillness, how to make dance that breathed, was present, and was honest. That's how I learned to choreograph," says
Cris Judd
, a Los Angeles–based choreographer, director, actor, and producer.
Judd directed, choreographed, and produced the "Fantasy" show at the Luxor resort in Las Vegas and has directed and created dances for numerous music videos, concert tours, films, and television programs. A firm believer in mentorship, he also works regularly with young dancers as a teacher for the Pulse, a touring dance convention sponsored by New York's Broadway Dance Center. His advice to anyone wanting to break into choreography is to work as the assistant to a successful choreographer whom you respect.
Judd didn't begin his formal dance training until he was 21. At the time, he was performing as a costume character at Disney World. He developed a crush on his dance partner, but when he asked her out, she told him she didn't date "characters." This prompted Judd to ask how he could become a professional dancer like her. "She told me I would need years and years of dance training," he says, "but I was thinking, 'How hard can it be? I'm doing the same choreography as you, but in a Pluto costume.' "
After betting his partner that he could get hired as a professional dancer at Disney within one year, Judd started taking jazz dance classes. "I was instantly humbled," he says. "I struggled through the warm-up and the across-the-floor exercises, but once it came to the combination at the end of class, I picked that up very quickly." Unlike Judd, many beginning dance students can do basic exercises but have trouble when they are asked to learn, remember, and perform a phrase of choreography.
"From a very early age, as far back as I can remember, I always played sports," explains Judd, who was born in Texas and raised in the Philippines and Hawaii. "When the coaches told me what to do, I executed exactly what I was shown. I became a very good mimic and found I could do whatever anyone showed me. So when it came to dance, I approached it the same way. Plus, in the dance studio, I could watch myself in the mirror, which helped even more."
Dancing With Jacko
Finding that he really liked and did well in his jazz dance classes, Judd soon added ballet technique to his training regimen and won the bet: Within eight months, he got a job as a dancer at Disney. His professional dance career took off quickly and included a stint dancing for Chippendales in Europe. He eventually moved to Los Angeles and danced in concerts and movies, on television shows, and in videos for prominent recording artists, including Michael Jackson.
"He was a perfectionist," Judd says of Jackson. "When we were on tour with him, there were four dancers, and in rehearsal he would make each of us perform the entire two-hour-plus show, one at a time, in front of him. It's just you alone on the stage and him sitting there, arms crossed, watching you. And then he would give you some very precise correction, like exactly where your thumb and middle finger should be on your hat."
While rehearsing for a tour with the pop singer Jordan Knight, Judd suddenly made the career transition from dancer to choreographer. When the tour's choreographer had a falling-out with Knight, Judd approached the singer and asked if he could step in and complete the job. "He gave me one number to finish, and he loved it so much that I then became his choreographer," Judd says. "And that's pretty much how I transitioned into choreography." 
Building on everything he had taken in from carefully observing the top choreographers with whom he had worked during his dance career, Judd developed a choreographic style that he describes as being infused with old-school sensibilities. "I'm really influenced by Fred Astaire and Gene Kelly," he says, and he blends their styles with hip-hop vocabulary. "I think of my style as 'strong elegant.' "
One of Judd's most impressive choreographic accomplishments was the 2002 NBC concert special "Let's Get Loud," for which he served as creative director and which starred Jennifer Lopez (to whom Judd was briefly married). The concert was released on DVD in 2003. That experience sparked his interest in moving beyond choreography. He has made successful forays into producing, has acted in films and on TV, and has served as host of the WE channel's dance-competition reality show "Dirty Dancing." 
Returning to his roots as a choreographer and using that as a springboard into directing, Judd is currently choreographing a new television show, "Bucket & Skinner's Epic Adventures," that will air on Nickelodeon in August. "I'm trying to transition into more directing work," he says, "so when I started working on this show, I met a wonderful director and asked him if I could shadow him for the episode. My experience has shown me that really watching someone who knows what they're doing is the best way to learn."