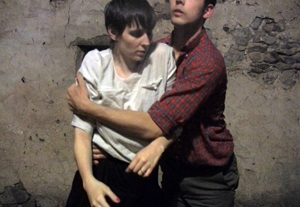 Interested in making a dance film and want to learn more about camera work, editing, or distribution strategies? Or perhaps you're already in the editing process and need some feedback. Either way, you may want to check out the
Dance Film Lab
, a series of monthly events designed to support the many aspects of producing a dance film. Held May through November, the DFL takes place in lower Manhattan at
Dance New Amsterdam
, one of New York's leading dance training institutions and experimental performance venues.
The primary component of the DFL is the screening of works in progress, events that are moderated by the program's organizer, Zach Morris. "When we started these screenings back around 2006, as a young dance filmmaker I wanted to create a forum where artists could gather, share resources, show works-in-progress, and galvanize the community," Morris says.
"We started really grass-roots, in an artist's basement in Bushwick, and have grown as the need for it -- and the community of dance filmmakers -- has grown in recent years," Morris says. "Though dance films have been around since the birth of motion pictures, with the advent of digital technology and us all now carrying around video cameras ostensibly in our pockets, there's been a real blossoming of the form. And not just in people's abilities to make dance films but also their abilities to get their works out to a broad audience, through the Internet."
Sponsored by
Dance Films Association
, the DFL is supporting the surge of interest in dance films -- and in the number of people making them -- by helping artists gain skills and connect with others in the field. "The Lab is envisioned to embrace artists who are coming to the form at whatever level, from beginners just shooting off their iPhone to those making feature-length documentaries," Morris says. The opportunity to have work shown and discussed at a DFL screening session is first-come, first-served, and priority is given to works in progress or very recently completed. The goal is not to showcase films but to give artists the constructive feedback they need to move forward in their process.
Run Shayo

In addition to the screenings, upcoming DFL offerings include a class on camera operation and shooting strategies, a session with a professional dance-film editor, examination of two case studies illuminating the film creation process from beginning to end, and a panel focusing on distribution through festivals, television, and digital/Internet-based platforms.
To have your work screened, you must be a member of either DFA or Dance New Amsterdam. This year the two collaborating organizations are offering a joint membership for DFL attendees. For a $70 fee, artists get reduced rates on all DFL events (which can be purchased individually or as a series) while enjoying all the other benefits of membership in both DFA and Dance New Amsterdam. For more information, visit
www.dancefilms.org
.