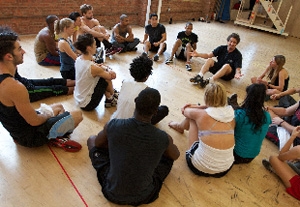 With its repeatedly delayed opening, highly publicized cast injuries, and record-setting $65 million budget, "Spider-Man: Turn Off the Dark" is surely the most anticipated new Broadway musical of the season. Scheduled to open March 15, the show promises some of the most daring choreography ever incorporated into a live musical theater production. Back Stage spoke recently with the show's choreographer, Daniel Ezralow, to ascertain exactly what the movement-heavy musical requires of its dancers and what criteria are used to cast them.
"I knew from the beginning that with this show, I was really going to test dancers to the limits of their physicality," says Ezralow, a Los Angeles–based choreographer who works internationally in concert dance, opera, musical theater, pop music, film, and television. A former member of Pilobolus and a founder of Momix, he choreographed Cirque du Soleil's current hit show "Love," the film "Across the Universe" (helmed by "Spider-Man" director and co-author Julie Taymor), the Arts Festival at the 2002 Olympics in Salt Lake City, and Pope Benedict XVI's 2008 visit to New York's Yankee Stadium.
To select the dancers for "Spider-Man," Ezralow developed a very rigorous audition process that involved a variety of movement challenges. "I don't know that I've ever done anything like this for my work before," he says. "I did a strength audition, a coordination audition, a technique audition, and something to see what kind of style they had. I also gave them combinations that were very physically demanding—in terms of up and down, to the floor and back—just to see how they approached it. The thing is, I knew I would be calling upon all of them for everything."
Their Eyes Light Up
All of the dancers in "Spider-Man" must be able to work both on the ground and in the air, so dancers with a fear of heights shouldn't even consider auditioning for this show. However, previous aerial experience is not required. An affinity and enthusiasm for learning how to dance in the air are what Ezralow seeks. "I look for the ones whose eyes really light up," he says. At a "Spider-Man" dance audition, a performer can expect to be put through one of the show's flight sequences. "We take people up and you can see it right away," Ezralow claims. "Their body either retracts like a cat—they pull up, almost like they're ready for a landing—or they stretch out like Peter Pan and really embrace the air. Now, a lot of that body work is adjustable, but when their eyes light up, that's when you can tell, oh boy, this person really loves the air."
He adds, "I also love dancers who are willing to shake it up a bit. I'm not really a school-taught choreographer myself. I started dancing very late, at the age of 19, when I took a dance class at Berkeley, where I was studying biology. So my understanding of what dance entails is very wide open. I believe it can include everything from a lay-up on a basketball court to a butoh stance in the middle of a stage."
Ezralow has an enormous amount of experience in the invention of aerial maneuvers and rigging apparatus and the creation of aerial choreography. "When I was in Momix," he says, "the four of us used to go into the opera houses in Italy and rappel off the boxes. We were climbers, we were athletes, and we loved to experiment with using the air as well as the ground. Way back in the mid-'80s, we invented some bungee pieces, long before bungees were being used for anything. We did a lot of self-rigging and created and sewed our own harnesses. And all of that eventually led to me doing a lot of bigger events, such as the finale for Ricky Martin's big world tour, which was all in the air. And I also did the opera 'The Flying Dutchman' with Julie, and that included a lot of aerial choreography."
As Ezralow defines it, aerial work can take many different forms: "It can include everything from climbing up a rope to using complex motors and lines. But for the 'Spider-Man' project, we decided to go further. We enlisted the stunt coordinator from the Spidey films and some of the original Cirque du Soleil riggers, so we could really challenge the limits of what has been done." Yet despite its spectacular aspects, the show's choreography is narrative-driven and performed by dance artists whom Ezralow does not feel should be described as stunt doubles. "I don't see what these performers are doing as stunts," he says. "A stunt is when you crash a car. What these dancers are doing is sophisticated character work. It's just that they're utilizing extreme control of their bodies."
The greatest challenge Ezralow faces in casting the show's dancers is that the same performers who do the aerial work must also be able to convincingly perform the nonaerial dance numbers. "A wide-ranging movement skill set is required," he explains. But for well-trained dancers, learning to execute aerial work should not be a problem, because, according to Ezralow, the primary physical skill required for flying is coordination, something professional dancers have in abundance. "Being able to fly is not that difficult," he says. "What I'm really looking for are performers with intelligent bodies and open minds."