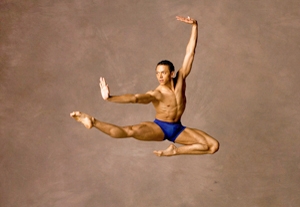 With all the production budget cuts and unemployed dancers and choreographers, not to mention the generally sorry state of the economy, you may be finding it difficult to get into the holiday spirit this season. Well, despite the gloomy financial scene, dance lovers have plenty of reasons to celebrate. Here are a few.
Come January, a former prima ballerina of Dance Theatre of Harlem, the beloved Virginia Johnson, will be taking over the reins as artistic director of the history-making company. Founded and directed since 1968 by former New York City Ballet principal dancer Arthur Mitchell, DTH was the first ever African-American classical ballet troupe and achieved world-class status before fiscal difficulties forced the professional company to go on hiatus in late 2004. The dance community is looking to Johnson, founder and former editor in chief of Pointe magazine, to revivify this treasured troupe. It was at this time last year that we celebrated the election of our country's first African-American president. It is only fitting that we now celebrate Johnson's new leadership of one of the African-American community's most important contributions to the art of classical dance.
The extraordinary documentary filmmaker Frederick Wiseman's new ballet movie, "La Danse: The Paris Opera Ballet," was released last month and is now playing in cinemas nationwide. By all reports, the film is completely captivating from beginning to end, and just as revelatory as "Ballet," Wiseman's alluring 1995 documentary on American Ballet Theatre. This gives you the perfect excuse to take an afternoon off, curl up in a comfy seat in your favorite art house, and celebrate the aesthetic magic that occurs when the workings of a great ballet company are revealed through the lens of a brilliant cinematic artist. And you may need to treat yourself to that large tub of popcorn, as "La Danse" runs more than two and a half hours.
The California-based Words on Dance has just established a New York presence, allowing its unique collection of dance documentation events to reach an East Coast audience. Founded in San Francisco in 1994 by producer Deborah DuBowy, the project invites distinguished dance artists to talk about their work in public interviews that are documented on film. The Paley Center for Media (formerly the Museum of Television and Radio) recently hosted the New York debut of Words on Dance with a free public screening of the 1998 film of an interview with famed ballerina Maria Tallchief, conducted by Evelyn Cisneros, a former principal dancer with the San Francisco Ballet. If that fascinating film (which also incorporated clips of Tallchief in performance) is any indication, the New York dance community has much to celebrate as this worthy oral-history initiative grows into a bicoastal operation. You may want to mark your calendars now: Words on Dance will return to the Paley Center (25 W. 52nd St.) on April 26 for its inaugural live program from New York, an interview with choreographer Eliot Feld, conducted by revered former ABT ballerina Cynthia Gregory.
If you are planning to be in New York City anytime over the holidays, you will be able to catch a live performance by the Alvin Ailey American Dance Theater, as its run at City Center has been extended through Jan. 3. The company will present "Dancing Spirit"—a new work created by choreographer Ronald K. Brown in celebration of Judith Jamison's 20th anniversary as artistic director—as well as "Uptown," a new piece by 18-year company member Matthew Rushing celebrating the Harlem Renaissance, and favorite works by Ailey and other contemporary choreographers. While it is always important to celebrate the remarkable achievements of the Ailey company—its role as a global ambassador of American dance is unparalleled—it deserves particular praise this season for its work in bridging the concert and commercial dance scenes.
On Nov. 11, three members of the company appeared as guest performers on Fox's hit series "So You Think You Can Dance." Seen by millions of viewers all across the country, the Ailey dancers not only exposed a mass audience to the finest in concert-dance performance and upped the TV program's artistic cachet but also sent the message that the artistic dance world and the entertainment industry need not be such separate entities. In fact, they can find significant support through collaborative ventures. The following week, Ghrai DeVore and Renaldo Gardner, two dancers from Ailey II—the organization's second-string company—appeared on "So You Think You Can Dance" in celebration of their being among the first group of young dancers to be awarded dance scholarships by the Dizzy Feet Foundation. Founded earlier this year by the show's co-creator, executive producer, and lead judge, Nigel Lythgoe, along with director-choreographer Adam Shankman, "Dancing With the Stars" judge Carrie Ann Inaba, and actor Katie Holmes, the foundation gives underprivileged youth the opportunity to study in accredited dance programs and assists young performers in developing into professional artists.
So terps, count your blessings and enjoy the holidays!