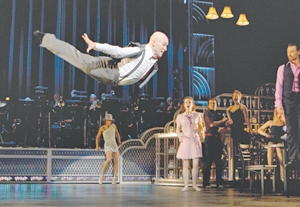 Ever since the pioneering dance play "Contact" hit the Great White Way in 2000, the notion of a Broadway musical has expanded to include shows that resemble evenings of pure concert dance. With this innovation has come an influx of concert-dance performers and choreographers to Broadway, where they have been strutting their stuff in traditional musicals as well as these genre-defying dance-theater productions.
Maverick modern-dance choreographer Twyla Tharp thrilled Broadway audiences with her 2002 hit dance musical "Movin' Out," in which a cast of concert dancers performed to Billy Joel songs. In her latest Broadway outing, "Come Fly Away," Tharp has concocted a full evening of dazzling choreography to the songs of Frank Sinatra. A "danced-through" musical, "Come Fly Away" is performed by distinguished terps from the concert stage, some of whom are making their first foray onto Broadway. Back Stage recently spoke with seven of the show's principal performers to find out what happens when a dancer ventures from the concert-dance world to the Main Stem.
"Culture shock," says Karine Plantadit, describing what it was like to dance in her first Broadway show, "The Lion King," after a seven-year career with the Alvin Ailey American Dance Theater. "First, I felt joy and excitement about being on the Broadway stage. But I quickly realized that there was a definite separation between the dancers and the singers and actors. So my second feelings were on the egotistical level. I felt hurt, anger, and resentment when I realized that we dancers weren't the ones telling the story. The actors and singers were, and we were just there to complement things. That's why it's so wonderful now to be in 'Come Fly Away.' We are the ones telling the story."
Plantadit emphasizes that it is only because they have developed themselves as actors that the dancers in "Come Fly Away" are able to carry the entire show. "I eventually came to a third set of feelings about working on Broadway, and that's when the wisdom set in," she explains. "I realized that I knew nothing about acting or singing, and if I wanted to continue in Broadway shows, then I had better get to work and start studying something other than dance."
John Selya, former member of American Ballet Theatre and Tony Award–nominated star of "Movin' Out," discovered he had to make very specific changes in his dancing when he transitioned from classical ballet to Broadway. "When I first came to Broadway, I wasn't aware of the adjustments you have to make," he says. "You can't keep that noble carriage that is ingrained in ballet dancers, because all of the characters you're playing aren't going to be 18th-century aristocrats. Also, you need to be aware of your hands. In ballet you always separate your fingers, but if you do 'ballet hands' when you're wearing a dinner jacket and playing a guy at a bar, it breaks the illusion. It looks too ornate. And you have to scale down your acting. You can't project like when you're in an opera house. You can't do those overly magnified gestures. And you also have to adjust the way you present the virtuosity. In concert dance, you are being watched by connoisseurs, and they appreciate things that you expect them to. But on Broadway, you can execute something extremely difficult and it won't be recognized like it would be in a concert scenario. So sometimes the way you finish a trick can be more important than the actual degree of technical difficulty."
Selya also found Broadway audiences to be very different from balletgoers. "Broadway audiences are much more responsive, more vocal, more open-minded," he says. "They're there to have fun. And they represent a much wider array of people, which really attracted me." Selya has also performed in "Damn Yankees" and "Guys and Dolls" and adds that he has enjoyed his Broadway work so much that he now has very little interest in returning to the ballet.
A 2006 Juilliard graduate who danced with American Repertory Ballet, Laura Mead is making her Broadway debut in "Come Fly Away" and is delighting in the ways the experience differs from that of her prior performance work. "In concert dance, you rehearse for months for maybe one weekend of shows," she says. "But what I really like is performing, so it's such a pleasure for me to now be doing six performances a week and to be dancing for such a great number of people. And as a concert dancer, I always loved getting to portray emotion, showing a little bit of soul beyond the technique. So getting to tell stories, like we do in this show, is really satisfying."
Another big difference Mead is enjoying is the money, which she sees as a form of respect. "It's so wonderful that Broadway pays dancers a fair wage and offers care and protection that respect the years and years of training and talent that dancers bring to their art," she says. "It's a blessing to be working in the one part of the dance world that can do that, but I hope I don't get spoiled, because I do plan to return to concert dance."
'Meaty' Dancing
A former member of England's Royal Ballet, Matthew Stockwell Dibble danced for three years in "Movin' Out" but considers his work as a Broadway dancer to be limited to dance musicals. "The only reason I'm on Broadway is because that's where Twyla is doing her shows right now," says Dibble, who has performed since 2002 with Twyla Tharp Dance. " 'Come Fly Away' is not really a Broadway show. It's concert dance done on Broadway. It's just as tough as dancing a very difficult Ashton ballet every night." He is referring to Frederick Ashton, the 20th-century neoclassical choreographer who is revered in England to much the same degree as George Balanchine is in the U.S.
"Technically, this is a very challenging show, which is why we do it," says Dibble. "But it's also a gift to be able to perform it for a Broadway audience. I don't think there's been this kind of meaty dancing on Broadway since Jerome Robbins. I feel as though we're paving the way for the next generation. Concert dance is up against extreme financial trouble right now, and shows like this can provide ways for concert-trained dancers to keep doing quality work and have a secure paycheck. It's a way for them to segue into something that's not too dissimilar from what they've been doing."
Charlie Neshyba-Hodges, from the Sacramento Ballet, has danced Tharp's choreography in "Movin' Out," "The Times They Are A-Changin'," and now "Come Fly Away." "I tried on all three occasions to treat the Broadway work as concert dance," he says. "I don't believe there should be a forced change in what we do dancewise. The differences are mainly on the business end. There's certainly more money to be earned with a Broadway contract. For example, in regional companies the contract for a corps de ballet dancer might be as low as $300 a week, whereas on Broadway you can be making $1,500 a week."
Neshyba-Hodges describes himself as "a concert dancer with a Broadway job." He agrees that the most significant difference between concert dance and Broadway work is the number of performances. But unlike Mead, his partner in the show, Neshyba-Hodges prefers rehearsing. "I find the rehearsal process to be rich," he says. "It's my favorite time. I love the practicing, the investigating, and the discovery that goes on during that phase of the process. The process is much more substantial in the concert-dance world. I find the first couple performances are very rewarding, because they celebrate your hard work. But when you're in a Broadway show, with each new week of performances it takes a very different type of discipline to find the motivation, the courage, and the energy to perform again and again and again."
So how does a Broadway dancer continually find that motivation? "It comes from any kind of stimulus you can find," Neshyba-Hodges says. "Sometimes it comes from my partner. She'll come in having read a book, watched a movie, taken a class, or heard a comment from a teacher, and that might prompt us to discover a whole new approach that we hadn't thought about. The trick is to be so focused that you have a destination but be open-minded enough that you can be sidetracked when opportunity presents itself."
Reviews Matter
A member of the Martha Graham Dance Company from 1992 to 1999, Rika Okamoto performed in the original casts of Broadway's "Movin' Out" and "Tarzan" before she was cast in "Come Fly Away." She finds that the most striking difference between the Broadway and concert-dance worlds lies in the importance placed on reviews. "For Broadway shows, the reviews matter a lot," she says, "but for concert dance, the number of performances is usually set, and if you get a good review or a bad one, it doesn't matter that much."
Okamoto also finds that the relationships on Broadway are more transient than those in concert dance: "There's more coming and going within the casts of Broadway shows, whereas in concert dance, particularly in the big companies, the dancers tend to stay with one company for a longer time. And that's probably because in a company, you're dancing different repertory all the time. On Broadway you're doing the same thing every night."
Another difference that strikes Okamoto is the degree of visibility that Broadway performers have as opposed to concert dancers. "Like being asked to do interviews like this," she says. "You feel there is more of a spotlight on you when you're working on Broadway."
Though Okamoto has been thrilled to work on Broadway in Tharp's dance musicals, she found performing in the more conventionally structured musical "Tarzan" less gratifying, because of how little time she spent on stage dancing. "Most of the musical is the book and the songs," she explains, "so you have to get used to being offstage a lot, which can be very challenging for a concert dancer."
Holley Farmer danced for 12 years with the Merce Cunningham Dance Company before being cast in "Come Fly Away," a job she took because she wanted to work with Tharp, not because she was pursuing a Broadway career. "But Broadway right now is impressing me on a level that I had no clue was possible," Farmer says. "It wasn't until we started doing our previews and I began hearing who was in the audience that I realized the significance of what we were doing. As I walked my commute every day, from 42nd Street to 45th, hearing people on the street who had come from all over the world and knowing they were our audience, I started to feel a much different sense of responsibility and a different sense of exposure."
While admitting that the Broadway experience is still very new to her and tremendously energizing, Farmer says, "I have never worked with people who are so happy. I'm talking not just about the other dancers but also the crew and everyone else involved in the production. And these are all very experienced people."
In the concert-dance world, Farmer felt like an ambassador, bringing a very particular kind of modern dance to audiences who knew what it was they were going to see. "We traveled all over the world, but there was always a sense that we were coming to them, rather than them coming to us," she says. "The musical theater, however, is a very American pastime—it's a real showcase of American talent—and so the fact that people are coming here specifically to see us is very different."
Farmer has come to appreciate that Broadway audiences are looking to be entertained and that musicals such as "Come Fly Away" are designed for people who want to leave the theater feeling better than when they arrived. "So in relation to my past work as a dancer," she says, "I feel freer to be expressive and freer to have fun, but the discipline you need is no different from concert dance."