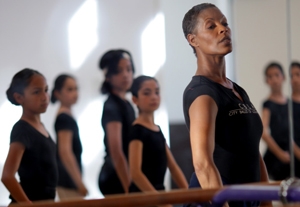 "Ballet is a very rich sport," says Robyn Gardenhire, who is devoted to bringing ballet training to underprivileged children. This spring Gardenhire is proud to announce that her downtown Los Angeles based ballet school,
City Ballet of Los Angeles
, has formed a relationship with the prestigious Ramon C. Cortines School of Visual and Performing Arts. "In exchange for our older students getting to study there on Saturdays, we are providing training for children so that 9th graders can enter the high school with a solid ballet background," she says.
Born and raised in L.A., Gardenhire received her training as a scholarship student with the schools affiliated with American Ballet Theater, New York City Ballet, and the San Francisco Ballet. She went on to dance professionally with Joffrey II, the Cleveland Ballet, Karole Armitage, ABT, and Mikhail Baryshnikov's White Oak Project.
While with ABT, Gardenhire launched the company's diversity committee, which introduced minority kids to classical ballet and granted scholarships for them to study at ABT's school. Without such programs, the ballet world would remain off-limits to those whose parents can't afford to fund the many years of training a professional ballet career requires. Yet how can an art form continue to evolve as a relevant aspect of society if it's limited to the talents and perspectives of only a discrete portion of that society?
Back home in L.A., where she has been since a lupus diagnosis ended her performing career in 2000, Gardenhire is fulfilling her mission to provide opportunities for underprivileged kids to see and study ballet. Three years after founding her school, in 2003 she established an affiliated professional company, which will premiere in June a ballet she choreographed based on James Baldwin's novel "Another Country."
Gardenhire's company is not to be confused with the Los Angeles Ballet, the better-known professional troupe based on the city's affluent West Side. "I wanted to locate my school in a neighborhood where the kids would not normally have access to ballet training," Gardenhire says. "I want to give kids who are economically and socially disadvantaged the same opportunities as kids from the West Side." To keep tuition prices down and offer scholarships, Gardenhire formed her operation as a nonprofit, funded largely through private patrons and small foundations. "We don't have any big corporate sponsors yet, but we hope to," she says.
The school's curriculum focuses on classical ballet but also includes modern dance, yoga, and dance history. "I refuse to do hip-hop," says Gardenhire, noting that youngsters can get that elsewhere.
Though Gardenhire's company is composed of professional dancers from all over, it is her dream to fill its ranks with kids from downtown L.A. "Right now my oldest student is only 15, so it might be another 10 years or so before that happens. But more importantly, I want my students to decide for themselves where they want to dance. They might not want to stay here and do my stuff. They might want to go off and join New York City Ballet. I want to give them the opportunity to have that choice."