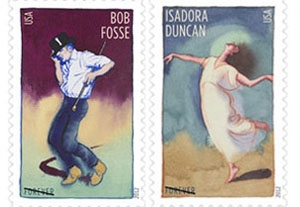 For the Chinese, 2012 is the Year of the Dragon. But for the U.S. Postal Service, it's the Year of the Choreographer. In addition to stamp series honoring great film directors, baseball all-stars, and 20th-century poets, the Postal Service will be issuing a commemorative series titled "Innovative Choreographers," honoring Isadora Duncan, José Limón, Katherine Dunham, and Bob Fosse. Each will be pictured on a "forever" stamp. (Those are the ones that, whatever you paid for them, are always equal in value to the current first-class one-ounce mail rate.)
Commemorative stamps were first issued by the Postal Service in 1893 to mark the World's Columbian Exposition in Chicago. They featured engraved reproductions of paintings portraying events connected to Columbus' voyages. Proposed by the public and selected by a committee appointed by the postmaster general, the subjects for commemorative stamps should either be Americans who have made extraordinary contributions to society and culture or American institutions, themes, or events of historical significance. The first series to celebrate choreographers was issued in 2004 and featured George Balanchine, Agnes de Mille, Martha Graham, and Alvin Ailey.
The four choreographers chosen for this year's stamps represent the ethnic, stylistic, and ideological diversity that has always characterized the American dance scene. At the turn of the 20th century, Duncan rebelled against the conventions of classical ballet, embraced the body's natural movements, and pioneered a new art form that came to be known as modern dance. On her stamp she appears to be skipping with free and joyous abandon.
A Mexican-American, Limón developed a style of modern dance that was both lyrical and virile. With his powerful performance qualities, he was instrumental in elevating the status of the male modern dancer and is pictured on his stamp in a position that emphasizes muscular strength.
An African-American dancer, choreographer, and anthropologist, Dunham created a dynamic movement technique that borrowed from modern dance and ballet but was driven by Caribbean and African dance elements. On her stamp she is seen in a pose from her five-scene 1938 ballet "L'Ag'Ya."
The honoree whose choreography is probably the most widely recognized, Fosse invented a sexy, isolation-based style of theater dance that came to define the look of Broadway show dancing. Sporting a hat and cane on his stamp, he is shown demonstrating a movement of his choreography for the number "If My Friends Could See Me Now," based on a rehearsal photo taken on the set of the 1969 film version of the 1966 Broadway musical "Sweet Charity."
The images on the stamps, however, are not photographs but illustrations, drawn by James McMullan. The stamps were designed by Ethel Kessler, one of five art directors on contract with the Postal Service. Kessler, who has been designing stamps for 15 years, also designed the first series of choreographer stamps.
"For those I took a more photographic approach," she explains. "They were portraits of the choreographers montaged with a photograph from one of their iconic dances. But for this series, the first choreographer they talked to me about doing was Isadora Duncan. So it didn't make sense to use that same format." Not only is Duncan not known for any singular work, but the photographic documentation of her is scarce and perhaps not the truest representation of her movement quality.
"Also, I have wanted to work with Jim McMullan for years," Kessler says. "I had been aware of his gorgeous work for Lincoln Center, and I thought he'd be the perfect person to do Isadora." McMullan is well-known for the posters he has created for Lincoln Center Theater.
The design challenge was to convey the differences among the choreographers and not make the stamps—all illustrated by the same person—look too similar. "And let's not forget, we're working in miniature," Kessler says. "You need to find a dynamic that can really push and pull that tiny space. Each of the strokes, and the elimination of detail, has to take into consideration that with this very small thing, you need to 'get' that choreographer."
Kessler has a team of visual and informational researchers at her disposal, and they provided McMullan with materials on the definitive dances and styles of each choreographer. Though Kessler and McMullan talked at length about each subject, McMullan created the illustrations on his own.
The most difficult stamp to design was Fosse's, because unlike the others he was not primarily a performer of his own work. Kessler says she had a terrible time finding photos of him dancing that McMullan could work from, because most of the iconic images of Fosse's choreography are of Gwen Verdon or other dancers performing it.
"But you can't have a stamp that says 'Bob Fosse' with someone else's picture on it," Kessler says. "In the original set, with George Balanchine, he wasn't pictured dancing, but his face was on the stamp nonetheless, and it was obvious that wasn't him in the tutu."
With the predominance of electronic communication, getting a personal note in the mail is rare and has therefore taken on added value. Using these stamps will be a great way to show your support for your art form while doing something special for someone you care about.