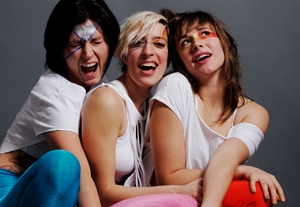 Have you ever felt a sense of distance while watching a concert dance performance? Even those of us who regularly perform or watch dance sometimes find certain shows overly cerebral and esoteric. When you feel connected to what's happening onstage, your reaction might include pure joy or visceral thrill. But when that feeling's absent, a sense of confusion and disconnect looms.
Choreographer, dancer, and performer
Ani Taj Niemann
felt exactly this way -- and decided to do something about it. Like the Lady Robin Hood of the dance world, Niemann is striving to bring dance back to the popular forum with her company
the Dance Cartel
and its upcoming inclusive dance jams. "With my company, I'm interested in spanning the apparently brick wall between the highbrow contemporary dance scene and popular music, dance, and video," says Niemann. "I'm hoping that embracing joyful, funny, or even mainstream things doesn't have to mean trading away involvement in the dance world. We want to be at home in NYC dance institutions but also do music videos, dance for bands, or art up your club."
To this end, the Dance Cartel is presenting "
OntheFloor
" at Liberty Hall at the ultra-chic Ace Hotel in Manhattan. On June 11, 19, and 26, Niemann's troupe invites audiences to participate in a "celebratory happening." In this new type of live dance experience, the performance is aimed at fun interaction and high-energy artistry. "I want the audience to feel engaged the way they might at a lively music concert," says the striking Niemann, a plume of bleached-blonde hair jutting from her head and huge, expressive eyes outlined in black.
The setup of the three evenings reflects this desire. Doors open at 9 p.m. with a DJ already spinning and drinks at the ready. At 10 p.m., three sections of dance will be performed by the dynamic, hip, technically trained Cartel members -- not on a stage but on the floor among the audience. Brazilian percussionists, a cameo by singer Rose Blanshei, and DJ interludes will round out the party vibe.
The trio of Niemann's choreography is representative of her wide-reaching experience, from musical theater training to recent studies in Brazil, which prompted Niemann's affection for grounded Brazilian rhythms. Samba-infused throw-downs are followed by self-effacing "emotistical lyrical" moments, poking fun at the sometimes self-indulgent style. Then, in another section, dancers theatrically call off the popular rap "It Takes Two." Later, a bouncing parade line is followed by a swirling contemporary solo. "The choreography serves as landscape to be enjoyed," Niemann says. "Whenever it's safe, the audience is invited to join in with us!"
Niemann says the administrative aspect of taking on her own company is "a hustle, hustle, hustle." But, she adds, "it teaches a kind of determination and relentlessness which is applicable to the creative part too. The hours in the studio are always what I'm trying to get back to."
In the vein of "OntheFloor," Niemann hopes to continue to create pieces and situations that are artistically fulfilling for the dancers and the audience. Whether that means performing on a proscenium stage, in a warehouse, at a restaurant, or at an event, Niemann is clear that the audience is always "invited to the party. Come and get down."