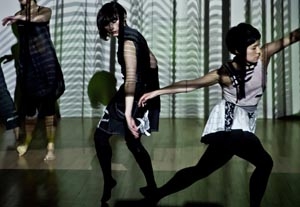 "There's a nice wide central corridor with ballet barres lined up along it, so people can stretch and get ready for rehearsal, but the studios have doors that can be closed for a sense of privacy, and they all have outside windows and lots of light," says Gina Gibney about her newly expanded Gibney Dance Center. "If people want to keep their doors open, to share or see what others are doing, they can. The place is very conducive to creative work. It has a feeling of interconnection but can also be a very private, focused workspace."
A highly regarded choreographer on New York's downtown dance scene since the early 1990s, Gibney is currently expanding her center into a sizable, serious workspace for the New York dance community. In 1991, the year she founded her company, Gibney Dance, she leased a studio in the historic performing arts building 890 Broadway to serve as the company's home base. "It was then called Studio 5-2," she says. "It's a beautiful studio in the back of the building. It's about 5,800 square feet, and we have occupied it ever since."
But from the get-go, Gibney's studio also served the larger dance community. "At the time, it was quite a stretch for a nonprofit dance company to take on a space like that," she says. "So we partnered with some very good dance teachers who had very stable clienteles. And when they weren't offering classes in the studio, we were able to rehearse in it or rent it out to others as a rehearsal space. That business model gave us a lot of stability and allowed us to weather a lot of the storms that hit the dance world, both financial and political. So we were able to stay there when a lot of our neighbors in the downtown arts scene had to abandon their studios. But the stability of it all eventually became limiting. The schedule was so set that there wasn't much opportunity for growth, for trying new programs, testing creative ideas, or inviting other artists to collaborate with us."
Cross-Pollination
Gibney finally decided that she needed more space, and in 2010 she acquired two adjacent studios and launched the Gibney Dance Center. This year she added 8,400 more adjacent square feet and is now planning a major expansion of her operation. With its grand opening scheduled for July, the enlarged center will encompass seven studios, a green room, dressing areas, storage facilities, production offices, a media room, and new administrative space.
"In August of last year, when I acquired the two additional studios, we had just been through the worst financial year of our history," Gibney says. "We were certainly not imagining we'd be expanding, but the space here is so extraordinary—it's one of the few pillar-free spaces in the city—so I started to think about how it might be possible to expand." The first round of expansion came about when Gibney realized that she was starting to lose money by maintaining the infrastructure for studio rentals without having enough hours per week to bring in sufficient rental income. "When we acquired the two additional studios," she explains, "we only doubled our square footage but tripled the number of studios we could rent. It didn't really increase our overhead much at all, so it ended up being a smart financial decision."
With the latest expansion, Gibney envisions one studio (the original Studio 5-2, now called Studio 3) devoted exclusively to classes in ballet, West African dance, Pilates, and yoga. "We want to offer the very best in ballet classes for the modern dancer, which supports my overall vision of the space as a creative center," she says. "I don't want to have different classes in every studio all day and have it be a kind of sampler. I am focusing on a particular niche market, those looking for a high-quality, anatomically savvy kind of class that will serve as preparation for a day of rehearsal or choreographic work for contemporary dancers. The  classes round out the function of the space as a creative hub. They're held in the morning, and then the rest of the day the studios are used for rehearsals and the making of creative work. Our instructors are all career teachers, very well established and mature, and have a lot to offer."
Gibney's vision is much more diverse, however, when it comes to renting the rehearsal studios, which range from a tiny 15-foot-by-15-foot solo workspace to an enormous 70-foot-by-45-foot studio, large enough to accommodate the needs of most Broadway musicals. It is Gibney's hope that the enlarged center will feel like home to many different artists.
"I'm not looking to support work of just one specific aesthetic or of a certain kind of dance," she says. "I want to make the studios available and hospitable to everyone. I'm especially looking forward to facilitating cross-pollination, where dancers from, say, Movement Research will be rehearsing across the hall from a big Broadway show, and they can watch, be exposed to, and be inspired by each other's work. That kind of thing doesn't happen very often in the dance world. Downtown dancers typically have very little contact with the commercial entertainment industry. But I'd like to see the two coexist here and really discover what they can learn from one another."