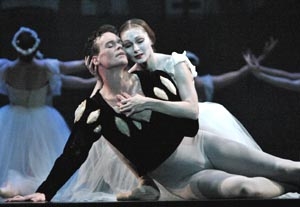 Has a band of Wilis invaded the western United States? Why is it that five ballet companies in cities west of the Mississippi are mounting productions of "Giselle" in 2011?
The San Francisco Ballet presented it in January and February. The Kansas City Ballet is performing it this week. The Los Angeles Ballet will dance it May 14–29. It will be performed June 3–12 by Seattle's Pacific Northwest Ballet and Sept. 22–Oct. 2 by the Houston Ballet. Two of the companies are performing it this year for the first time ever. And 2011 can hardly be considered a special anniversary year, as "Giselle" premiered in 1841.
I spoke with the artistic directors of four of the above companies and asked them why this ballet and why now. Though I unearthed no grand conspiracy and got no single, common answer, my inquiries shed light on the diverse issues that company directors consider when making programming choices.
A Repertory Staple
Communicating through press representative Kyra Jablonsky, San Francisco Ballet artistic director Helgi Tomasson gives a very simple explanation for his choice of "Giselle" this year: The ballet is a staple of the company's repertory and is included in its programming every two to three years. (The last time the company performed "Giselle" was in 2008.)
More elaborate is the response from Pacific Northwest Ballet artistic director Peter Boal. Though "Giselle" is commonly ranked the greatest of the Romantic Era ballets and is performed regularly by many of the world's leading ballet companies, Pacific Northwest will be presenting it this year for the first time in the company's 39-year history. This production has received more national publicity than the others and is perhaps the most anticipated of the lot.
In January, the Works & Process series at New York's Guggenheim Museum presented a program illuminating the creative process behind Pacific Northwest's new "old" production of "Giselle." Based on extensive scholarly research utilizing French sources from the 1840s and 1860s and Stepanov notation from 1899–1903, the production will include reconstructed choreography and mime passages, some not seen onstage in more than 150 years. (Go to www.ustream.tv/recorded/11925622 to watch a video recording of the entire Guggenheim program.)
"Some of my programmatic choices over the last year have reflected the fact that full-length works draw in bigger audiences," says Boal. "So the decision is partly financial. But I also had these amazing resources presented to me by my assistant, Doug Fullington, who is a reader of Stepanov notation, and by a friend of his, the 'Giselle' scholar Marian Smith, who teaches at the University of Oregon. I had been tossing around the idea of doing 'Giselle' when I was looking for another full-length to add to our rep, but when Doug brought up the idea of using these historical sources, that's what really hooked me. I realized it would be a lot of fun, and educational for both the public and the dancers."
Also performing "Giselle" this year for the first time, the five-year-old Los Angeles Ballet is taking it on because "it's the right time for our company to do it," says co–artistic director Thordal Christensen. "We've done 'Nutcracker' and 'La Sylphide,' and I felt that 'Giselle' was the next logical full-length for us to do. As we grow as a company, we plan to do all the full-lengths, beginning with the Romantics and then moving on to the classical Russian repertoire. It's an evolution. As a young company, you don't start with 'Swan Lake.' Another reason why we chose 'Giselle' is because right now we happen to have the right dancers, dancers who are really ready to take on the ballet's leading roles."
Adaptable in Size
The midsize Kansas City Ballet will be performing "Giselle" this year because, according to artistic director William Whitener, "The ballet is perfectly designed for a company of our size and the size of our theater." Whitener considers "Giselle" to be an intimate work that plays best in medium-size venues. While it features sequences of ensemble choreography that fill the stage with enchanting spatial patterns, it also explores the complexities of human emotions, which is not easily done in large performance spaces.
"Of course, there are other reasons we're doing 'Giselle' this year," says Whitener, whose company has performed the ballet twice before. "One is Kimberly Cowen, who has danced in both of our previous productions and who I consider a great interpreter of the title role." Echoing Christensen, Whitener emphasizes that "the dancers who are cast in the leading roles definitely play a part in determining when a ballet is brought before the public." With its double casting, Kansas City Ballet's production of "Giselle" this year will allow a new ballerina to make her debut as Giselle, while also giving Cowen the opportunity to revisit the role. "Giselle is a great role for a ballerina to explore at different phases in her career," Whitener explains.
While "Giselle" can be elaborately produced to great effect, it can also be persuasively rendered on a very small scale. "What makes it work," says Whitener, "is the storytelling, the heartbreak, the tragedy. It's a very adaptable ballet."
Ah, adaptability. Maybe that's the key to its current popularity. Perhaps it's not those fearful Wilis after all.