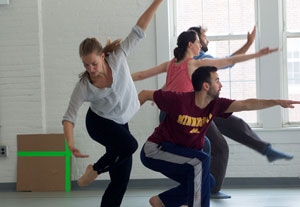 One of the most groundbreaking collaborations between dance maker
Trisha Brown
, musician John Cage, and Robert Rauschenberg has gone unseen for 18 years since its debut -- until now. "Astral Converted," which integrated the movement of Brown's dancers with that of Rauschenberg's mesh towers covered in auto parts, will be revived by the Trisha Brown Dance Company July 10-14 at the Park Avenue Armory's Wade Thompson Drill Hall in NYC.
For audiences, this will be an opportunity to see some of Brown's signature free-flowing yet cerebral work -- undoubtedly an exciting event. For Jamie Scott, it's even more thrilling: A former Merce Cunningham Dance Company member, she's now a TBDC apprentice, and she'll make her debut dancing with the group in the landmark piece.
In rehearsal for the show, Scott's arms create Brown's shapes with nuance and ease, and she moves between these angles with abandon. Later, in a complicated partnering sequence, her lithe frame tightens to navigate balances and intricate lifts. Diane Madden, the company's rehearsal director and longtime member, says, "Jamie simply sparkles. When she dances, the space around her is so alive. That's what made her pop out from 100 other girls when she auditioned."
For Scott, the move to the Trisha Brown Dance Company has been just one twist in her winding career, which she approaches with an open awareness and respect for unexpected opportunities. Now, "I'd like to become a full Trisha Brown Dance Company member," she says. "But I didn't have a specific plan to dance with them. The opportunity showed up. I live my life and dance my career by not planning the next step but instead seeing what comes my way and being open. As an artist, really living in the moment is so important."
A Great Falls, Va., native, the 29-year-old began movement classes at age 4. She continued ballet lessons and eventually trained at the Washington School of Ballet, focusing on traditional technique. But at Barnard College, she found an appreciation for modern. "Elisa Monte came and set her piece 'Pigs and Fishes,' " Scott says. "It was full-bodied and mesmerizing. I realized, I can do this. Modern dance is fun!" The new dance major's change in taste was solidified when she saw the angular, challenging work of Cunningham. "I fell in love with his style," she says. "The work is rigorous and precise, but each dancer has a unique voice too. It makes sense to me."
After a year at the company's school on scholarship, she spent two and half years with the troupe's feeder group, the Repertory Understudy Group, then spent three years as a full company member. Three days after ending her run with the company, she auditioned for Brown. "I had always loved Trisha's aesthetic: the way the dancers interact, the breathy contrast to Merce's muscle-bound movement," she says. "And to be able to start with such an iconic piece as 'Astral Converted' is amazing. It's about patience and meticulous detailing. I like studying at an established company, from the inside out, being a student and submerging myself in a style. And there's no better way to do that than starting with such an important piece. Whatever comes next, I'm open to where the road itself leads me."