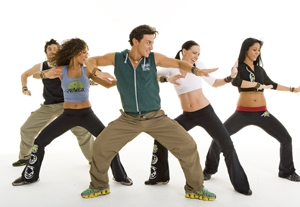 Have you made good yet on that New Year's resolution to lose weight? Is the problem that you hate to exercise, even though you love to dance? Then you may want to consider Zumba. It's the hottest new aerobic fitness craze, yet it's all about dancing, party-style, to exhilarating music. Zumba is nothing like those repetitive, old-school aerobics classes or boring, calisthenics-based workout programs.
"Zumba is highly choreography-based, and the movements used are the basic steps of traditional Latin dances—such as salsa, merengue, cumbia, reggaetón, tango, and samba—with the inclusion of some belly-dance and flamenco movements as well," says Zumba instructor Laura Masone, senior associate of physical education at Barnard College and group fitness director at Columbia University. "They call it a fitness party. You're having so much fun dancing around and doing all these steps that you don't realize you're exercising. The Zumba slogan is 'Join the party.' "
A Zumba class is a full hour of continuous dancing to Latin and international social-dance music. Although largely inspired by Latin music, Zumba also incorporates different sorts of world music, such as Middle Eastern and flamenco, and even some American pop and hip-hop. It provides a high level of aerobic exercise and is structured according to the same principles as interval training, alternating between fast and slow musical selections. But unlike most fitness classes, Zumba involves virtually no talking.
"As an instructor, you're not supposed to give a lot of verbal cues or feedback," Masone says. "You need to maintain that party atmosphere. The whole experience is music-driven. The last thing you want is to remind the students that they are in an exercise class. You're just up there dancing, and the students follow along.
"Another great thing about Zumba, unlike most social dancing, is that you don't need a partner," she continues. "Also, there's no equipment involved, and there's no sense of right or wrong. I may demonstrate a step in an exact way, but if you don't pick it up correctly, it doesn't matter." Perfect form is not emphasized in Zumba. What's important is that you keep moving in sync with the music in whatever fashion you find enjoyable.
A Happy Accident
Zumba was invented quite by accident. One day in the mid-1990s, celebrity fitness instructor Beto Perez showed up to teach an aerobics class in his native Cali, Colombia, and realized he had forgotten his exercise music tapes. Forced to improvise, he taught the class to some salsa and merengue tapes he happened to be carrying in his bag, using traditional Latin dance steps as the basis for his aerobic choreography. The students loved it. They insisted that Perez continue using the Latin music, which led to the birth of a new fitness fad.
In 1999, Perez brought his Latin-music aerobics classes to Miami, where he teamed with Alberto Perlman and Alberto Aghion to launch Zumba Fitness, an infomercial company promoting Zumba workout videotapes. (The word "Zumba" has no literal meaning. It was simply chosen as a brand name for Perez's innovative approach to aerobic exercise.
Zumba grew so popular that by 2005 the company instituted an instructor training program, the Zumba Academy. It certifies instructors to teach two different levels of Zumba, as well as Zumba Gold, classes designed specifically for active older adults or deconditioned beginning exercisers; Aqua Zumba, for those who prefer pool parties; Zumbatomic, for kids between the ages of 4 and 12; and Zumba Toning, which incorporates elements of body sculpting and strength training through the use of maracalike Zumba toning sticks.
The company's instructor certification is "very well organized," Masone says. "The certification workshops are usually one or two days long, and everything is broken down perfectly for you. They teach you safety precautions, how to do the choreography, how to work with the music, and you get practice-teaching time in small groups. They also give you many training manuals, and about once a month they send you new CDs of all the music you need to teach the classes, as well as DVDs of the basic moves that make up the suggested choreography for each song." Although there are recommended steps to go with each musical selection, Zumba instructors are free to arrange the moves into whatever choreographic sequences they choose.
In 2007, Zumba went international. Perhaps because the music is universally infectious and language is not an integral part of the teaching process, Zumba has very quickly become a worldwide phenomenon. It is now being taught at more than 40,000 locations in 75 countries on six continents. According to the Zumba website, approximately 5 million people a week participate in Zumba classes.
To find a certified Zumba instructor in your area, or for information on how to become one, visit www.zumba.com.