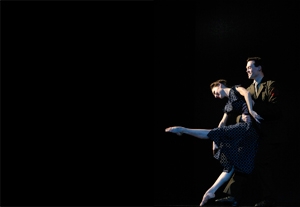 If you want to develop a significant and extended professional career as a ballet dancer in the United States, you need to move to New York, or maybe Chicago, Los Angeles, or San Francisco. If you want to dance the classics, as well as modern works, and have roles created on you by leading contemporary choreographers, you certainly can't stay in your home state of, say, Missouri. Right? Wrong.
Born and raised in St. Louis,
Kimberly Cowen
simply moved to the other side of her native state and joined the Kansas City, Mo.–based
Kansas City Ballet
. There she built a remarkable 21-year career and established a reputation as a noteworthy American ballerina. On May 13, Cowen will give her farewell performance.  
An extraordinarily athletic, dramatic, and technically dazzling dancer, Cowen performed in approximately 100 ballets during her two-decade tenure, encompassing a wide range of styles. She danced everything from the title role in "Giselle" to a recreation of the pioneering German modern dancer Mary Wigman's solo "Hexentanz," as well as principal parts in works by a who's who of illustrious choreographers, including George Balanchine, Antony Tudor, Twyla Tharp, Jerome Robbins, Merce Cunningham, Paul Taylor, Donald McKayle, David Parsons, and the company's artistic director, William Whitener, who created the title role of his "Carmen" on Cowen. 
"What I am most grateful for is that I found the organization that wanted to nurture me and develop me as an artist," says Cowen. "The biggest thing really is the great variety of roles I've gotten to do." Because of all the opportunities, challenges, and support she was given by the KCB, Cowen never felt the need to relocate. "I'm a Midwest girl," says Cowen, who, save for a few summer programs at the Pacific Northwest Ballet and the Joffrey Ballet, received all of her dance training in St. Louis and Kansas City.
Cowen also holds the distinction of being the last remaining KCB member hired by the company's former artistic director, the late
Todd Bolender
. A charter member of New York City Ballet, Bolender originated roles in many Balanchine ballets and advanced the professional standing of the KCB with his introduction of Balanchine choreography to its repertory. Through her close relationship with Bolender, Cowen became a living link to Balanchine and an important period in American ballet history.
So why is Cowen retiring? She is healthy, is uninjured, and has been told she easily could perform for a few more years. "I've always known that I wanted to go out on top," she says. "But as a dancer you fear whether you'll be able to recognize when that is. And then one day it just came to me. I feel completely fulfilled. I got to do everything I ever dreamed of doing careerwise, and I realized I'm no longer waiting or looking for anything else."
For her final performance Cowen will be dancing in Balanchine's "Serenade" and the Bolender ballet "Souvenirs." "That seems like a good way to end it," she says.