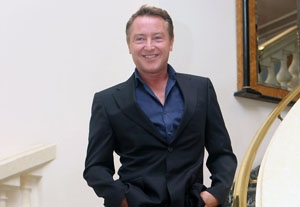 This summer is a perfect time to catch up with the world of Irish dance. If you missed the St. Patrick's Day premiere and spring run of the Irish-dance film "Lord of the Dance 3D," you can now see it on DVD. Filmed at performances of the Irish-dance spectacular "Lord of the Dance," the DVD not only documents the smash-hit show, which has been touring worldwide since 1996, but also includes behind-the-scenes footage and four additional numbers not in the movie.
Speaking by telephone from London, the show's star, Michael Flatley (the most famous Irish dancer in the world), suggests that aspiring performers can learn something very important from the show's tremendous success. "I love people who are trying everything in their power to follow their dream," he says, "and I hope this will show them that if you're willing to stick with it and fight it out, you'll get what you want in the end. The type of dance we do is unusual, and I can't tell you how many times I was told, 'No, it can't be done.' But I think that God wouldn't have given you such a great desire to do something unless there were an equally great number of people who wanted to see it. Although if someone had told me 20 years ago—when I was just a young guy from Chicago—that I'd soon be selling out arenas doing the Irish jig, I'd probably still be laughing to this day."
Showing the Underbelly
Yet the Irish-dance scene is not all about huge, glittering extravaganzas. This summer, the New York International Fringe Festival will include a one-woman show by Los Angeles–based Irish dancer Máire Clerkin. Clerkin describes her show, "The Bad Arm—Confessions of a Dodgy Irish Dancer," as a "dramedy," a cross between a drama and a comedy, built of autobiographical tales about growing up in London during the 1960s and '70s. Her mother was an Irish-dance teacher.
"So I grew up in an Irish-dancing household and have been doing it all my life," Clerkin says. "My show is about the trials and tribulations of growing up as an Irish dancer, being the disappointing daughter, not being a fantastic competitor. I'm trying to show the underbelly of Irish dancing, whereas all we see normally is the happy side and the glitz. I refer to what I'm doing as the antidote to 'Riverdance.' "
One of the signature characteristics of Irish dance is the arms held straight down at the dancer's sides. "That's why my show's called 'The Bad Arm,' " Clerkin says. "My arm always stuck out and ruined my chances in many competitions." Nonetheless, she went on to become an Irish-dance champion and now adjudicates competitions and teaches Irish dance in schools nationwide.
Also a choreographer, Clerkin is particularly interested in the storytelling qualities of Irish dance. "I choreograph what are called Irish-dance dramas," she says. "I've done seven in the last couple of years and each has won a regional title." In the Irish-dance world, Clerkin explains, there is an enormous competitive system from which all the dancers in the big spectaculars spring. Irish-dance contests typically consist of solo and team categories, but in the main competitions, such as the North American Nationals and the World Championships, there is also a dance-drama category. It involves reading a 200-word synopsis of a story, which is then enacted, without speaking, through a six-minute Irish-dance piece. "You could say it's physical theater mixed in with Irish dance," Clerkin says. "There's a lot of mime and gesture and facial expressions."
Clerkin finds the combination of Irish dance and drama to be very natural. "As you know, Irish culture is steeped in drama and theater," she says. "Some of the world's finest dramatists and playwrights come from Ireland. And Ireland has a very rich tradition of storytelling, from the Celtic legends." Clerkin's interest in combining the two began in college. "I always loved Irish dancing. I just never worked hard enough at it and wasn't fiercely competitive. But I always knew that I was a performer."
In college she studied choreography, drama, and solo performance and eventually found a way to make sense of Irish dancing for herself. From there, she founded an Irish-dance theater troupe that toured all over England. "It was a comedy group," she says, "but we never compromised the high level of the Irish dancing, although we might have made fun of aspects of it, such as the curly hair and the dresses." Clerkin sees the solo show she is doing now as a continuation of that kind of work.
While she credits performers like Flatley and shows such as "Riverdance" for increasing people's awareness of Irish dance and for creating professional performing opportunities for Irish dancers, Clerkin feels that audiences may now be hungry to see Irish dance in new formats. "A lot of performers are experimenting with new ways to use Irish dance and to make it accessible to different audiences," she says. "For me, working through theater has been the way to do that."