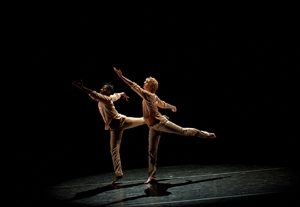 Jacob's Pillow Dance
is one of the dance community's most beloved institutions. Nestled in the idyllic Massachusetts Berkshires, the estate was first bought in 1930 by modern dance grandparents Ted Shawn and wife Ruth St. Denis as a retreat for dance creation. Now a breeding ground for innovation, preservation, and exploration, the Pillow offers performances, classes, screenings, workshops, and industry gatherings each summer. Greats including Merce Cunningham and fresh stars such as Crystal Pite have graced the stage and been honored here. Now Kyle Abraham, founder of
Abraham.in.Motion
, is joining the impressive ranks as he is granted the Jacob's Pillow Dance Award and its attached $25,000 cash prize.
The wunderkind, whose choreography is gestural, abstract, and expansive, is grateful. When asked why he thinks he was chosen, the Pittsburgh native answers with a humble guffaw. "This award is a blessing and honor," he says. "Honestly, I'm just doing me. When you see my work, I don't think you see me as a descendant of any choreographer -- regardless of my associations. You see my individual voice. Perhaps there's strength to that."
The self-proclaimed "rave kid" started studying musical theater and jazz to spend more time with his best friend, setting off a cascade of encouragement and opportunity and landing him in a performing arts high school. He began college at Morgan State, but after seeing a spring concert at SUNY Purchase, he transferred to its well-known dance department. There he investigated the work of modern and contemporary masters, particularly Bill T. Jones. He nabbed a contract touring with Jones' company after graduation.
"Then I quit dancing for a year and a half," Abraham says. "It's one thing to learn dances but another entirely to be in a company. If I made a mistake, I felt like I was messing up someone else's work."
While the intermission was unorthodox, it fed Abraham's artistry. Eventually, Abraham put his influences (ranging from work in music to time in London) to practice at a master's program in dance at NYU's Tisch School of the Arts, where he focused on honing his choreographic skill. "I realized it's not that I ever wanted to be a dancer in a company," he says. "I wanted to be around people making work. I wanted to make dances."
His dream came to fruition in 2006 when he formed A.I.M., presenting at festivals and shows in NYC and Pittsburgh. Now his troupe tours all over the map and is gaining traction as one to watch. Abraham says he thinks of his aesthetic as a dance gumbo, a mix of inspirations from modern to free-form hip-hop. He insists on maintaining a mission closely linked to the company's name. "The movement is my way of telling my stories, and I have so many!" he says. "And it has a connection to the movement of society at large."
Abraham plans to use some of the prize money to improve his own credit, paying off student loans and other debt that will allow the troupe to earn a credit card for necessities. Equally important, he hopes to use some of the prize to add to his artistic stockpile, attending shows and enjoying studio time. "You have to invest in understanding and learning about art outside of yourself for inspiration," he says. "I don't believe in being competitive. Unless you're doing the same thing, people have the option to choose something different. In making art, ideally, no two works are the same."