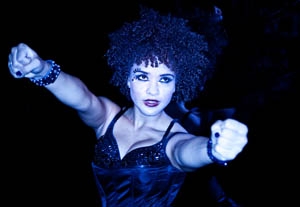 If you are looking to diversify your choreographic career path, there is perhaps no better model than 38-year-old Long Island, N.Y., native Larry Keigwin, a widely sought-after choreographer who has been making a name for himself in all corners of the dance world.
Within the last year—in addition to helming his own New York–based contemporary concert-dance troupe, Keigwin + Company (founded in 2003)—Keigwin staged the largest public fashion show in New York City history, was commissioned by the New York Choreographic Institute to create a piece on dancers from the world-class New York City Ballet, served as the first artist-in-residence at the Vail International Dance Festival, enjoyed the honor of having one of his works tour the world as part of the repertory of the Martha Graham Dance Company, and was chosen to choreograph the highly anticipated new musical "Armistead Maupin's Tales of the City."
From Musical Theater…
Scheduled to open next June at San Francisco's American Conservatory Theater, "Tales of the City" stars Tony Award winner Betty Buckley and "is right up my alley," says Keigwin, whose work has sometimes explored gay themes. "It's based on the writings of Armistead Maupin, who was a gay icon and had a huge impact on San Francisco gay culture." Though the project represents Keigwin's first foray into creating musical theater choreography, he sees it as an organic extension of his career thus far and not a deliberate move into a new arena.
"I've always been a fan of musical theater, and there are some producers and directors who have always been fans of my work," he explains. "It's like a mutual admiration club. I've been following the trajectory of their careers and they have been following mine. And I now have a commercial agent, who has probably planted some seeds as well."
Keigwin stresses that the diversity of his choreography career has come about not as a result of deliberate planning, but as a natural outgrowth of his continuing to make and show his concert work. For example, it was after seeing a piece he had created for Juilliard students that an agent from William Morris approached him with an offer of representation for theatrical work. "My biggest piece of advice for choreographers is to remember that your work speaks for itself," Keigwin says. "If you're making work that is engaging and finding an audience, that's the ticket. It's like a magnet; people will gravitate to it, particularly the culture vultures of New York City."
To Ballet…
Though firmly rooted in contemporary dance, Keigwin was recently commissioned to create a work for classical ballet dancers. That invitation came as a result of an evolving relationship that began in 2005, when the directors of the New York Choreographic Institute, after seeing his popular contemporary piece "Mattress Suite," selected him to create a work supported by the ballet-oriented institute. "They were really taken by 'Mattress Suite,' which is really not balletic at all, but it's very daring and athletic," Keigwin says. "And that's what I think they liked."
After he choreographed a ballet work on pointe under its auspices, the institute continued to follow his career, and when it invited back three alumni choreographers to make a work for its 10th-anniversary celebration this year, Keigwin was one of them. Reflecting on how he was able to branch out into ballet, he credits the dancer Nicole Wolcott, who performed in and collaborated in the making of "Mattress Suite." "She is a real daredevil," Keigwin says, "and I think it was her performance that really got me in."
It was another ballet connection that led to Keigwin being selected to choreograph the monumental "Fashion's Night Out: The Show." He met former New York City Ballet principal dancer Damian Woetzel backstage one night when both were performing in the Fall for Dance event at City Center. "We developed an admiration for each other's work," Keigwin says, "and he now sits on an arts and humanities committee in Washington." Vogue editor Anna Wintour "is also on that committee, and when she asked him for a recommendation for someone to help her stage this huge fashion show, he suggested me. She's a powerhouse in the fashion world and dreamed up this idea of having 200 runway models emerging from the streets of New York in a site-specific show that occurred around the fountain at Lincoln Center." Before deciding to hire him, Wintour sent her staff out to view some of Keigwin's concert work, and the piece they saw, coincidentally, was "Megalopolis," a large ensemble work influenced by the fashion world and the movements of runway models. "Talk about timing," he says.
To Contemporary Dance
Despite the diversity of Keigwin's choreographic career, it is his concert-dance troupe to which he has the greatest loyalty and through which he finds the most fulfillment. "Keigwin + Company is a pure artistic outlet for me and my vision," he explains, "and I always consider our performances to be the centerpiece of my year."
In its upcoming March season at New York's Joyce Theater, Keigwin's eight-member troupe will premiere an evening-length work, "Dark Habits," which the choreographer describes as "a collage dealing with the repetition of habits that will most likely conjure up animalistic behaviors and darker facets of the human condition, such as addiction and relationship problems." Keigwin says the work will contain influences from all of the different kinds of choreographic projects he has been working on
of late.