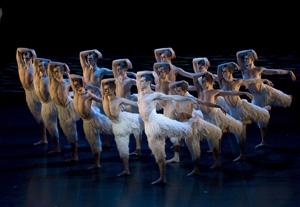 It is typically now, at the beginning of January, when we are marking the start of a new year, that we become fixated on throwing out the old and embracing the new. But it is important to remember that sometimes new creations are best made not by discarding the old but by reworking it, albeit with care, intelligence, and imagination. There is perhaps no one doing so with greater success today than Matthew Bourne. Hailed as the U.K.'s most popular choreographer-director, Bourne is best known for his gender-bending adaptation of the classic ballet "Swan Lake," which won three Tony Awards when it ran on Broadway in 1998 and has since toured all over the world.
With his London-based company, New Adventures (formerly Adventures in Motion Pictures), Bourne has also created dance-theater reworkings of other classical ballets, popular films, and literary works. He has reinterpreted "Carmen" in a ballet he titled "The Car Man," devised a stage version of the movie "Edward Scissorhands" and created a dance-theater work based on Oscar Wilde's novel "The Picture of Dorian Gray," and he has choreographed West End productions of classic Broadway musicals, including "Show Boat," "My Fair Lady," "Oliver!", and "South Pacific," as well as the production of "Mary Poppins" currently on Broadway. At the end of 2010, to commemorate the 70th anniversary of the London Blitz, Bourne mounted a new production of his dance piece "Cinderella," which sets the fairy tale in London during World War II. While visiting New York recently, Bourne talked to Back Stage about his works and the evolution of his career.
Though he came to dance training late and never planned on being a choreographer or a theatrical director, "the signs were there very early on," says Bourne. "When I was a kid putting on a show, I was always the one in charge. I would copy things I had seen on TV. When I was a teenager, I thought I wanted to be an actor, so I tried that out, but I didn't like using my voice. I didn't feel confident with it, and it didn't feel like something that was flexible. And then, when I was 19, I saw a ballet for the first time, and I completely changed directions."
Though he had always been a big fan of stage and movie musicals, after seeing the ballet (which, coincidentally, was a production of "Swan Lake") Bourne quickly grew enamored with dance and began attending performances of all the ballet and modern-dance companies that came through London. "Dance seemed to be the thing that I felt, eventually, I could express myself in," he says. So, at age 22, Bourne sought out dance training and wound up studying at London's Laban Centre for Movement and Dance. Upon graduation he became one of the first students in the U.K. to earn an academic degree in dance. "I carried on watching a lot of dance during those years and started to talk about it more with my fellow students and the teachers there. Ultimately, it was by watching dance that I learned the most about how to tell a story through movement."
Passion Makes Perfect
Possibly because of his own unusual training path, when choosing dancers for his work Bourne places little emphasis on how or where a dancer was trained: "What I look for is a passion for movement, because often I'm looking for performers who will eventually need to act as well as dance. And I believe that the passion of wanting to give to an audience—to connect, to show them what you're trying to say—is the first steppingstone toward acting. Also, I look for people who have an individual attitude toward what they do. And that's because if you're telling stories onstage, it needs to look like the real world. Particularly if you want your work to connect with a large audience; they need to be able to relate to the people they see on stage. So I try to get as big a range as possible of shapes, sizes, and looks."
But perhaps the most important element in concocting successful contemporary retellings of old stories is the selection of the source material. "Usually, what I look for is an idea that connects two things together," explains Bourne. "I call it 'the big idea.' In 'Cinderella,' for example, I thought about setting it in wartime because I thought the idea of falling in love quickly and Cinderella's race against time would work well in that environment." For Bourne, this key connection between the original source and his new conception needs to arise from the get-go. It's not a matter of finding a novel or film that he likes and then figuring out how to adapt it in some new way.
"You've got to also see within the original material the possibility of telling its story through dance," he says. "I chose 'Edward Scissorhands,' for example, because the central character was someone who learned by watching others, which is a very visual, movement-oriented idea. Now with 'Dorian Gray,' who would think that would work without Wilde's witticisms? But its theme of obsession with youth was, again, very visual and certainly relevant to contemporary times."
Bourne also emphasizes that when adapting familiar works, "the audience already has a rough idea of where you're going, so you really need to surprise them."