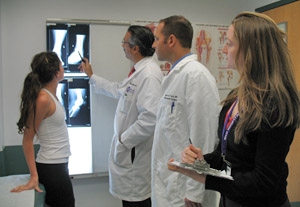 Are you a professional or collegiate dancer between the ages of 18 and 40? Or a male ballet dancer aged 12 to 16? If so, you may want to participate in one of two new research studies in dance medicine being conducted at the Harkness Center for Dance Injuries in New York City. A program of the NYU Hospital for Joint Diseases, the Harkness Center provides an array of specialized health-care services for working dancers and dance students. The two studies will look at the effects of a pre-partnering strength-training class and the effects of fatigue on jumping ability.
She Ain't Heavy, She's My Partner

"There is no codified strength-training protocol for adolescent male dancers before they start partnering class, and as in all sports, without progressive overload training before the start of a season, there is a likelihood of injury," explains Leigh Heflin, education and administrative coordinator of the Harkness Center and co-conductor of the strength-training study. "Male dancers have been shown to have lower back injuries and shoulder injuries, like rotator cuff tears, because they don't have proper lifting mechanics. So part of our study is to teach lifting mechanics along with the upper-body and core strength training. The aim of the study is to give young male dancers the strength and confidence they need to lift the adolescent girls in their beginning partnering classes, who are likely to be growing and maturing faster than they are. We are trying to make this a very easy program to incorporate into a dance classroom."
To participate in this study, for which there is no pay, you must be a healthy male ballet dancer between the ages of 12 and 16. (If interested, contact Heflin or Alison Deleget at 212-460-0153.) Half the research subjects will be asked to take a one-hour strength-training class three times a week for six weeks. Six weeks was chosen because that's the length of the shortest program for which there is research showing strength-training and motor-control gains.
The decision was made to focus on ballet dancers because the lifting requirements of their repertory are easier to define than in other types of dance. For example, the form and number of lifts in a given ballet and the gender roles involved are more standardized than in contemporary dance, where it is not uncommon for men to lift one another or for women to lift men. It is hoped, however, that the results of the study will be broadly applicable and can be utilized by both male and female dancers in any dance form.
Jumped Out
The center's other new research study is investigating jump fatigue. The subjects, who must be professional or collegiate dancers or athletes aged 18 to 40, will be asked to jump from a height of approximately 15 inches onto a flat surface while measurements of motion, muscle activity, and force are taken via motion-capture technology. Subjects will be paid $50 for a three-hour session. (If interested, contact Megan Richardson at 212-460-0157.) This study will be conducted at the center's on-site Human Performance Lab, a state-of-the-art motion-analysis laboratory built with and supported by funding from the Jacob & Valeria Langeloth Foundation.
"There is a force plate that captures the impact and can read the ground force reaction of the subject when they land from a jump," explains Heflin. "There are also eight high-speed digital video cameras around the room that capture 3-D motion analysis. It's the same technology that they use for special effects in films, like in 'The Matrix' and 'Polar Express.' But we're using it to analyze the biomechanics of the individual's movement technique."
Founded in 1989, the Harkness Center, which is funded primarily by the Harkness Foundation for Dance, also offers injury evaluation clinics, physical therapy services, educational programs, and free injury-prevention screenings. The free screenings allow dancers to meet one-on-one with a dance-medicine specialist, who takes them through a battery of tests that provide information regarding their strength, flexibility, and technique. The dancers then receive an individually tailored home exercise program to help them reduce their potential for injury.
"The program is supported by the New York Community Trust and its Michel Fokine Memorial Fund, and it's one of our most popular programs," says Heflin. "We are very strong leaders in injury prevention and education. We do a lot of work on dancer health. The Harkness Center is a leading entity for the screening and reporting of dance injuries, both nationally and internationally, and in setting standards for this in the dance-medicine world."
As another injury-prevention initiative, the center offers ergonomic evaluations, in which dance-medicine specialists assess the risks associated with specific workplace conditions, looking at such factors as floor construction and incline, ambient temperature and light, and costume and set safety. "For example, we do raked-stage evaluations for Broadway and Off-Broadway shows," Heflin says. "We are also sometimes contracted with specific shows or touring companies to have our clinicians work backstage with the dancers."
To get more information about  any of the center's programs,  call (212) 598-6022 or visit
www.danceinjury.org
.