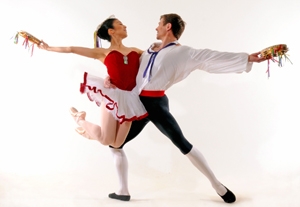 When a dance company wants to perform a ballet by the venerated choreographer George Balanchine it must obtain approval from the
Balanchine Trust
, which then sends a regisseur to set the ballet on the company's dancers. If the company wants to perform the work on another occasion, say some years later, the trust will again send an official representative to oversee the performance preparation process. This is what brings Christopher Stowell, artistic director of
Oregon Ballet Theatre
, to the studios of the Diablo Ballet, a 10-member professional dance troupe based in the San Francisco Bay Area.
In addition to premieres by choreographers KT Nelson, Erin Leedom, and Robert Dekkers, Diablo Ballet's May 4-5 performances in Walnut Creek will feature Balanchine's "Tarantella." An exuberant duet choreographed in 1964 to show off the virtuosic dancing of Edward Villella and Patricia McBride, the ballet is a favorite of Stowell's; he danced it numerous times during his 16 years as a member of the San Francisco Ballet.
Though his main job since 2003 has been directing the Portland-based OBT (the largest dance institution in Oregon), for the past 10 years Stowell has also been serving as a stager for the Balanchine Trust, a role he comes by honestly. He has performed many Balanchine ballets, and his parents, Kent Stowell and Francia Russell, danced for Balanchine in the New York City Ballet before going on to co-direct
Seattle's Pacific Northwest Ballet
. "My mother [who was appointed NYCB's ballet mistress in 1964] has been setting Balanchine works since the late 1950s and early 1960s," Stowell says. "Mr. B. essentially handed her the responsibility of teaching his works to other ballet companies. So I feel a certain responsibility to carry on that tradition."
In describing his role as overseer of "Tarantella," he says, "I'm really here to assure that the stylistic details, the essential spirit, and the authenticity of the work are present. It is important to keep in mind that this work was designed as a showcase for its two dancers. And it needs to create a certain energy in the theater and provide a certain element within an evening's program. Also, there are moments of virtuosity for which there are different approved options, so I make sure the dancer is doing the one that suits him best, because at the end of the day it's the effect on the audience that is the most important."
According to Stowell, the Balanchine Trust is extremely generous. "While they want to live up to certain standards, they also don't want to make dancing Balanchine ballets a huge challenge. They know that they are works that should be seen by audiences and danced by dancers, and also that doing these ballets helps improve the quality of any company's dancing."