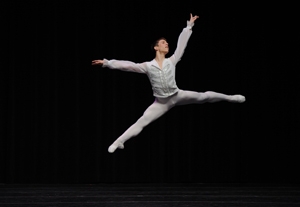 If you need to learn about the nuts and bolts of the
Youth America Grand Prix
ballet competition -- the requirements, judging criteria, scoring, history -- or want to see lots of dance footage of the competitors in action, you may be less than satisfied with "First Position," a new documentary about the YAGP. However, if you enjoy personal profiles and are interested in understanding what makes ballet dancers tick, you will find the film riveting.
Premiering in theaters May 4, "
First Position
" traces the adventures of seven young dancers as they prepare for and compete in the YAGP. Hailing from different parts of the world, the dancers work their way through a series of regional qualifying rounds before making it to the finals, which are held each spring in New York City. (The 2012 winners were announced April 27.) Directed by Bess Kargman, the emotional film focuses on the struggles, sacrifices, disappointments, courage, and amazing discipline that characterize the dancers' journeys. Kargman takes us into the dancers' homes, communities, and practice sessions and introduces us to their parents, siblings, friends, and coaches.
Michaela is a war orphan from Sierra Leone who was adopted by an American family and studies in Philadelphia. Joan Sebastian is miserably homesick studying in New York City but is pressured to stay by his parents, who tell him there is nothing for him back in Colombia. An American whose father altered his military deployment to accommodate his son's ballet training, Aran lives in Naples and commutes two hours to Rome to study with a French ballet instructor. Born in London, Miko has an English father and a Japanese "tiger mom" who, in one of the film's more ridiculous displays of emotion, is shown sobbing uncontrollably when Miko's younger brother decides to quit ballet. The fact that he's a 9-year-old, has no passion for dance, and is devoid of any special talent for it doesn't seem to have registered with her.
Despite their diverse backgrounds, the competitors all possess extraordinary tenacity and a tremendous love for dance. The film underscores the importance of such dedication and also illuminates the central role parents and finances play in a youngster's preparation for the ballet profession.
Founded in 1999 by former Bolshoi Ballet dancers Larissa Saveliev and her husband,
Gennadi Saveliev
(currently a soloist with American Ballet Theatre), YAGP is the world's largest ballet scholarship competition. Yet there are many who feel competitive values have no place in an art form.
Larissa Saveliev
agrees that competitions may not be right for some dancers, but, she says, "the big benefit is that they teach performers how to deal with the pressure and frustrations of competition, and competition is something that as a professional dancer you will face throughout your whole career. You compete to get into a show or company, you compete for the director's attention, you compete for roles. So learning how to deal with competing at an early age gives you a great advantage."