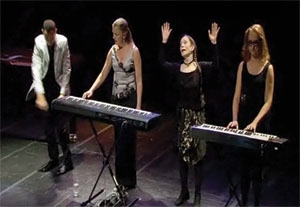 The latest crop of dance books and recordings includes the DVD of a fascinating 2009 film about Meredith Monk, as well as less-interesting books on pedagogy, technique, and career building.
'Meredith Monk: Inner Voice'
You don't have to be a Meredith Monk fan, or even terribly familiar with the multidisciplinary experimental artist's vast body of work, to be captivated by Babeth M. VanLoo's documentary "Meredith Monk: Inner Voice" (First Run Features, $24.95, 82 minutes). The riveting, well-structured film intersperses clips of Monk's work—musical compositions, operas, choreography, films, and theater pieces—with dialogues with the artist and interviews with her colleagues. The interviewees, always sharply and colorfully dressed, are situated in beautiful natural settings with lots of light or presented in strikingly composed indoor shots, making the documentary as aesthetically pleasing as it is intellectually enthralling.
As Monk engagingly reveals the sources and inspirations behind her art, the listener begins to genuinely appreciate the multifaceted nature of her achievements. While watching her work, one grows to understand why she is an exceptional artist who completely defies categorization.
'Ballet Pedagogy: The Art of Teaching'
Clearly and concisely written by Rory Foster, professor emeritus of dance at DePaul University, "Ballet Pedagogy: The Art of Teaching" (University Press of Florida, 2010, 176 pages, paperback, $26.95) is a book for beginning teachers. It can be easily digested in one sitting. Though full of sound information about how to teach ballet classes, which may be of value to a dancer just breaking into the teaching profession, the book offers few ideas that would be thought-provoking or new to anyone who has been teaching for some length of time.
Foster's three main chapters on the practice of teaching a ballet class and his chapter on music are extremely repetitious, with much of the information presented more than once. The book's most useful chapter is the one on anatomy, in which the author offers ways of envisioning what happens in the ballet dancer's body from a physical, internal perspective rather than from the aesthetic, external viewpoint so common in the ballet world. With its wealth of physiological information, this is the one section that might be useful for experienced ballet teachers, particularly those who did not attend a college or graduate-school dance program and may not have studied the anatomical and kinesiological aspects of dance.
'On Technique'
Based on author Dean Speer's interviews with esteemed ballet pedagogues, "On Technique" (University Press of Florida, 2010, 224 pages, hardcover, $29.95) is the surprisingly unengaging result of an attempt to gather meaningful insights into classical ballet technique. The book's 17 pedagogues—who include such well-known figures as former New York City Ballet principal Peter Boal, American Ballet Theatre's Cynthia Harvey, the master teacher Finis Jhung, and Dennis Nahat, artistic director of California's Ballet San Jose—all offer their responses to the same 13 basic questions about ballet teaching. Each instructor's answers are presented in a tedious Q&A format, preceded by a short first-person essay summarizing the evolution and highlights of his or her professional dance career.
Considering the prominence of the pedagogues and the significance of the topic, "On Technique" should be more interesting than it is. The book has a random, ungratifying feel to it, as Speer, founding director of the Chehalis (Washington) Ballet Center, makes no attempt to connect, contextualize, analyze, or draw any conclusions from the responses. One feels as though one is reading the raw data from an as-yet-to-be-completed research study.
'Inspired to Dance'
A vanity publication disguised as an advice book for aspiring professional dancers, "Inspired to Dance: Everything You Need to Know About Becoming a Professional Dancer Without Breaking a Leg" (iUniverse, 2010, 238 pages, paperback, $19.95) contains no important information that cannot be found elsewhere in reader-friendlier forms. There is little need, therefore, to trudge through author Mande Dagenais' wordy prose and the excessive, self-indulgent autobiographical musings on her own professional dance career that introduce and interrupt the facts and career advice. Written in the tone of a motivational self-help book, "Inspired to Dance" takes a lot of words to say very little and suffers from a lack of competent editing. (The book is full of phrases such as "On that note, I will say this.")
Despite the book's 2010 publication date, the advice and attitudes that Dagenais puts forth often feel out of date, as well as preachy, overly general, and in some cases downright silly. In her chapter designed to help a dancer decide whether to go to college, she suggests an exercise that asks such questions as "What makes you happy?" and instructs one to "List all your dreams and desires." Supporting the text are poorly reproduced black-and-white photos that seem drawn from the author's personal scrapbook and do little to illustrate the points contained in the writing. Included are copies of thank-you letters Dagenais received from Johnny Carson and Milton Berle, contributing to the book's outmoded feel. And as Dagenais' experiences in dance were largely confined to the commercial dance industry, there is virtually nothing in her book that addresses the issues or concerns of those interested in pursuing a career in concert dance.