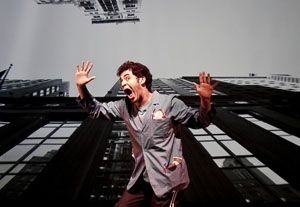 Ryan Kasprzak lives in a swirl of active artistry. With his endearing smile, hail-speed taps, impeccable comic timing, and stylized movement, he orchestrates a tornado of choreographing, writing, and performing, carefully choosing projects that fuel his expression.
Kasprzak, who danced in the national tours of "Fosse" and "Billy Elliot" and on TV's "So You Think You Can Dance," recently relinquished his long-deserved Broadway debut in the upcoming "Annie" to serve as assistant choreographer on TV's "Smash." "For me, this is another step toward creating," he says. "As hard as it was to pass on my Broadway debut, it was a decision to focus on choreographing over performing. I've been making this decision repeatedly and will continue to do so. I feel most fulfilled when I'm creating."
Fortunately for those hoping to see Kasprzak's throwback style in action, audiences can catch him in physical comedy troupe Parallel Exit's "
I Love Bob
," playing at the Joyce SoHo in New York City for its final weekend July 26-29. "Being a company member of Parallel Exit lets me do it all: writing, choreographing, and performing in the 'clowning' style I love. In clowning, you have to be 100-percent present," he says. "When the audience is your partner, you can't be in a bubble. If something isn't working, you're deathly aware. On the flip side, there's no better moment than when the audience is laughing at your new creation. You can hide behind text and words, but when clowning and dancing you're exposed."
The Michigan-bred performer honed his dance training at festivals including the Chicago Human Rhythm Project, and amped up his acting and Lecoq-style clowning skills at Marymount Manhattan College. In "I Love Bob," he's combining his talents to tell the story of awkward lovers Vera and Bob. Kasprzak was especially thrilled by the process of this show. "Our choreographer, Ray Hesselink, and director, Mark Lonergan, spent hours outlining the story. So when we came into rehearsal we had some story bits along with plenty of room for improvisation and discovery," he says. "Plus, our composer, Wayne Barker, was creating from scratch too. He would often improvise music while we were working, and we'd feed off each other to create the piece."
For students hoping to learn to clown and engage in a collaborative, physical comedy style, Kasprzak is also teaching at the company's intensive Aug. 27-31. Held at DANY Studios, it's geared to both seasoned comedians and performers hoping to incorporate physical theater into an existing skill set. "Classes include writing, technique, movement, and dance taught by myself and Derek Roland, and private coachings to help students develop material," Kasprzak says. "Maybe you have a xylophone solo you want to turn into something engaging. We can help you do that. At the end, you'll have developed a small act of your own."
For Kasprzak, this type of exploration is the whole point of artistic existence. "I want to be involved in interesting, creative process," he says. "Trying to start with a blank slate and come up with something exhilarating is what keeps me engaged."