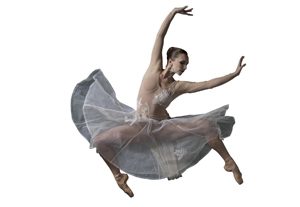 The death of its founder is a devastating event for any dance company. It can send the troupe into a whirlwind of legal battles over the rights to the founder's choreography, as happened with the Martha Graham Dance Company. It can render the troupe defunct, as is scheduled to be the case with the Merce Cunningham Dance Company. Or it can lead to a barrage of negative criticism, as the New York City Ballet received when the torch was passed to new leadership in the wake of George Balanchine's passing.
Yet there's a spunky chamber ballet company in San Francisco, the Smuin Ballet, that is sailing forth with aplomb just three years after the sudden death of its founder, Michael Smuin. A ballet, Broadway, and film choreographer whose work was always more popular with audiences than critics, Smuin died of a heart attack at age 68, while in the middle of teaching a ballet class, on April 23, 2007. Before he died, however, Smuin had handpicked his successor, former company member Celia Fushille; had granted her creative control of all his works; and had made sure the Smuin Ballet was licensed to perform his ballets in perpetuity.
"It's been quite an interesting transition, and there really weren't too many road maps for me to follow," says Fushille. "I had been associate director of the company since 1998, while I was still dancing." She retired from the stage in 2006. When Smuin formed his company, which debuted in 1994, Fushille was the first dancer he hired, and even though it was clearly his intent that she take over the troupe, "ultimately it was the board's decision, since they're fiscally responsible," Fushille points out. "It was about six months after Michael's passing that the board officially named me artistic director. Then nine months later they asked me to take on the duties of executive director as well."
A 16-member troupe, the Smuin Ballet performs regularly at four venues in the Bay Area, biannually in Smuin's native Montana, and from time to time in other parts of the country, including New York City. "Michael will always be the cornerstone of the company," Fushille says. "But we cannot survive on his works alone. A museum company wouldn't last very long. The dancers would become disenchanted doing the same repertoire over and over."
The Need for New Blood
As the company moves forward, Fushille plans to continue reviving the best of Smuin's ballets and interspersing them on programs with works by other choreographers. In doing so, however, she feels she is acting in strict accordance with Smuin's ideas and in direct fulfillment of his wishes. "For example, after Michael passed away, I named Amy Seiwert our choreographer in residence, and she creates a new work for us every year," says Fushille, who describes Seiwert's choreography as "very un-Smuin."
It is because Seiwert's work is so different from Smuin's that the artistic director is committed to presenting it. She feels it gives a sense of balance to the company's repertory. But Fushille credits Smuin for allowing her to do this: "Just before he died, Michael had really encouraged Amy. Her work is just spectacular, and he recognized her unique voice as a choreographer. But had it not been Michael who first introduced our audiences to Amy's work, there might have been a backlash when I tried to do it."
Fushille has also introduced into the company's repertory a work by the esteemed European ballet choreographer Jirí Kylián. "For many years Michael had talked about wanting the company to do a Kylián piece, but it never happened," she says. "So after he passed, I decided to try and do it. There were many steps involved, because you have to show that your company is worthy of performing one of his ballets. We had to fly his assistant in from The Hague so she could view our 'work ethic' in action and see if ours was an environment in which she would want to work. Fortunately, she was delighted and returned 18 months later to stage Kylián's 'Petite Mort,' which we performed last spring. The dancers were really thrilled. They never thought, as members of Smuin Ballet, that they'd get to dance a Kylián piece. And as it had always been a wish of Michael's, I was thrilled to be able to make it happen."
While striving to fulfill Smuin's visions, Fushille is also introducing the company to new choreographers of her own choosing. In its upcoming appearance at San Francisco's Palace of Fine Arts, Oct. 1–9, the Smuin Ballet will perform the world premiere of a new work created for it by acclaimed contemporary ballet choreographer Trey McIntyre.
"Two years ago," Fushille says, "when we performed his 'The Naughty Boy,' Trey came out to coach the ballet. He said he really enjoyed working with us, so I started talking to him then about coming back to create a work for us, and that's exactly what's happening this fall." Because he also directs his own Boise, Idaho–based contemporary dance troupe, McIntyre limits the number of new works he creates for outside companies to one a year. "He gets many offers, so his choice to come work with Smuin Ballet is a real honor, and we're very excited about it," says Fushille. "Michael didn't know Trey, but I'm sure he'd be pleased."