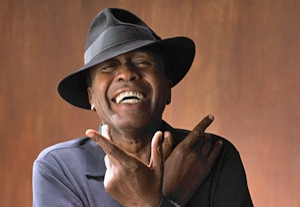 April is Jazz Appreciation Month, as declared in 2002 by the Smithsonian's National Museum of American History. Jazz at Lincoln Center will be showing its appreciation April 16 and 17 with a special festival honoring the work of the American stride pianist and composer Thomas "Fats" Waller, whose music was the subject of the 1978 Broadway revue "Ain't Misbehavin'." Known for his highly animated style of piano playing and the humorous quips he would toss off while performing, Waller was not only an important jazz musician but also one of the most popular all-around entertainers of his era (the 1930s and early '40s).
It is only fitting, then, that Jazz at Lincoln Center's commemoration concert, "The Music of Fats Waller," will be hosted by one of today's most beloved multitalented performers, the dancer-singer-actor Ben Vereen, winner of the 1973 Tony Award for best actor in a musical for his performance in "Pippin," a show directed and choreographed by Bob Fosse. A master interpreter of Fosse's style of Broadway jazz dance, Vereen is also an accomplished singer and celebrated dramatic actor, perhaps best known for his performance as Chicken George in television's "Roots."
"It is an honor for me to be able to do something at Jazz at Lincoln Center, to be on that stage where so many great jazz musicians have performed," says Vereen. But while jazz music is widely understood and celebrated as one of America's unique contributions to the arts, jazz dance is far less appreciated and even lacks a commonly agreed-upon definition. It has become an umbrella term, used differently from one era to another, typically to refer to the latest dance trend derived from some combination of theatrical and vernacular dance forms of the day.
Under the Umbrella
According to Vereen, whereas the movement styles of Fosse and the esteemed jazz teacher Luigi can certainly be considered important examples of jazz dance, "it's when you move into the tap scene that you find the real, serious jazz dancers." Vereen feels that it is the rhythm tappers who really "echo the sounds of jazz as they dance." Not only do they respond to the rhythms of the music; they also add to them, creating highly sophisticated rhythmic interactions.
The form of jazz dance seen on Broadway or in Hollywood musicals—sometimes called theatrical jazz dance—incorporates balletic elements into jazz stylings and makes more extensive use of the upper body. "As far as I'm concerned, rhythm tap and theatrical jazz dance are two different things," says Vereen, "but we call it all jazz dance. The difference is, when you're using the whole body and not just the feet, you can't do all that rhythmic complexity." It is the simplifying of the rhythmic elements and the addition of a more full-bodied lyricism that distinguishes the theatrical form of jazz dance from rhythm tap.
Today, hip-hop is sometimes placed under the umbrella of jazz-dance genres. "Even though it uses the whole body, hip-hop is more staccato, which I feel is getting back in a way to the rhythm tap," Vereen says. "You can't move as fast with the whole body as you can with just the feet, but you can use the body to make accents, which is what people like Fred Astaire and Gene Kelly did. They used the top of the body to accent the jazz rhythms."
After establishing himself as an outstanding dancer, Vereen made a remarkably smooth transition into an acting career. It is probably his initial dance training—in modern dance, with its heavy emphasis on expression—that accounts for the ease of his transition. "Modern dance is still my passion," Vereen says. "I love it. It's the expression of the soul."
A Modern Dancer
As a student at New York's High School of Performing Arts, Vereen studied with many highly regarded modern-dance instructors, including the revered Graham dancer David Wood. "He taught me that you can't be a good dancer without having a good monologue, meaning that you have to have an inner story going on about your movement while you're dancing," Vereen explains. "So when a dancer who has been trained like that wants to become an actor, it's a very natural transition. You take what it is you've been expressing in movement and do it through dialogue. All those things you've been feeling in your body movement, you now pinpoint through your voice."
Vereen feels strongly that dance should not be just the practice of physical exercises, but the embodiment of feelings and story: "There are dancers I see today who just do the physical movements, and technically it may look great, but it doesn't move me. I want to see a dancer say something through their movement that touches me as an audience member. I was taught that as a dancer, when you point your toe, you're not just stretching to the end of your foot, but you're reaching out to the ends of the universe. And that's how you communicate through movement. Sure, technique is important, but what's inside the technique—the emotion, the feeling, the passion—is more important. I don't care about 25 pirouettes; I'd rather see just one turn done with a passion. Because one turn done with passion can change someone's life."